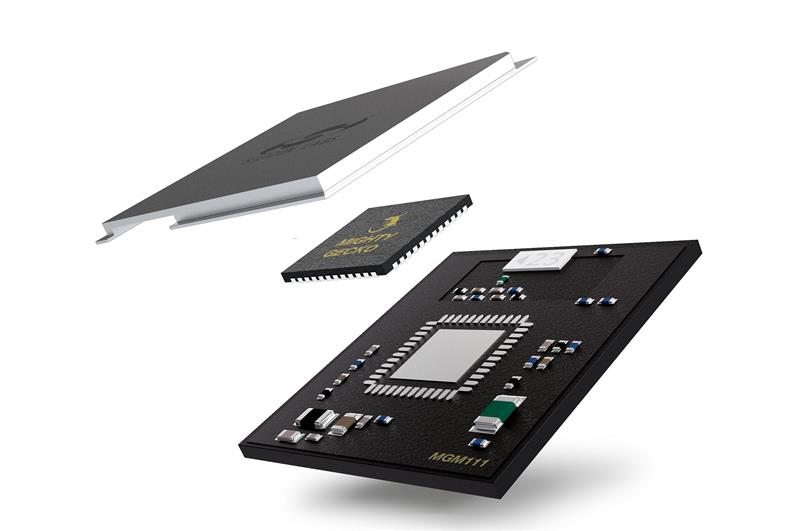 Silicon Labs, an energy-friendly solution provider, produced a new family of Wireless Gecko modules for mesh networking applications and supporting ZigBee and Thread software.
Mesh network is a network topology which each node relays data for the network. All mesh nodes cooperate in the distribution of data in the network. It is used by wide range of applications such as home automation, smart metering, connected lighting, security systems, and IoT applications.
Based on the Silicon Labs EFR32™ Mighty Gecko SoC, MGM111 module is a fully-integrated, pre-certified module, accelerates time-to-market and saves months of engineering effort and development costs. It combines an energy-efficient, multi-protocol wireless SoC with a proven RF/antenna design and industry leading wireless software stacks.
The module consists of ARM Cortex®-M4 controller with up to 40 MHz clock speed, 2.4 GHz transceiver, 256 kB of programmable flash, and 32 kB RAM SRAM. It consumes only 9.8mA while in receive mode and 8.2mA at 0dBm when in transmit mode, with a transmit power of up to 10dBm.
"Our customers rely on our deep understanding of mesh technology and RF certification. They also appreciate that we offer the tools and stacks they need to simplify the development process, as well as an upgrade path that safeguards their IoT products from being stranded on older technologies and standards." -Skip Ashton, VP of IoT software at Silicon Labs.
Thread is an IPv6-based mesh networking protocol designed as a reliable, low-power, secure, and scalable networking solution for connecting Things to the IoT. As a founding board member of the Thread Group, Silicon Labs helps accelerate time to market with proven mesh networking hardware and software solutions.
ZigBee is an IEEE 802.15.4-based specification for a suite of high-level communication protocols used to create personal area networks with small, low-power digital radios.
The MGM111 module datasheet with its full specifications list are reachable here.
Join 97,426 other subscribers

Archives