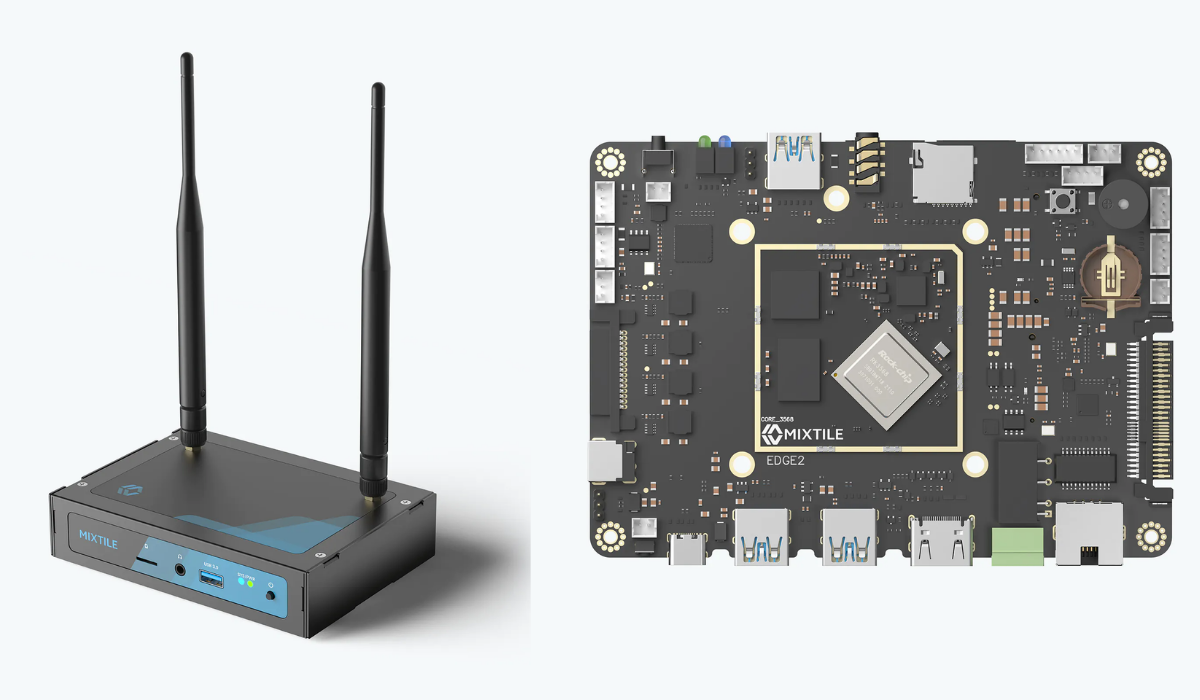 Mixtile Edge 2 IoT edge device is a multipurpose computer with RK3568
We recently covered the release of Mixtile Blade 3 single-board computer, which is going to be launched in Crowdfunding, and comes equipped with Rockchip RK3588 SoC, runs a hybrid Android and Linux distribution. Chinese embedded device manufacturer Mixtile Limited has gone ahead and unveiled another Edge 2 single-board computer and an Edge 2 Kit both with a customizable enclosure. As the name suggests, the Edge 2 Kit is an IoT edge computer with an enclosure and two external Wi-Fi antennas. Both devices are powered by the same Mixtile System-on-Module core using the integrated Rockchip RK3568.
At the heart of both edge computing devices is the RK3568 chip with a quad-core Arm Cortex-A55 SoC that can be clocked up to 2.0 GHz and tightly integrated with LPDDR4 SDRAM providing two variants of 2GB and 4GB. In terms of flash storage, the embedded manufacturer has provided options between 16GB and 32GB storage. The Mixtile System-on-Module Core 3568 offers 0.8 TOPS NPU and comes with a Mali G52 2EE graphics processor supporting 4K decoding and 1080 pixels encoding. The chip can be used for lightweight AI applications and is not suitable for advanced complex edge AI deployments.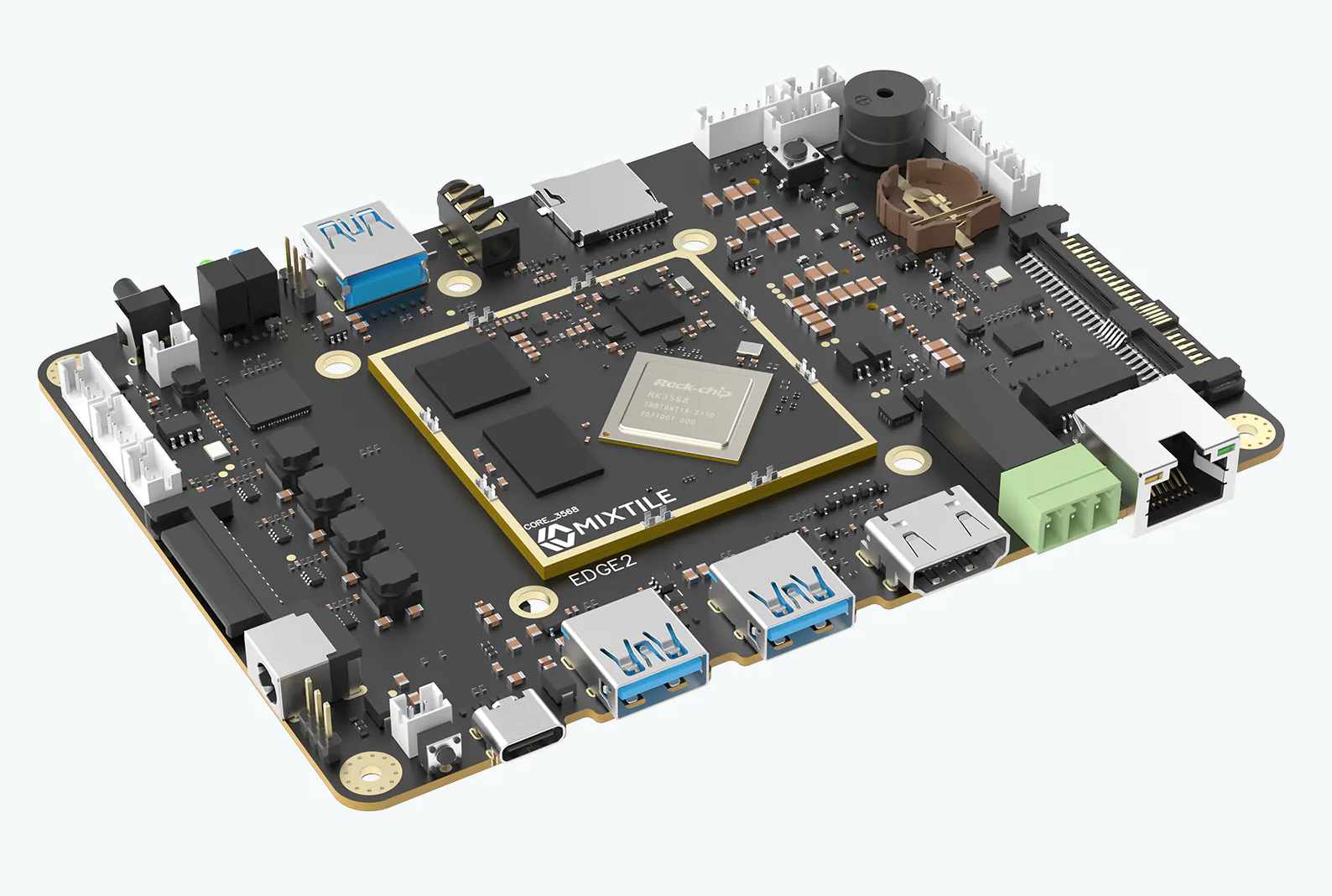 For wireless connectivity, the Mixtile Edge 2 single-board computer offers Wi-Fi 6 IEEE802.11ax and dual-mode Bluetooth 5.0 connectivity along with support for 4G/5G and LoRa/Zigbee devices, among other wireless technology modules. The onboard high-power M.2 and Mini-PCIe expansion sockets support a combination of these wireless connectivity options. The same goes for the Mixtile Edge 2 Kit as well in terms of wireless technology.
When it comes to software, Mixtile Edge 2 single-board computers run both Android 11 and Linux systems targeting industrial markets such as IoT gateways, Robotics, Industrial control panels, industrial equipment, cloud terminals, and vehicle control centers. You can find further information on the software support here and tutorials or detailed documentation are available in the public domain.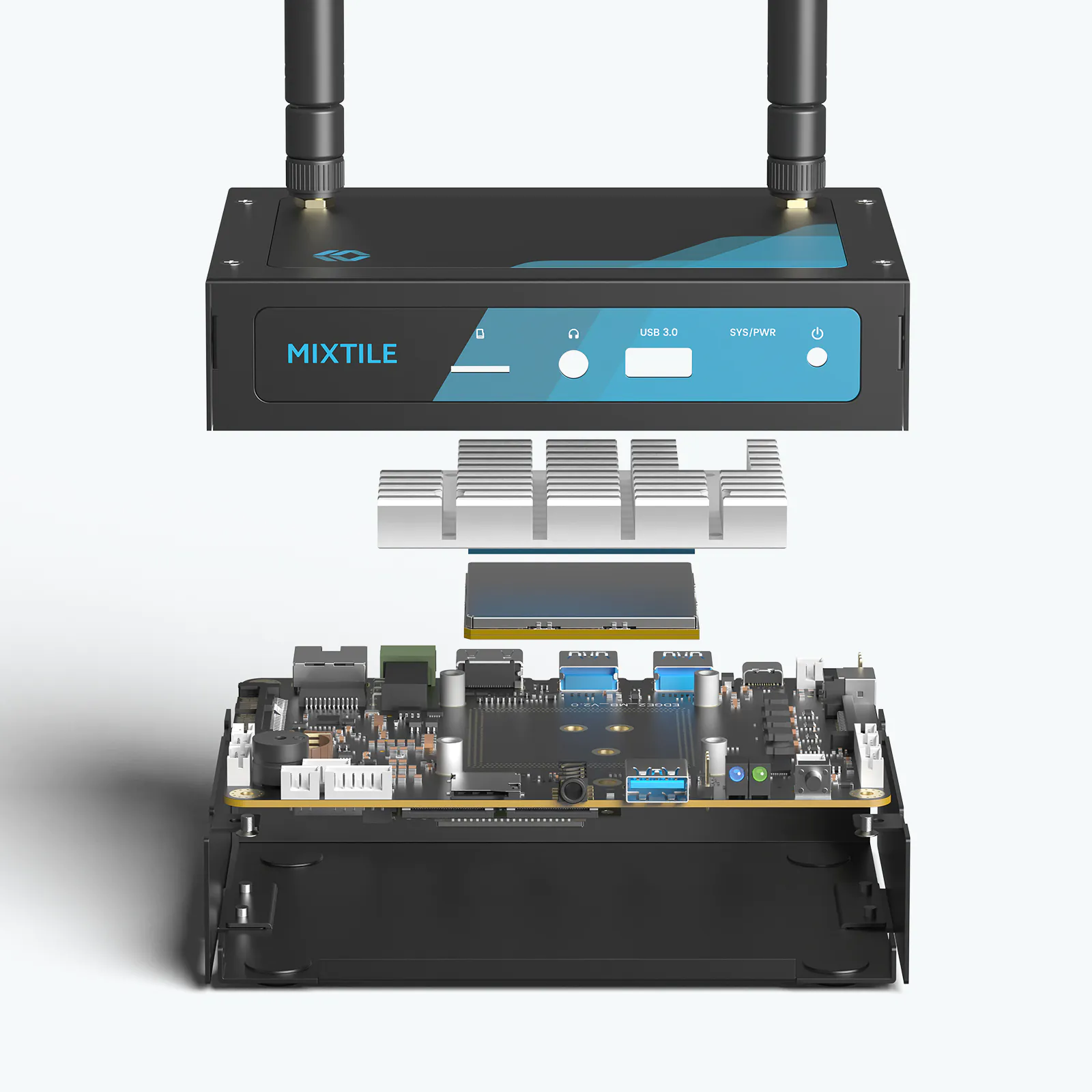 The high-performance edge computing Mixtile Edge 2 Kit is based on the Mixtile Edge 2 single-board computer, but only adds one customizable enclosure and two external Wi-Fi antennas (Edge 2 is designed with 6 reserved holes) which are evidently visible in the product image. The onboard connectivity's include PCIe 3.0, USB2.0, USB 3.0, SIM Socket, and HDMI 2.0. For interfacing camera and display, they have provided MIPI-CSI and MIPI-DSI connectors while the HDMI 2.0 port will support 4K at 60 frames per second for H.265 and H.264 video decoder while 1080 pixel at 100 frames per second for H.265 and H.264 video encoder.
Analysis
The Mixtile Edge 2 single-board computer is listed from $183 to $259 depending on the memory and storage requirements, while the Mixtile Edge 2 Kit is priced from $199 to $279. The manufacturer also offers a discount for those who are comfortable with a delayed shipment of 15% discount for 40 days and 20% discount for 60 days. For those looking for pre-installed firmware, Mixtile Edge 2 and Edge 2 Kit comes preloaded with Android 11 and Linux container.
Join 97,426 other subscribers

Archives