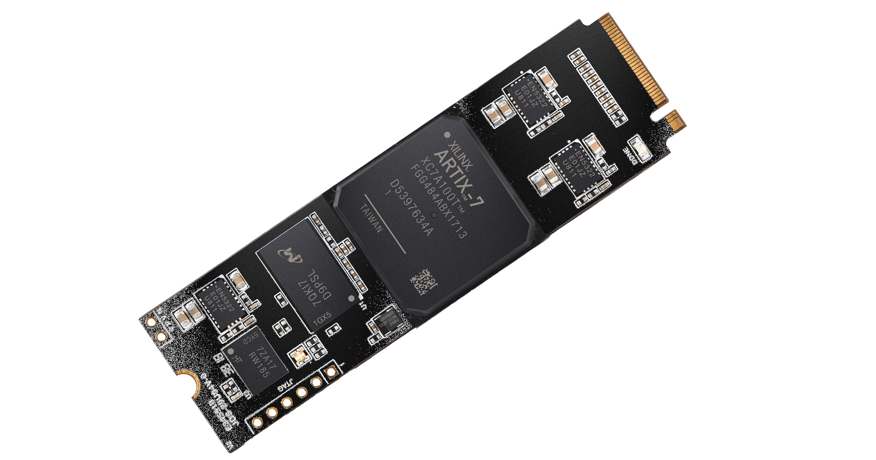 New Artix-7 FPGA Board with M.2 Interface Fits in a Laptop
The Aller board is specifically designed for development and integration of FPGA based accelerated features into other larger designs, it can be used with laptops, desktops, and servers featuring standard 2280 M.2 form factor M-key slot.
Nowadays, most of the new laptops come with M.2 M-key slots for NVMe storage modules and Aller can be seamlessly used with those slots. Open source PCI Express IP cores such as litepcie make the development of PCIe designs very cost-effective.
According to Rohit Sigh, Head of Development at the FPGA Division of Numato Lab, Aller was designed to help users with easier access to flexible and reconfigurable PCI Express infrastructure. With the decline of standard PCs and proliferation of M.2 connectors in Laptops, Servers and Desktop PCs, Aller breaks the barrier to PCI Express designs. Aller can also be used with standard PCI Express slots using M.2-to-PCI Express Adapter without any loss of functionality.
Aller is targeted for the users who want to experiment with PCI Express based FPGA designs using simple and cost-effective hardware. But this does not limit the usage of Aller. It can be used for a variety of PCIe acceleration applications.
The board features a Xilinx Artix-7 100T FPGA, the second-most powerful FPGA in the Artix-7 family. Xilinx FPGAs are at the forefront of the FPGA technology and are the most widely used FPGAs globally. The competitive pricing of Artix-7 puts Aller in the category of affordable PCI Express boards.

Features
Device: Xilinx Artix 7 FPGA (XC7A100T-1FGG484C)
DDR3: 2Gb DDR3 ( MT41J128M16JT-125:K TR )
4 lane PCIe Gen1 (2.5GT/s)
Onboard 1Gb QSPI flash memory for FPGA configuration
JTAG header for programming and debugging
100 MHZ CMOS oscillator
1 x Trusted Platform Module (AT97SC3205)
M.2 Connector Interface, M-Key
Powered from M.2 connector
1 RGB LED for custom use
The Artix-7 100T FPGA features ~101K LUTs, ~126K Flip-flops, ~600KiB Block RAM and 240 DSP slices making it very suitable for acceleration applications.
The compact M-key M.2 form-factor provides Aller with a vast number of motherboards and laptops as possible hosts. Most new systems these days ship with an M.2 M-key slot meant for SSDs. So Aller can directly leverage the huge ecosystem of the motherboards. As opposed to A, B or E-keys, the M-key is more common thanks to the SSD popularity and also sports 4x more PCI Express lanes. Since M-key M.2 form-factor supports PCI Express x4, it results in maximum theoretical bandwidth of 1GB/s between Aller and host system, i.e, four times more than competing products.
Featuring an onboard Trusted Platform Module (TPM) IC means Aller users can completely offload their security sensitive computations to the FPGA. TPM helps in secure management of cryptographic keys.
Applications
Product Prototype Development
Accelerated computing integration
Development and testing of custom embedded processors
Signal Processing
Memory Intensive FPGA development
Educational tool for Schools and Universities
High Hash Rate calculations for Blockchain technologies such as Bitcoin and Ethereum
Offloading computationally intensive algorithms to FPGA
Machine Learning and Artificial Intelligence
Aller is a perfect match for several applications such as hardware accelerators, machine learning, and neural network engines, high hash-rate calculations for blockchain technologies, PCI Express kernel driver development training, digital signal processing, and development and testing of embedded processors.
The board is available for purchase at their online store for an introductory price of $399.95 per unit with volume discounts available on request.
For more information, or to purchase Numato Lab products, please visit https://numato.com/ or you can also contact them directly via email at help@numato.com or by phone at 720-513-2210.
Join 97,426 other subscribers

Archives