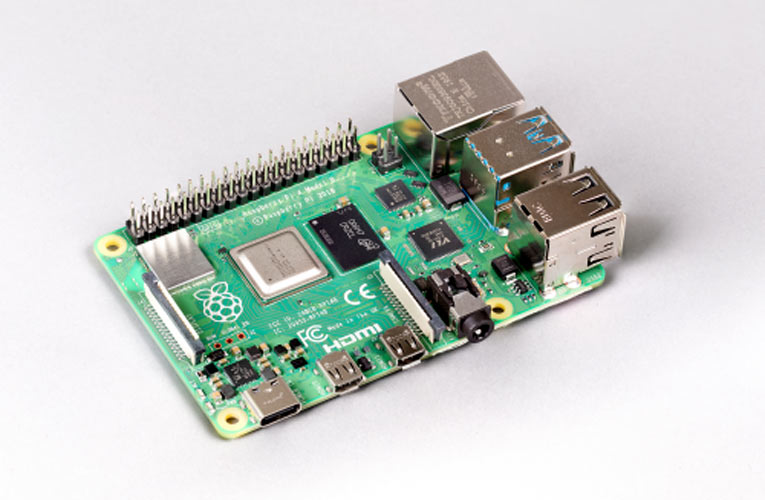 New Raspberry Pi 4 version with 8GB RAM and a 64-bit Raspberry Pi OS Released
After almost one year of having the Raspberry Pi 4 around, the rumors of an 8GB RAM version of the board being in the works has finally been confirmed with a launch. Speaking about the new board, Eben Upton, CEO of the Raspberry Pi Foundation said
"While we launched with 1GB, 2GB, and 4GB variants, even at that point we had our eye on the possibility of an 8GB Raspberry Pi 4. We were so excited about the idea that the non-existent product made its way into both the Beginner's Guide and the compliance leaflet. Today, we're delighted to announce the immediate availability of the 8GB Raspberry Pi 4, priced at just $75".
As opposed to sharing RAM with a built-in NPU like the Rock Pi N10 and Ficus2, the new Pi 4 model is the first ARM-based single-board computer under the $200 price to provide an 8GB RAM support entirely for the CPU.
Except for the 8GB RAM capacity, the board still maintains every other feature of the Raspberry Pi 4 including:
Broadcom BCM2711 quad-core Cortex-A72 running at 1.5 GHz
8GB LPDDR4
MicroSD card slot
2x micro HDMI ports, 2-lane MIPI DSI display port and 3.5mm AV port with composite video output and display
Gigabit Ethernet and Bluetooth 5.0 BLE
 Stereo and digital audio
40-pin GPIO header
2x USB 3.0, 2x USB 2.0
5V DC via GPIO header, 5V DC via USB-C connector
Dimensions: 85 x 56 mm
The new Pi 4 model is suitable for beefier edge server jobs like machine vision and image processing, as well as demanding desktop replacement applications,
"If you're a power user, intending to compile and link large pieces of software or run heavy server workloads, or you simply want to be able to have even more browser tabs open at once, then this is definitely for you."
Along with the new 8GB RAM Pi 4, the Pi Foundation also announced the release of a 64-bit Raspberry Pi OS that allows users to make the most of the new memory upgrade. While the existing 32-bit OS will still work on the 8GB versions of the board, it won't allow a single process to access more than the 4GB of RAM. According to Eben, the 64-bit will be more useful for "power users who want to be able to map all the 8GB into the address space of a single process. The New Raspberry Pi OS is however available for only the Pi 3 and 4.
Pi fans can begin to place orders for the 8GB variant through the model's product page with links to official distributors that are currently taking back-orders for just $75. More information on the Pi4 can be found on the news page.
Join 97,426 other subscribers

Archives