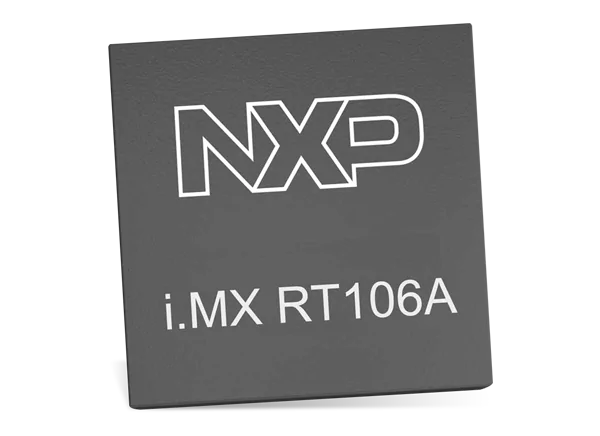 NXP Semiconductors i.MX RT106A Crossover Processor
NXP Semiconductors i.MX RT106A Crossover Processor is a solution specific variant of the i.MX RT1060 family of MCUs, targeting cloud-based embedded voice applications. It features NXP's advanced implementation of the Arm® Cortex®-M7 core, which operates at speeds up to 600MHz to provide high CPU performance and best real-time response. i.MX RT106A based solutions enable system designers to easily add voice control capabilities to a wide variety of smart appliances, smart home, smart retail, and smart industry devices.
The i.MX RT106A is licensed to run NXP turnkey voice-assistant software solutions, which may include:
Far-field audio front-end softDSP

Acoustic echo cancellation
Ambient noise reduction
Beamforming
Barge-in
Playback processing
Codecs

Wake-word inference engine
Media player / streamer
MQTT, lwIP, TLS
Discovery and onboarding
All drivers, including Wi-Fi® and Bluetooth™
The i.MX RT106A is offered in a 196-ball Molded Array Process Ball Grid Array (MAPBGA) package, with a 0°C to +95°C consumer-grade temperature range.
Features
High-performing Arm Cortex-M7
3020 CoreMark/1284 DMIPS @ 600MHz
1MB On-Chip SRAM – up to 512KB configurable as Tightly Coupled Memory (TCM)
Real-time, low-latency response as low as 20ns
Low dynamic power with an integrated DC-DC converter
Low-power run modes at 24MHz
Advanced multimedia for GUI and enhanced HMI

2D graphics acceleration engine
Parallel camera sensor interface
LCD display controller (up to WXGA 1366×768)
3x I2S for high-performance, multi-channel audio
Extensive external memory interface options

NAND, eMMC, QuadSPI NOR Flash, and Parallel NOR Flash

Wireless connectivity

Wi-Fi, Bluetooth, Bluetooth Low Energy, ZigBee, and Thread

Supported by MCUXpresso SDK, IDE and Config Tools
Package

Type: MAPBGA-196
Dimensions: 10mm x 10mm, 0.65mm pitch
Applications
Consumer electronics

Home appliances system control
In-home display
Room air-conditioning system
Smart-connected appliances

Secure transaction and retail payments

Bluetooth beacons
Electronic shelf labels
Post terminals
Home and building control

Alarm and access panels
Garage door openers
Gateways
Smart lighting
Smart plugs / outlets

Industrial

Programmable Logic Controller (PLC)
Datasheets
The NXP Semiconductors i.MX RT106A Crossover Processor is covered by the same same specifications as the i.MX RT1060 MCUs described in the i.MX RT1060 Datasheet, with the exceptions outlined in the i.MX RT106A Datasheet Supplement. The i.MX RT106A uses the same Reference Manual as the other i.MX RT1060 family members.
more information: www.nxp.com
Join 97,426 other subscribers

Archives