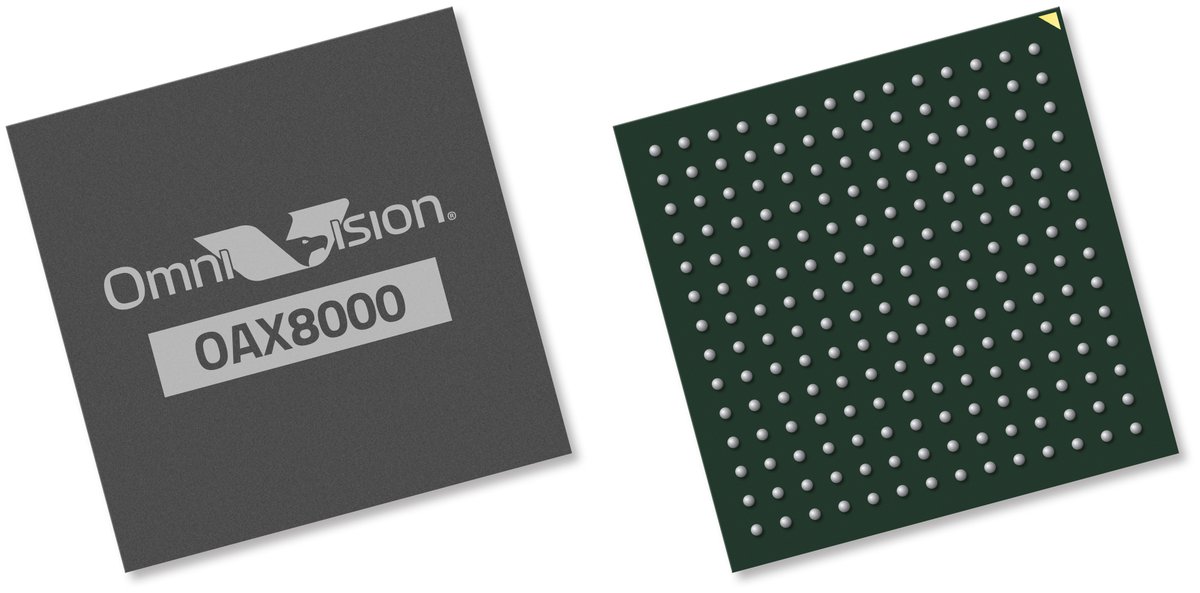 OAX8000 ASIC AI-enabled Processor for Driver Monitoring Systems
OAX8000 is an automotive ASIC optimized for dedicated DMS (Driver Monitoring Systems). The ASIC comes with a stacked-die architecture with multiple layers of ICs that offers on-chip DDR3 SDRAM memory (1GB). It also features a fast AI video processor with CNN (Convolutional Neural Network) accelerator and works as a low-power device. The automotive image sensors have a power rating of 1 watt.
The AI-enabled OAX8000 ASIC integrates an NPU and ISP (Image Signal Processor), which performs up to 1.1 TOPS for eye gaze and eye tracking algorithms. This integration also reduces the board area for the ECU (Engine Control Unit) by optimization of DMS systems. OAX8000 ASIC has a quick boot-up time that minimizes the delay between ignition and activation of the DMS camera. It also comes with secured boot functionalities for cybersecurity.
Technical Specifications of OAX8000 ASIC
Power Supply: Core 0.9V, Analog 1.8V, DDR I/O 1.35V, PLL 1.8V
Operational from -40°C to 105°C ambient temperature
Operational from -40°C to 125°C junction temperature
Dimensions: 10mm x 10mm
OAX8000 ASIC has a built-in NPU that has flexible support of almost all deep learning frameworks and tools like TensorFlow, Caffe, MXNet, and ONNX. It also integrates quad Arm Cortex A5 CPU cores with Neon technology for enhanced video encoding and decoding with advanced video analytics algorithms. It also comes with hardware for image processing and RGB/IR processing.
The ASIC has a flexible input processing capacity that allows the sensing of widely contrasting bright and dark images, due to its HDR processing feature. Hence, the applications are dynamic that can function in the day as well as at night. The embedded video encoder allows up to 5 megapixels of captured data from automotive image sensors and outputs up to 2K resolution video at 30 frames per second.
Functional Block Diagram of OAX000 ASIC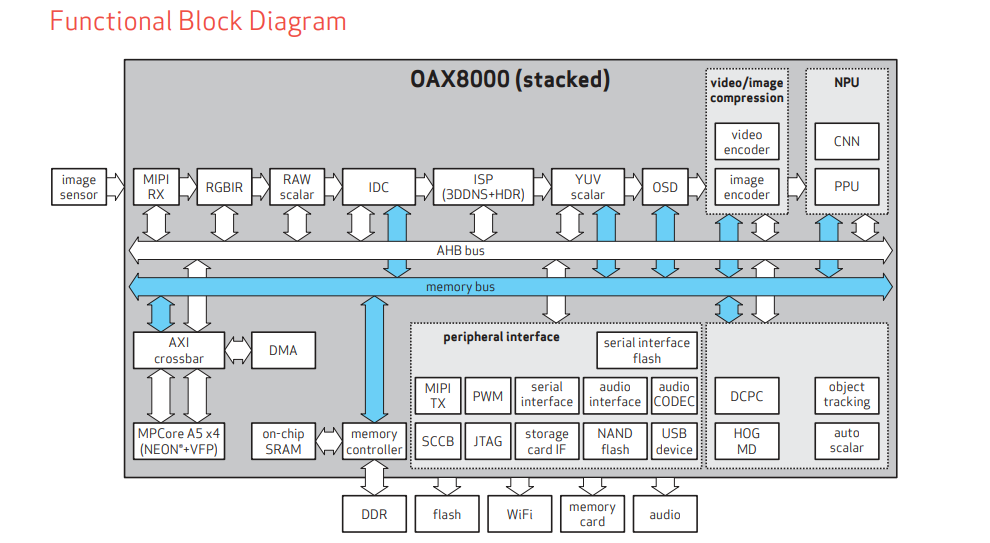 The storage interface includes an I/O peripheral interface, that can be used with an external WiFi module. It also comes with a storage card peripheral interface with NAND flash parallel interface for 8-bit and 16-bit, with up to 8-bit BCH ECC. This flash serial interface can function with or without the ECC engine.
OAX8000 ASIC has a built-in 16-bit ADC and 16-bit mono DAC, with full-duplex audio, AGC, and noise cancellation. It also integrates an audio engine for audio recording and playback. The full-duplex audio serial interface supports left/right 16-bit data mode and various audio formats. The security engine supports AES, DES, and 3DES-based encryption/decryption. It also features secured booting of the device.
The new OAX8000 ASIC is integrated into a BGA196 package. For more information visit the official product page. The pricing and availability of the ASIC can be inquired on the region-based sales section on the website. Images and technical specifications have been also taken from the product page and datasheet.
Join 97,426 other subscribers

Archives