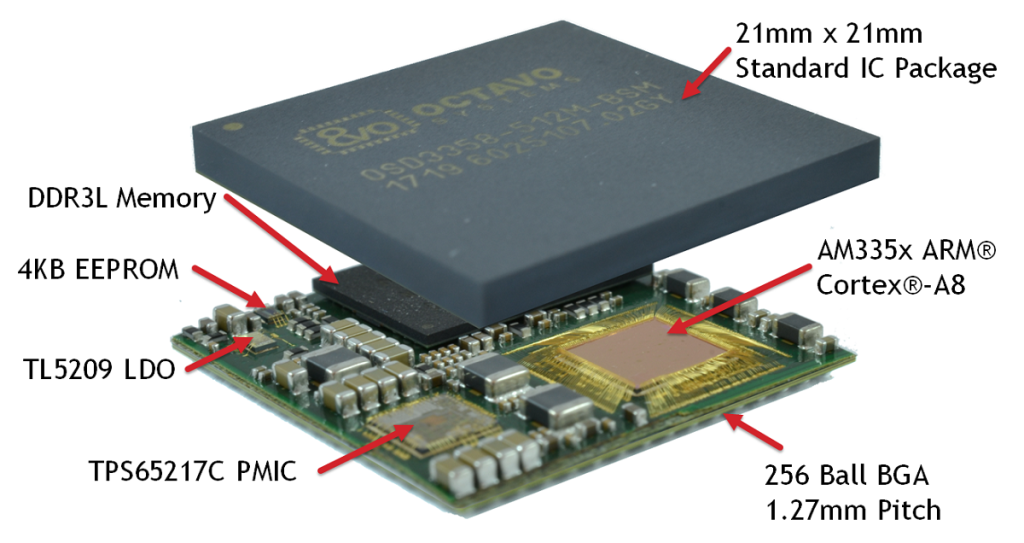 OSD335x-SM & OSD3358-SM-RED Dev Board
Austin, Texas (September 19, 2017) – Octavo Systems LLC (Octavo) announced the production release and immediate availability of its highly anticipated OSD335x-SM System-In-Package (SiP) device.  The OSD335x-SM, like the entire OSD335x family, integrates the Texas Instruments (TI) Sitara™ AM335x processor with an ARM® Cortex®-A8 core running at 1GHz, DDR3 memory, a TPS65217C power management IC (PMIC), a TL5209 low-dropout (LDO) regulator, and passive components into a single wide pitch (1.27mm) BGA package.  The OSD335x-SM enhances this integration by adding EEPROM as well and reducing the package size by 40%.
The OSD335x-SM comes in a 21mm x 21mm (0.83in x 0.83in) 256 Ball wide pitch (1.27mm) BGA. Occupying 441 square millimeters, the OSD335x-SM uses 60% less space than the equivalent system designed with discrete components.  It is the smallest AM335x processor-based module on the market today that still allows complete access to all the AM335x device I/Os including the PRUs.
"The OSD335x-SM was built to allow system designers to quickly create the smallest possible ARM Cortex®-A8 system and then easily transition into production," says Bill Heye, President of Octavo Systems.  "By removing the need for DDR routing, power sequencing, complex supply chains and larger PCBs, the OSD335x-SM provides value across the entire life cycle of a design.  We are excited to finally release it to the market and we can't wait to see the innovative ways people leverage this technology."
The first 21mm device in the family, the OSD3358-512M-BSM, can be purchased today through Octavo's distribution partners, Digi-Key Electronics and Mouser Electronics.
Join 97,426 other subscribers

Archives