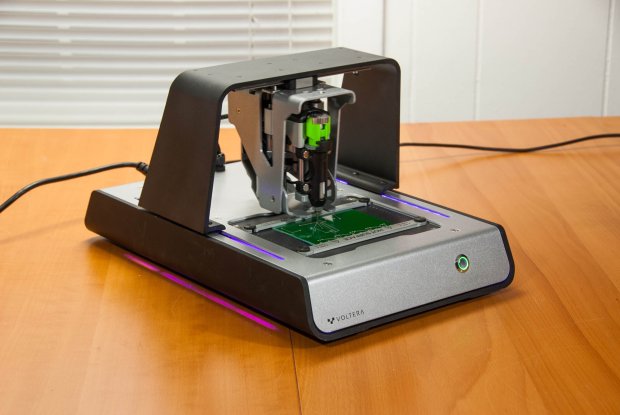 3D printers and other prototyping tools are making it easier and simpler to build prototypes and test ideas. Building circuit boards is fun but difficult. While you could do it at home with  some etchant and some clear plastic, PCB printer hopes to make the entire process much faster and easier.  The success of these tools make them necessary through the different domains of manufacturing.
A desktop PCB printer?
Voltera V-One is a desktop PCB printer that can make two layer circuit boards. It can print onto the standard FR4 boards, and also place small components on the board.
In fact, the Voltera V-One uses a gantry system, similar to a 3D printer or CNC mill, to move accurately in the X, Y, and Z dimensions. The base of the V-One also heats up like a skillet to bake the conductive ink into place and to reflow SMD parts.
V-One has three tool heads that attach magnetically:
a probe to measure the blank PCB and feature locations
a conductive ink dispenser that draws the circuit traces and part pads
a solder paste dispenser that applies solder to pads for surface-mount devices (SMD)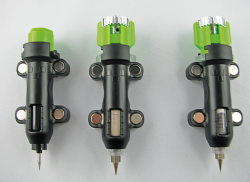 This video shows a brief about how Voltera works, it produced a printed circuit board of a prototype GPS module in about  half an hour.
Voltera V-One is available for $3,500. You can get more information about V-One and its specifications by visiting the official website.
Subscribe to Blog via Email
Join 97,623 other subscribers
Archives