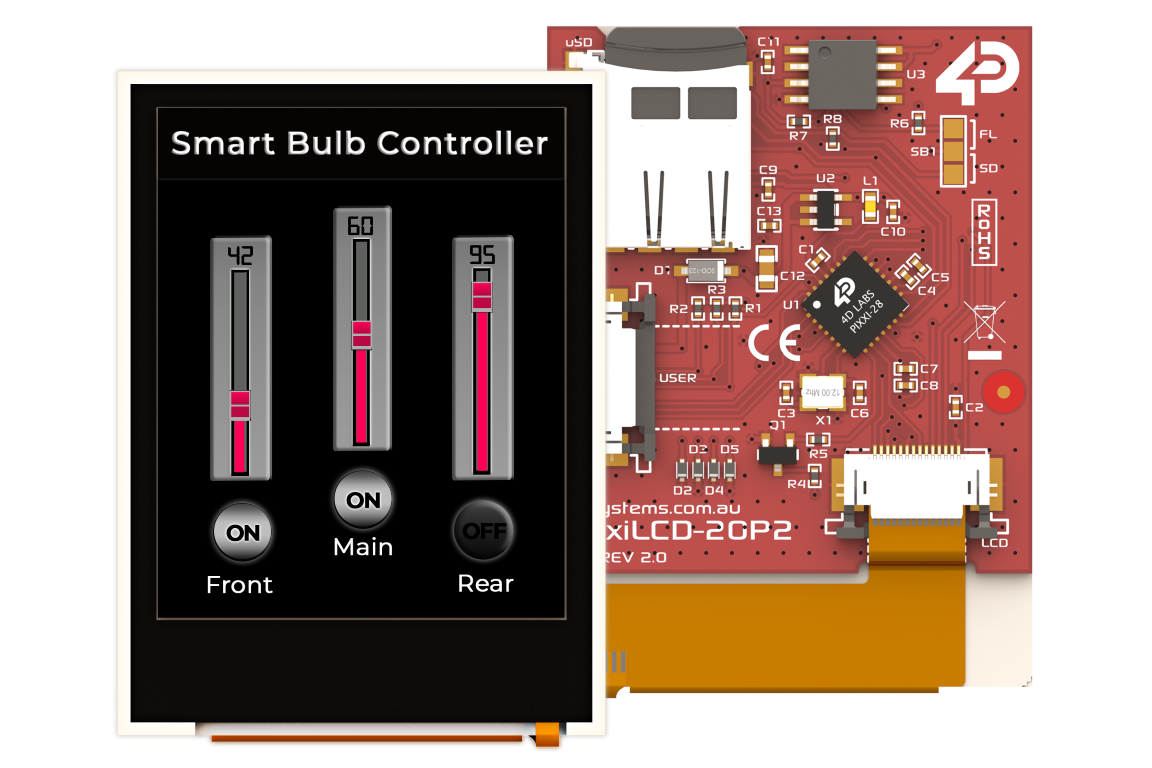 pixxiLCD-20P2 is a 2.0″, 176×220 pixel, slim Intelligent Display Module with embedded PIXXI-28 processor
2.0" pixxiLCD Series Intelligent Display Module with PIXXI-28 Graphics Controller
The pixxiLCD-20 is part of the new and revolutionary pixxiLCD series of embedded graphics displays designed and manufactured by 4D Systems. Developed with low total cost of ownership in mind, this 2.0" colour TFT-LCD compact Intelligent Display module offers an array of functionality and options for any designer, integrator or user wishing to add a full color HMI into an application.
pixxiLCD-20P2 Highlights:

2.0″, 176×220 pixel, slim Intelligent Display Module with embedded PIXXI-28 processor.
Non-Touch
Suitable for fast and easy integration of a full colour HMI into any application or product.
Starter Kits available for first time users.
See product description below for more details.
The pixxiLCD-20 is powered by the configurable PIXXI-28 graphics processor, allowing various functionalities such as touch detection, microSD or serial flash memory storage, GPIO, and ADC, along with multiple millisecond resolution timers, and UART and I2C communication.
The pixxiLCD-20 embedded graphics displays comes in two variants:
Non-touch – pixxiLCD-20P2
Capacitive-touch – pixxiLCD-20P2CT-CLB
The pixxiLCD embedded graphics displays are 100% compatible with the Workshop4 IDE, which provides users with a wealth of options for programming and controlling their system.
The pixxiLCD embedded graphics displays feature a standard 15-way, 0.5mm pitch ZIF socket interface which carries the UART, I/O, I2C, power, and reset signals to/from the display.
Features:
Powerful 2.0" Intelligent LCD-TFT display module powered by PIXXI-28
176 x 220 Resolution, RGB 65K TFT Screen
Capacitive Touch Panel (pixxiLCD-20P2CT-CLB)
32KB of Flash memory for user application code.
14KB of SRAM for user variables.
Selectable 16MB Serial Flash memory chip for multimedia storage, data files, fonts, or for holding extra code functions (to expand the code storage of the processor)
Selectable on-board push type micro-SD memory card connector for multimedia storage, data files, fonts and data logging purposes.
3 General Purpose I/O pins for user interfacing, 2 of which are configurable as analog inputs or as I2C.
Master I2C port (maximum supported speed is fast I2C) for user application devices.
UART port, Asynchronous hardware serial, with 300 to 2187500 baud, for interfacing to a Host or Slave device. The Serial port is also used for device programming.
DOS compatible file access (FAT16 format) using uSD, as well as low-level access to card memory.
Display full-colour images, animations, icons, and video clips.
Supports all available Windows fonts.
Free comprehensive Software Development Tools (Workshop4) provides drag-and-drop style and coding environments for rapid application development, upgradable to Workshop4 PRO for additional features.
Standard 15-way, 0.5mm pitch ZIF socket interface which carries the UART, I/O, I2C, power, and reset signals to/from the display.
Single 5.0 Volt Supply (4.0V to 5.5V range).
Display Dimensions:

pixxiLCD-20P2: 37.68 x 51.33 x 5.7 mm
pixxiLCD-20P2CT-CLB: 44.60 x 65.80 x 7.0 mm

Weight:

pixxiLCD-20P2: ~16 grams
pixxiLCD-20P2-CTP-CLB: ~20 grams

RoHS, REACH and CE compliant.
PCB is UL 94V-0 Flammability Rated
more information: https://4dsystems.com.au/products/featured-products/pixxilcd-20p2
Join 97,426 other subscribers

Archives