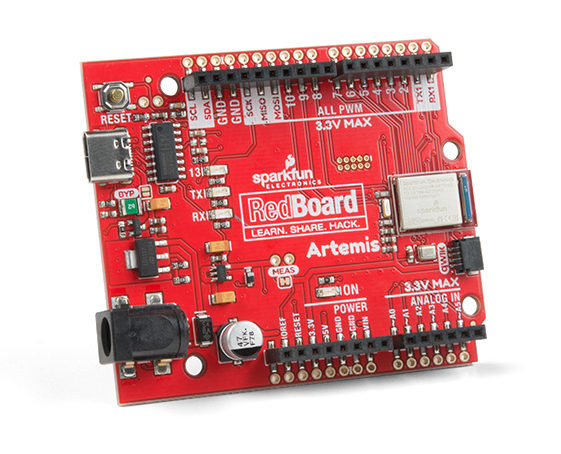 RedBoard Artemis – Sparkfun's New Bluetooth Enabled Artemis Module
SparkFun's new DEV-15444 RedBoard Artemis has an Arduino Uno R3 footprint, 1M Flash/384 KB RAM, and a processor that uses less than 1mA of current at peak. This Artemis board includes a modern USB-C connector and a Qwiic connector that makes programming and I2C easy. This RedBoard is fully compatible with SparkFun's Arduino core and can be easily programmed with the familiar Arduino IDE. It also has a digital MEMS microphone which is definitely going to help with always-on voice commands and machine learning with TensorFlow lite. The DEV-15444 RedBoard runs at 48MHz (turbo up to 96MHz) and Bluetooth to boot. This Artemis board also features 2 UARTs, 6 I2C buses, and 4 SPI buses. There is also added support for jumpers to measure current consumption for low power testing.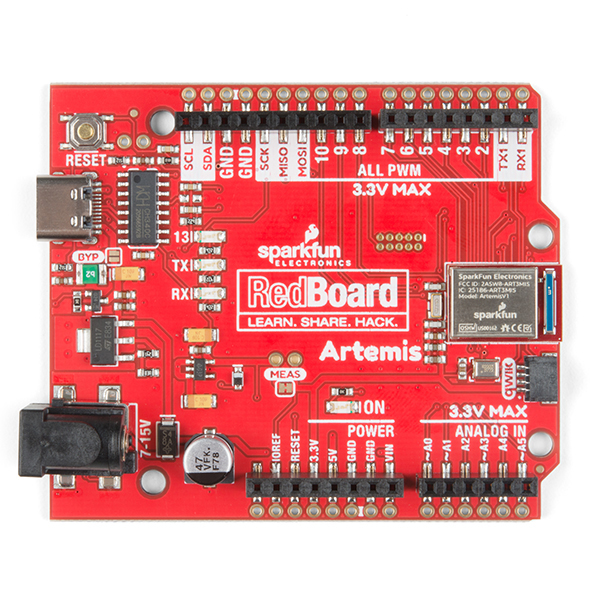 SparkFun RedBoard Artemis Spec List:
Processor – 32-bit Ambiq Apollo3 Cortex M4F
Memory – 384KB RAM, 1MB Flash
I/O Pins – 21 PWM channels, 24 GPIO – all interrupt capable
Wi-Fi – N/A
Bluetooth – Built-in BLE 5.0
Video – N/A
Ethernet – N/A
Input Voltage – 5V
Operating Voltage – 3.3V
Software Support – Arduino or Ambiq Apollo SDK
Dimensions – 6.9cm X 5.3cm
This board comes handy for the use of Machine Learning and voice recognition with the help of the on-board microphone support. Unfortunately, right now the Machine Learning setup is a little rough around the edges. The user will have to leave behind the familiar Arduino editor and start learning a new SDK to make sure the machine learning applications work properly with this board. This board from Sparkfun is taking hobbyist electronic design to the next level. Machine Learning is a lot of fun and is clearly the direction of the future. RedBoard Artemis is currently is selling at 19.95 USD. More information and buying options can be found on this SparkFun Product Page.
Join 97,426 other subscribers

Archives