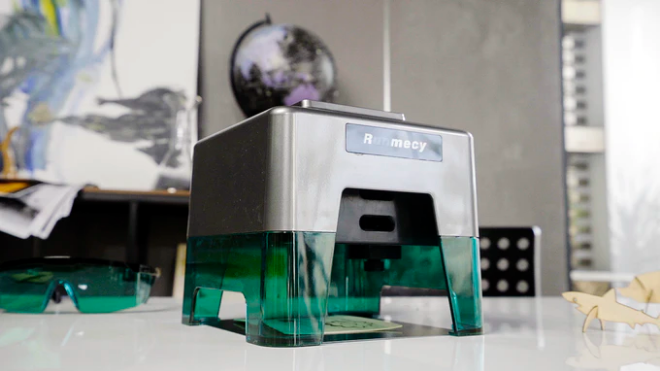 Runmecy, A Compact Laser Engraver And Cutter
A campaign has been launched on Kickstarter for a laser engraver called Runmecy. The Runmecy is a laser engraver and cutter that combines more power, speed, and safety than any other engraver in a compact and lightweight design. It enables you to be innovative on any project, whether it's art, business, or just creating something exciting. Its powerful laser housed in the Runmecy is up to the task of engraving a flask for a friend, a plaque for a trophy, or a piece of art to hang up. We advanced laser technology by shrinking the previous 5W laser from 0.2mm to 0.08mm in diameter, allowing our 5W semiconductor laser to engrave most metal surfaces.
The Runmecy is at the forefront of laser engraving technology. Its powerful laser is built to help you unleash your creativity on any surface, with a 5W German-engineered OSRAM laser chip, efficient heat dissipation, and finely tuned precision glass lens. The Runmecy can now cut through thick wood thanks to our advancements (up to 1.5mm). It ensures that every engraving cut is made on the first try.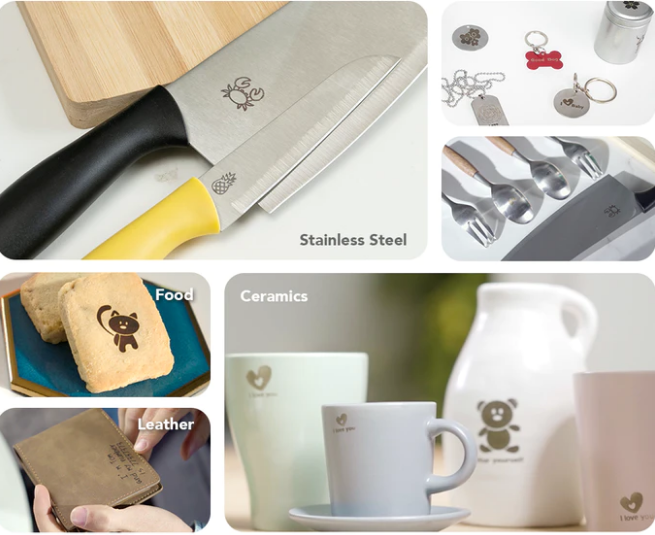 The Runmecy can engrave on almost any surface you can think of. Stainless steel, anodized aluminum alloy, iron, glass, ceramic, wood, bamboo, paper, acrylic, leather, stone, cement, or fruit are all examples of materials you can engrave on. Allow your mind to run wild with possibilities. We made it simple to edit your designs while using the app. Engraving with Runmecy is simple. You just connect your Runmecy to your computer or smartphone to begin engraving. It connects via Bluetooth or cable, then you launch the app and select your design to begin engraving. You can also use the app to edit designs from the palm of your hand via your smartphone. You can also connect via USB to your Windows or Mac computer and use the simple software to edit your designs and transform your images into unique designs that can be engraved.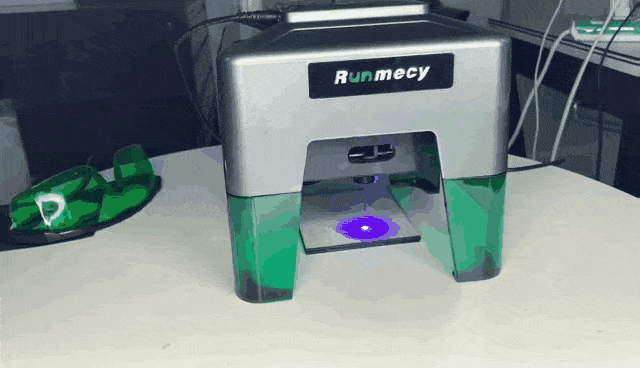 The laser module of the Runmecy utilizes a Nichia 440nm 5000mW laser diode from Japan. It functions via a special process, which compresses the target spot to make it a square of up to 0.08mm in size. This enables the engraving pattern to be far more delicate and clear, offering more focused power and a stronger engraving ability that allows it to engrave on glossy metal. A new app is created for the 5W laser module. The download path and software recognize your device automatically, and if you have a 1.6-watt and a 5-watt running simultaneously, there won't be any interference with each other's operation on the same app. The working frame of the 5-watt model is appropriately reduced. Runmecy's color and surface treatment processes have been changed, to improve the product's aesthetically pleasing and beautiful appearance. Also, its working hours have been increased to 1.5 hours of uninterrupted work.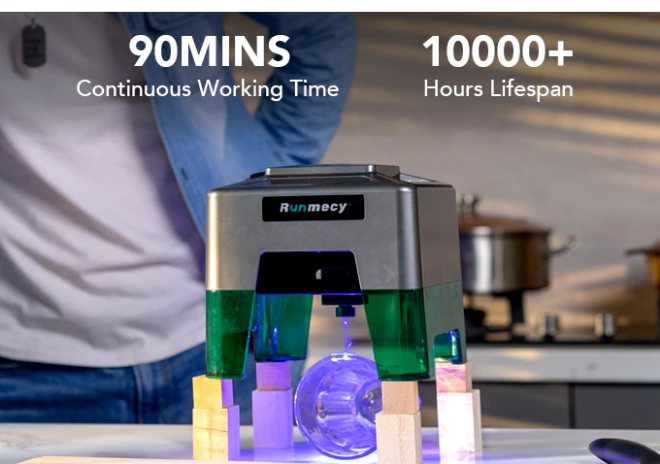 The fast engraving feature on the Runmecy is 3-5 times faster than print engraving. The fast engraving is ideal for more casual designs that don't require much finesse (sketches, signatures, and pictures with more complex images and thin lines won't be able to be engraved fast). Fast engraving functions via a point-to-point method which is optimized by their advanced algorithm to reduce motor operation in blank areas, resulting in faster engraving. Thanks to its CNC mode, each step is an effective stroke that doubles the overall engraving speed. Its resolution of 508DPI or 0.05 mm enables the engraver to produce clear designs and images. This enables each engraved design to have a distinct focus and resolution. Runmecy is small, foldable, powerful, and convenient to transport anywhere. It offers smart portability, enabling you to keep your engraver close at hand at all times. Its manual focus enables you to go deeper or get better engravings.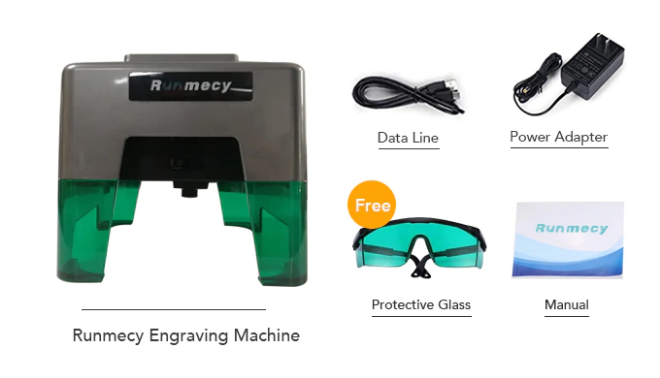 The engraving preview area of the Runmecy enables you to see where your engraver will cut. This enables you to make adjustments when necessary. Runmecy has a lot of safety features, to ensure the user's safety at all times. Its G-sensor is a type of accelerometer. In the event of movement, the laser engraving is paused. Also, if the power is turned off, the device will remain on, and once the G-sensor stops detecting movement, it will turn back on. When the engraver is turned on, its protective shields keep the laser contained. The Runmecy can engrave objects of any size, this is because of its baseless design.
Runmecy can run indefinitely for 90 minutes, making it very efficient and effective. Also, if the laser becomes overheated, its power output will be reduced slightly until it can be turned off. However, you can keep engraving because Runmecy can run at 80% power and below without stopping the process.
For more information about the Runmecy, visit the campaign page on Kickstarter.
Join 97,426 other subscribers

Archives