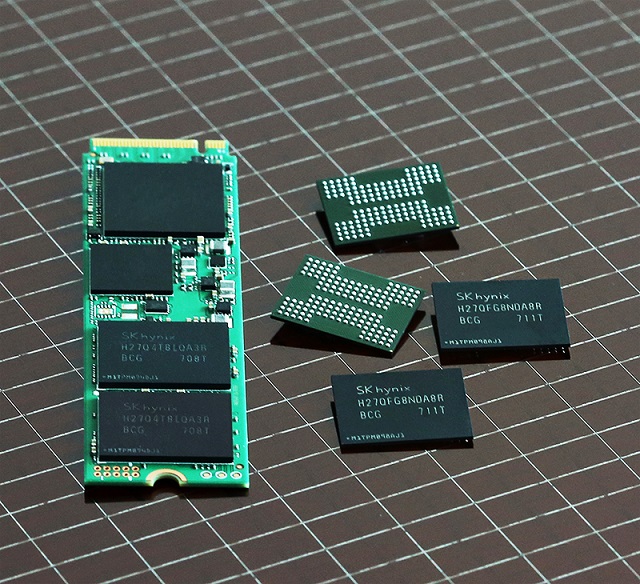 SK Hynix Introduces Industry's Highest 72-Layer 3D NAND Flash
SK Hynix Incorporated introduced the world's first 72-Layer 256Gb (Gigabit) 3D (Three-Dimensional) NAND Flash based on its TLC (Triple-Level Cell) arrays and own technologies. This company also launched 6-Layer 128Gb 3D NAND chips in April 2016 and has been mass producing 48-Layer 256Gb 3D NAND chips since November 2016. Within 5 months the researchers in SK Hynix developed the new technology of producing 72-layer 3D NAND flash.
The technological achievement of this 72-Layer 3D NAND is compared to the difficulty of building approximately 4 billion 72-storied skyscrapers on a single dime. Well, now the question maybe, "Is the difficulty and complexity of this new technology giving any remarkable outcome?". The answer is a big YES. The 72-layer NAND is said to stack 1.5 times more cells than the 48-layer, achieving 30% more efficiency in productivity and 20% higher read/write performance than a 48-layer 3D NAND chip, the predecessor of this 72-layer .D 256Gb NAND flash.
With this new chips having 30% more efficiency in productivity and 20% higher performance, SK Hynix has been currently developing NAND Flash solutions such as SSD (Solid State Drive) and storage for mobile devices such as smartphones. Having high reliability and low power consumption this 3D NAND flash should be an ideal solution for storage problems of mobile devices.
SK Hynix plans to expand the usage of the product to SSDs and mobile gadgets to further improve its business structure weighted towards DRAM. The vice president Jong Ho Kim said in the press release,
With the introduction of this industry's highest productivity 3D NAND, SK Hynix will mass produce the 256Gb 3D NAND in the second half of this year to provide this to worldwide business clients for optimum use in storage solutions
According to a market research, 3D NAND flash demand is rapidly increasing across AI(Artificial Intelligence), big data, and cloud storage. The research by Gartner says that NAND Flash market revenue is expected to total USD 46.5 billion in this year and it will grow up to an amount of USD 56.5 billion in 2021.
Subscribe to Blog via Email
Join 97,447 other subscribers
Archives