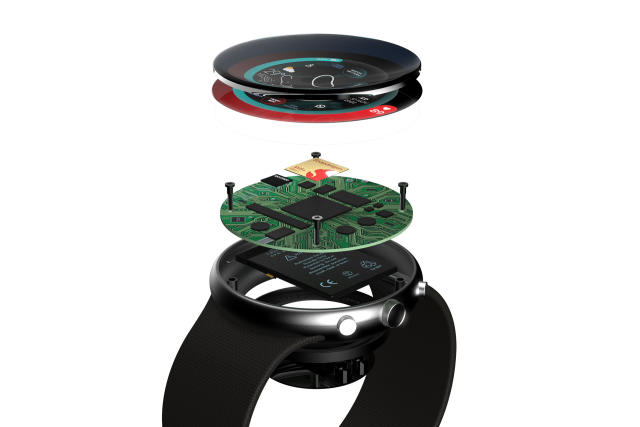 Snapdragon W5+ Gen 1 Wearable Platform with Qualcomm Hexagon DSP V66K AI engine
Snapdragon has launched a new hardware platform for next-gen wearable devices for extended battery life, enhanced user experience, and innovative design architecture– Snapdragon W5+ and W5. Adoption of these new hardware platforms comes with the announcement that Oppo and Mobvoi will release the first smartwatches with 25 designs in the pipeline across segments.
Snapdragon W5+ Gen 1 is designed with new enhancements to hybrid architecture offering 50% lower power, 2x better performance, 2x richer features, and 30% smaller size compared to the previous generator. The purpose-built platform is manufactured on a 4-nm-based system-on-chip and 22-nm-based integrated always-on co-processor. The hardware platform is capable of supporting low-power connectivity options– Wi-Fi, Bluetooth 5.3, and GNSS.
Inside the Snapdragon W5+ and W5 system architecture are the Qualcomm SW5100 and SW5100P powerful system-on-chip featuring a quad-core Arm Cortex-A53 processor, Qualcomm Adreno 702 GPU with dual ISPs supporting 16-megapixel cameras, 4G LTE multi-mode modem, and dual Qualcomm Hexagon DSPs. The always-on co-processor is an ultra-low-power Qualcomm QCC5100 system-on-chip featuring Arm Cortex-M55 processor core with U55 ML core, HiFi5 DSP, and integrated Bluetooth 5.3 connectivity.
"The new wearable platforms – Snapdragon W5+ and Snapdragon W5 – represent our most advanced leap yet," said Pankaj Kedia, senior director, product marketing, and global head of Smart Wearables, Qualcomm Technologies, Inc. "Purpose-built for next generation wearables, these platforms address the most pressing consumer needs by delivering ultra-low power, breakthrough performance, and highly integrated packaging."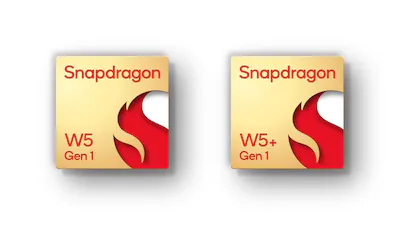 Specifications of Snapdragon W5+ Gen 1 Platform:
SoC: Quad-core Arm Cortex-A53 at 1.7GHz optimized for wearables, fabricated using 4nm process technology and runs Wear OS by Google and AOSP
Co-processor: Arm Cortex-M55 at 250MHz, fabricated using 22nm process technology, and features a U55 machine learning core
GPU: Qualcomm Adreno 702 graphics unit at 1GHz
DSP: Dual Hexagon QDSP V66K
Memory:
Wireless connectivity: Bluetooth 5.3, Wi-Fi 802.11n, Co-ex for Bluetooth, Bluetooth LE, Wi-Fi, LTE, and NFC supported via third party
Display: MIPI-DSI for the SoC and QSPI with DDR for the QCC5100 co-processor supporting up to 1080 pixels at 60 frames per second, optimized for wearables
Camera: 2x 4-lane CSI Next-gen Spectra IS

1×16 LPDDR4 2133MHz

P with dual ISP supporting 16MP+16MP
Power management: New wearable PMIC optimized for low power and high integration systems
Operating system: Wear OS by Google and Android Open Source, FreeRTOS on AON co-processor
"We are thrilled to be working with a range of customers and partners, thus expanding our thriving wearable ecosystem, and are delighted to announce 25 designs in the pipeline across segments based on the new platforms. We have collaborated extensively with our first customers, Oppo and Mobvoi, over the last year and look forward to seeing their products," said Kedia.
For more information, head to the official product page of the Snapdragon W5+ Gen 1 wearable platform.
Join 97,426 other subscribers

Archives