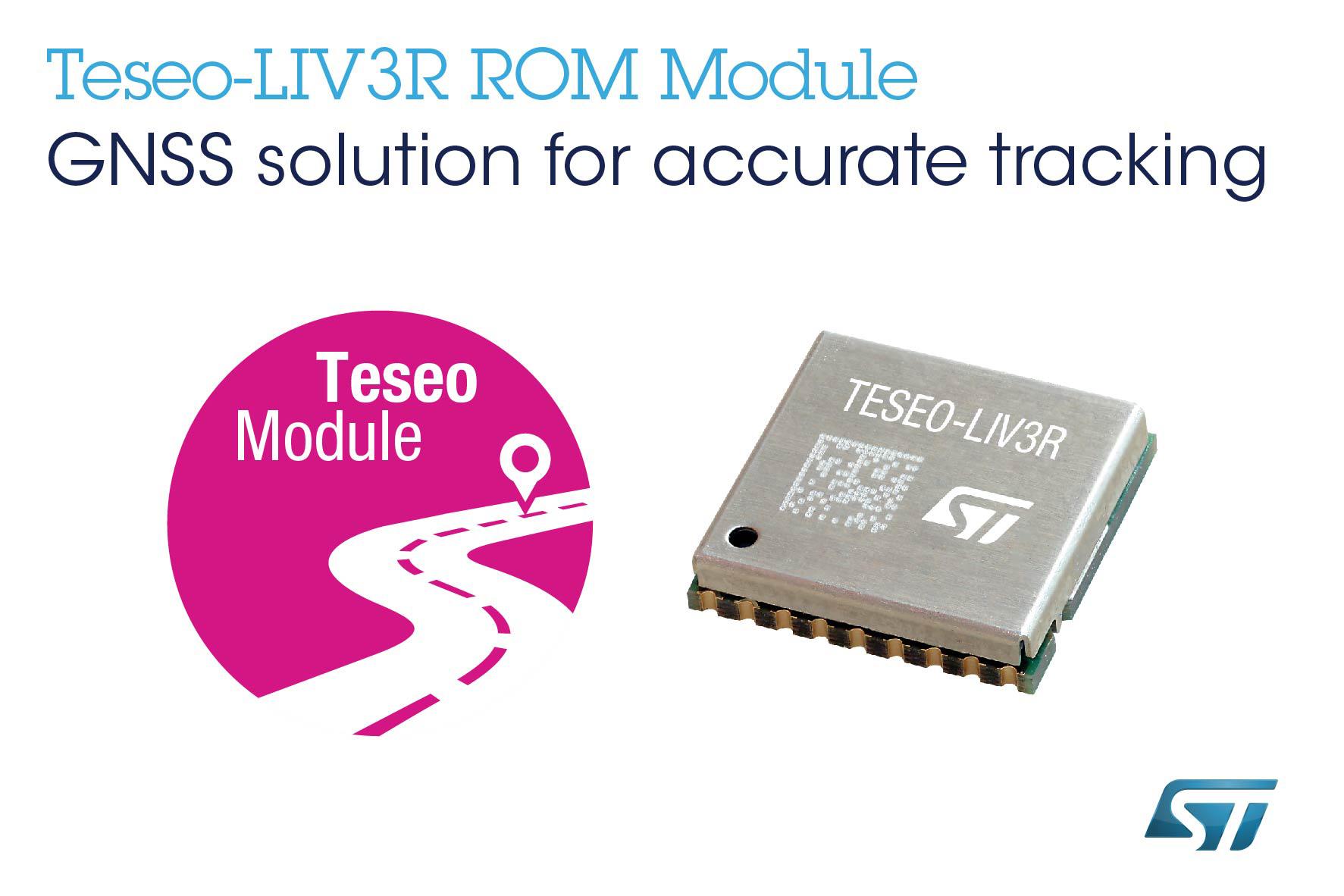 ST releases ROM-Based GNSS module
Designed for mass-market tracking and navigation applications, the Teseo-LIV3R ROM-based module, has full GNSS algorithm capability for cost-conscious tracking and navigation devices, says ST Microelectronics.
The GNSS module provides odometer functionality with three trip counters and reached-distance alert, along with geo-fencing capabilities with up to eight configurable circles and crossing-circles alarm. Support for real-time assisted GNSS with free server access ensures uninterrupted positioning data for dependable navigation.
Simultaneous tracking of GPS, Glonass, Beidou, and QZSS constellations, with Satellite-Based Augmentation System (S-BAS) and (Radio Technical Commission for Maritime Services) RTCM V3.1 differential positioning ensures accuracy to within 1.5m (50 per cent Circular Error Probability (CEP). Tracking sensitivity of -163dBm and time-to-first-fix faster than one second ensure high performance for demanding applications.  The module responds to proprietary National Marine Electronics Association (NMEA) commands.
Teseo-LIV3R can be used for battery-sensitive applications as it has scalable power consumption according to accuracy, average current, and frequency of fixes, a sub-15µA standby mode with RTC backup, and support for low-power modes, including continuous-fix with adaptive and power-saving cycled modes, periodic-fix with GPS only, and fix-on-demand with the device in permanent standby.
The module is FCC-certified and is supported by the STM32 Open Development Environment. STM32 applications for advanced geolocation, smart tracking, and server-assisted GNSS are available and the EVB-LIV3x evaluation board and X-Nucleo-GNSS1A1 expansion board are also available for hardware development. The Teseo Suite PC tool helps configure settings and fine-tune performance.
The 9.7mm x 10.1mm LCC18 module is in production now. http://www.st.com
Join 97,426 other subscribers

Archives