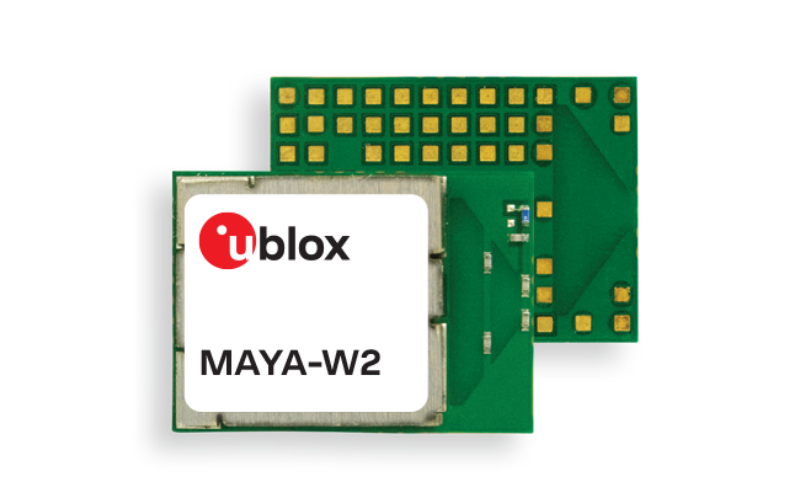 U-Blox announces MAYA-W2 series module to bring Wi-Fi 6 to industrial applications
Swiss embedded device manufacturer, U-Blox, known for developing wireless communication technologies, has announced the U-Blox MAYA-W2 series module that integrates Wi-Fi 6, Bluetooth and IEEE802.15.4 (Thread and Zigbee). As a tri-radio module, the device allows fast track to market supporting Linux, Android and FreeRTOS operating systems. The module incorporates the NPX's IW612 chipset, which inherently is a tri-radio single-chip solution designed for a broad range of IoT and industrial applications in smart homes, smart devices, and accessories.
The onboard NXP IW612 integrated circuit features a Wi-Fi subsystem powered by NXP's IEEE802.11ax (generally referred to as Wi-Fi 6) technology to deliver enhanced network efficiency, lower latency and improved range. Along with Wi-Fi 6 is an independent Bluetooth 5.2 system that features Bluetooth profiles such as hands-free, advanced audio distribution profiles for audio streaming. Finally, the IEEE802.15.4 subsystem that supports Thread mesh networks enables real-time data processing when connected to an external processor.
As an NXP Gold Partner, U-Blox is one of the first companies to leverage this innovative solution for their new MAYA-W2 module – which will help expedite the development of high-performance, commercial end-products that require robust, secure, and reliable connectivity, said Tom Eichenberg, Sr. Director of Marketing – Connectivity, at NXP Semiconductors.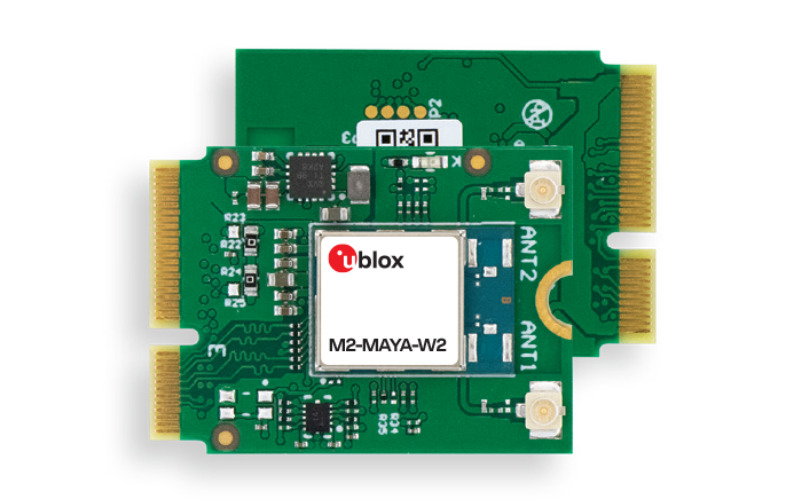 The MAYA-W2 module also supports several operation modes– access-point, station, and Wi-Fi direct. The Wi-Fi 6 supports up to 600 Mbit/s data throughput and improved performance in multi-user, multiple-input, and multiple-output (MU-MIMO). The module, as claimed, has been tested to meet high reliability and quality requirements to serve applications in healthcare, electric vehicles, and charging infrastructure.
As mentioned earlier, the MAYA-W2 module supports Bluetooth Low-Energy audio, enabling devices to simultaneously transmit distinct audio streams while receiving multiple audio streams and also broadcast these audio streams to multiple users. With MAYA-W2, developers can seamlessly upgrade Wi-Fi 4 devices to explore the capabilities of Wi-Fi 6 technology. The wide operating temperature range of -40°C to 85°C provides a good environment for industrial automation applications.
MAYA-W2 offers vastly improved Wi-Fi performance, particularly when it comes to handling crowded networks, while also supporting Bluetooth LE 5.2 and Thread. This tri-radio functionality makes it ideal for gateways and bridges in low-power IoT and mesh networks, said Sebastian Schreiber, Product Manager at U-Blox.
If you are interested in trying out the all-new MAYA-W2 module, the manufacturer plans to make the evaluation kits available upon request starting this June 2022. Also, there are several options to choose from!
Join 97,426 other subscribers

Archives