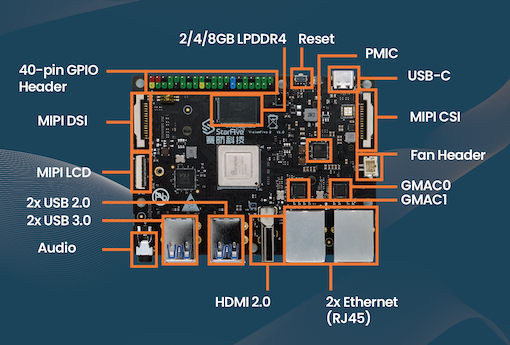 VisionFive 2 – open source quad-core RISC-V dev board
High-performance quad-core RISC-V single board computer (SBC) with an integrated 3D GPU, 2G/4G/8G LPDDR
Meet the VisionFive 2
A pioneering development board that combines performance with low-cost and full open-source RISC-V single board computer.
At the core of the VisionFive 2 is The StarFive JH7110 64-bit CPU, featuring quad SiFive U74 1.5GHz cores and comes paired with BXE-4-32 GPU from Imagination Technologies. Our goal was to iron out some of the initial issues with our original design. Whereas the JH7100 had two 64-bit SiFive U74 RISC-V cores running at 1GHz, the JH7110 has four cores running at 1.5GHz.
A larger change from the VisionFive 2's predecessor is the addition of the Imagination BXE-4-32 graphics processing unit, which will go quite some way into increasing the overall performance for desktop and graphical workloads.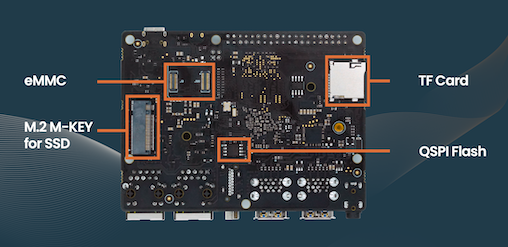 The original VisionFive, unveiled late last year and sold exclusively in 8GB form from March this year, was a strong initial design but not without its troubles: as our testing showed, design flaws in the silicon hampered performance while reliance on an outdated end-of-life operating system — a situation now resolved by Canonical's recent release of an official Ubuntu Server 22.04.1 image for the board — brought its own difficulties.
StarFive has opened crowdfunding for its second hobbyist-focused RISC-V single-board computer (SBC), the VisionFive 2 — promising a faster device with twice the cores, a GPU, and dual gigabit Ethernet ports.
Designed around the new JH7110, fixing flaws in the original VisionFive, the new VisionFive 2 is available for a lot less money.
Video
more information: https://www.kickstarter.com/projects/starfive/visionfive-2
Subscribe to Blog via Email
Join 97,623 other subscribers
Archives