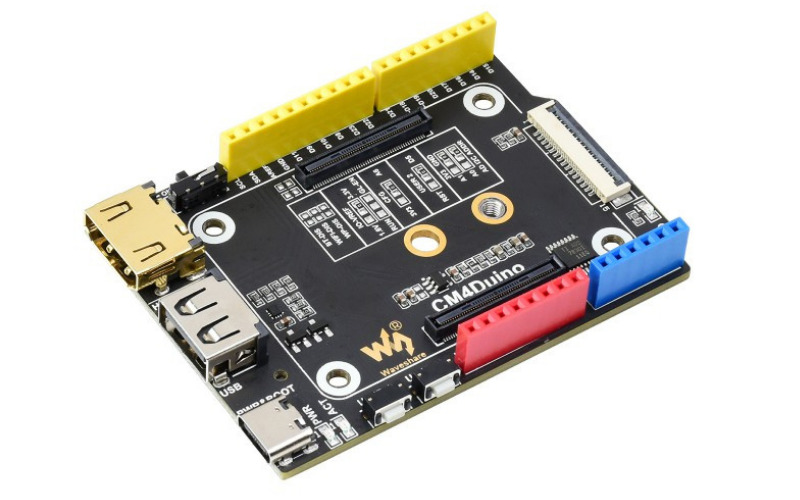 Waveshare launches Arduino-compatible CM4-Duino baseboard for RPi CM4
Waveshare has unveiled the CM4-Duino, an Arduino-compatible baseboard for the Raspberry Pi Compute Module 4. The Compute Module has the same form factor as the Arduino Uno R3 and supports the conventional Arduino's GPIO header. Hence permitting the use of most Arduino shields and further offering more computing resources that are powered by an Arm Linux platform.
Raspberry Pi Compute Module 4 is widely regarded as one of the most used systems-on-module, designed by a UK manufacturer for several IoT and industrial applications. The module incorporates a quad-core Arm Cortex-A72 process with 32 variants available depending on the range of RAM, eMMC flash storage options, and wireless connectivity. Jeff Geerling, a YouTuber and hardware developer, has provided a long list of commercially available baseboards for Compute Module 4.
Specifications of the CM4-Duino Baseboard
Compatibility: All variants of Raspberry Pi Compute Module 4 and Arduino Shields
Storage: MicroSD card slot and M.2 key slot for NVMe and SSD flash storage
Interface:

Camera: 1x MIPI CSI-2
Video: 1x HDMI
Wireless communication modules: M.2 M key slot

GPIOs:
USB ports: 1x USB 2.0 Type-A, 1x USB Type-C
HDMI port: Supports 4K at 30fps output
Power: 5V via Type-C USB port
Dimensions: 73.58 x 53.34 mm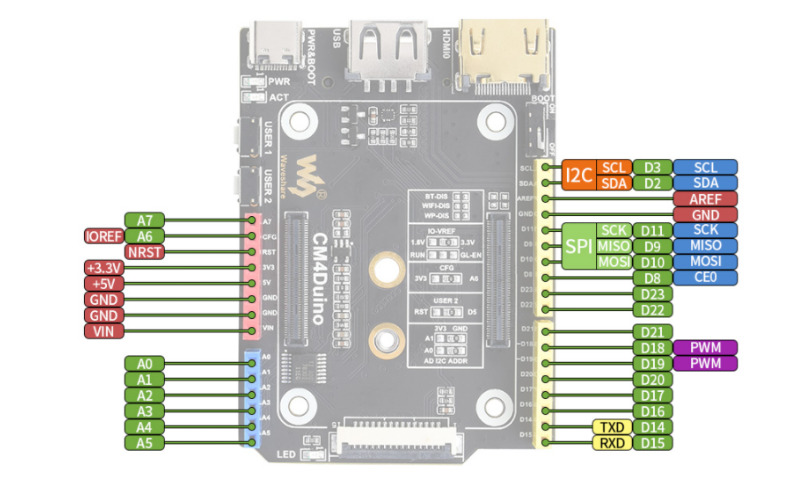 All the variants of the Raspberry Pi CM4 are compatible with the CM4-Duino, including those up to 8GB RAM/32GB eMMC with optional Wi-Fi and Bluetooth wireless connectivity. If you happen to have the Raspberry Pi Compute Module 4 Lite version which does not include eMMC flash storage, not to worry, the CM4-Duino baseboard comes with a microSD card slot. The CM4-Duino baseboard is designed with an onboard M.2 slot that can be used to connect various modules, including the ones that support cellular networks like 4G and 5G. The module also has LED indicators for monitoring the operating status of the CM4 module.
There are certain precautions for the use of CM4-Duino baseboard. The manufacturer notes that no external hardware should be plugged in except for USB and HDMI. The USB Type-C port can also be used as a power supply or as a USB interface to burn image. For normal power supply of CM4, no other device should be connected to the baseboard when using a USB Type-C interface to burn the image.
Waveshare's CM4-Duino baseboard is available for purchase on the official product page for $24.99. The manufacturer has also provided a detailed Wiki page for the hardware to get started.
Join 97,426 other subscribers

Archives