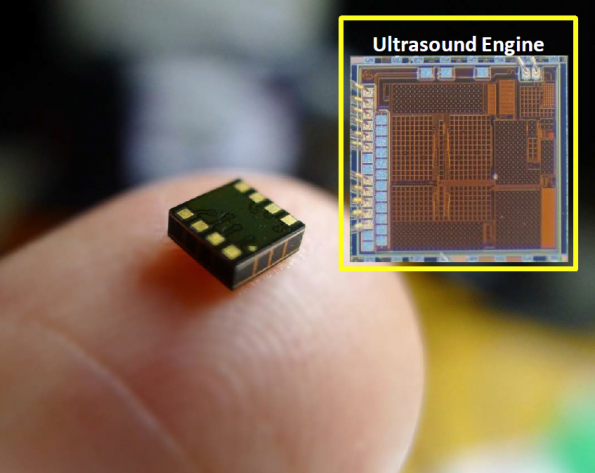 Chirp Microsystem Made The Smallest And Most Accurate Ultrasonic Time-of-Flight Sensors
Recently Californian startup Chirp Microsystems officially announced two discrete ultrasonic Time-of-Flight (ToF) sensors, the CH-101 and CH-201, with maximum sensing ranges of 1m and 5m, respectively. Both chips have a 3.5×3.5mm package and they are powered by same ASIC or application-specific integrated circuit for signal processing. To achieve different sensing ranges, the Piezoelectric Micro-machined Ultrasonic Transducers (PMUT), the MEMS parts of the sensors are tuned and built differently.
Chirp Microsystems was founded in 2013 and the CH-101 is their 2nd generation design while the CH-201 is an upgraded third generation design. Their 4th generation design of chips is under development and prototypes are being tested recently. Chirp Microsystems declares that with each design so far, they've improved their transmitter and receiver performance by 4 times. David Horsley, Chirp Microsystems' CTO, told,
In fact, we have been sampling the CH101 for two years now and we realized we had never made a product announcement for it.
According to Chirp Microsystems, the chips are the first commercially available MEMS-based ultrasonic ToF sensors and can beat all other ToF solutions on the small size and low power consumption. The "Sonars on a chip" draw 100 times less power and are a thousand times smaller than the conventional ultrasonic rangefinders used in today's industrial automotive applications. Unlike infrared based ToF sensors, these new MEMS sensors do not rely on optical path clearance. So, it's now easier for engineers to design bezel-free smartphones with precise gesture recognition.
The CH-101 and CH-201 include an interrupt pin and a GIO pin. That pin is used in hardware trigger mode to connect several transducers on the same I2C bus so they can operate in a synchronous fashion. For Virtual Reality applications, data from multiple chips are mixed to detect the position of user's hand in 3D space.
Previously the California based startup also made monolithic linear arrays that had ten transducers in a row. Using that design, one can perform beamforming and identify both range and position of an object. Though they stayed away from commercializing it. "We didn't want to bite too much at a time" – said the CTO of the startup. Rather they decided to focus on solving various manufacturing and packaging issues first. Horsley, the CTO of the Chirp Microsystems, also added,
We are pioneers in this area, and we are not close to the optimum yet, we still have a lot of design space to improve the specs.
Join 97,426 other subscribers

Archives