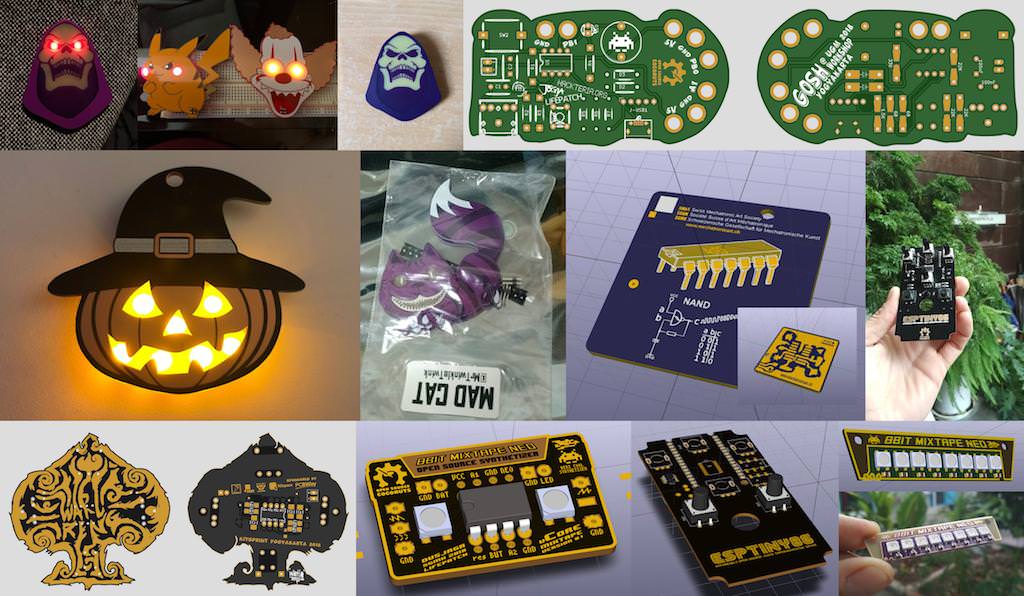 An Inkscape extension for exporting drawings into a KiCad PCB
Certain electronic applications may require circuits that can fit in a small space, may call for the layout such that the outputs and input pins line up in the enclosure. This can all be possible with custom Printed Circuit Boards(PCBs). Custom PCBs can be used in industries, medical equipment, games, and various other applications. Makers also create fancy custom PCBs for keychains, making gamepads, making decorative pieces, etc. Industries use custom PCBs for verification. They add various indicators in the PCB design to validate the prototype.
When you design a custom PCB, you have complete control over your design. In other words, you have control over the placement of every component and every piece of copper on the PCB. This control not only allows you to create circuits of various shapes and sizes but also to create circuits with minimal parasitics. Moreover, for some designers, appearance matters, and custom PCBs look more professional.
But designing a custom PCB is not an easy task. First, an individual has to create an outline of the PCB in Adobe Illustrator or similar software. Then, import it into PCB designing software and create bare copper areas. Finally, one arranges the components and creates the final design. Budi Prakosa, Frontend Engineer at Codeme.co.id made an Inkspace extension for exporting drawings into a KiCad PCB. To use the extension, you need to add the extensions file in InkScape 's User Extensions and then draw the PCB.
For using this feature with Eagle, you need to use this svg to Eagle CAD converter
Following are the features of this Inkspace extension:
Draw Any kind of shapes without restriction
Supports Drill Pad, and custom drill size
Supports Edge Cut (PCB Shape)
Works on OSX, Windows, and Linux
Budi Prakosa documented his extension Svg2Shenzen where he included the extension files, instructions on how to use the extension, and few examples as a tutorial.
2 years after his announcement about his extension, Budi posted on the openhardware forum:
"I'm happy that svg2shenzhen now widely used to create PCB art, badges, antennas, and was contacted by a student in Stanford that they use it to design ultra-small vibrating component"
About Inkspace:
Inkscape is a Free and open-source vector graphics editor for GNU/Linux, Windows, and macOS X. It uses vector graphics that allow for sharp printouts and renderings at unlimited resolution and is not bound to a fixed number of pixels like raster graphics. Inkspace is widely used for illustrations such as cartoons, clip art, logos, typography, diagramming, and flowcharting. It uses SVG file format as its main format which is widely supported by many applications and web browsers.
It has the following features:
Can import and export various file formats, including SVG, AI, EPS, PDF, PS, and PNG.
Has a comprehensive feature set
Easy to use
Multi-lingual support
Users can customize Inkscape's functionality with add-ons.
Join 97,426 other subscribers

Archives