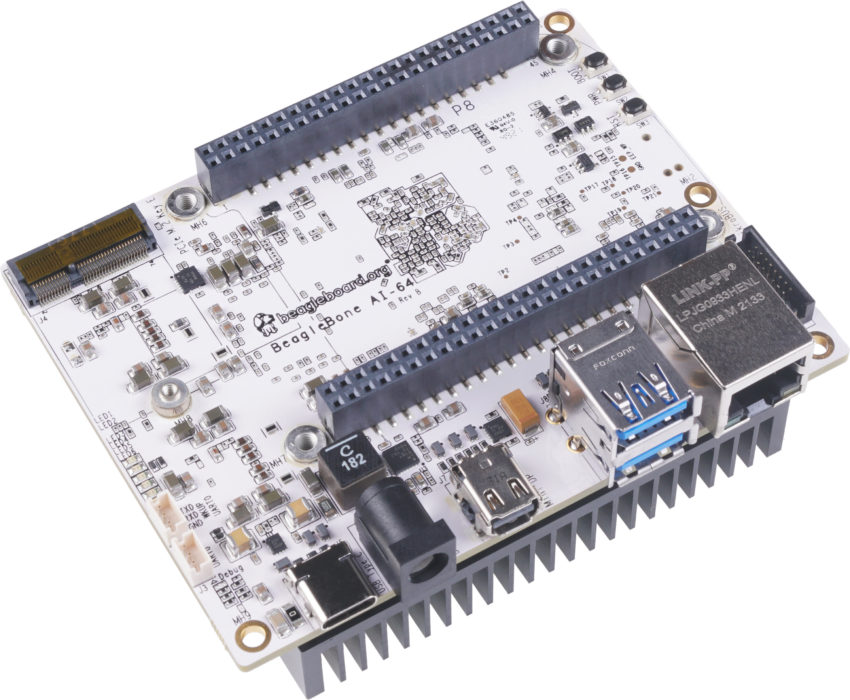 BeagleBoard BeagleBone® AI-64
BeagleBoard BeagleBone® AI-64 presents a complete AI and Machine Learning System with the convenience and expandability of the BeagleBone platform. The BeagleBone AI-64 offers onboard peripherals to get started immediately learning and building applications.
The BeagleBoard BeagleBone AI-64 delivers a massive amount of computing power in an easy-to-use platform to build everything from autonomous robots to building automation. To start building performance-optimized embedded applications users require a locally hosted, ready-to-use, open-source-focused toolchain, and development environment, a simple web browser, power source, and network connection. Expansion possibilities are achieved through standard BeagleBone cape headers, with hundreds of open-source hardware examples and dozens of readily available embedded expansion options available off-the-shelf.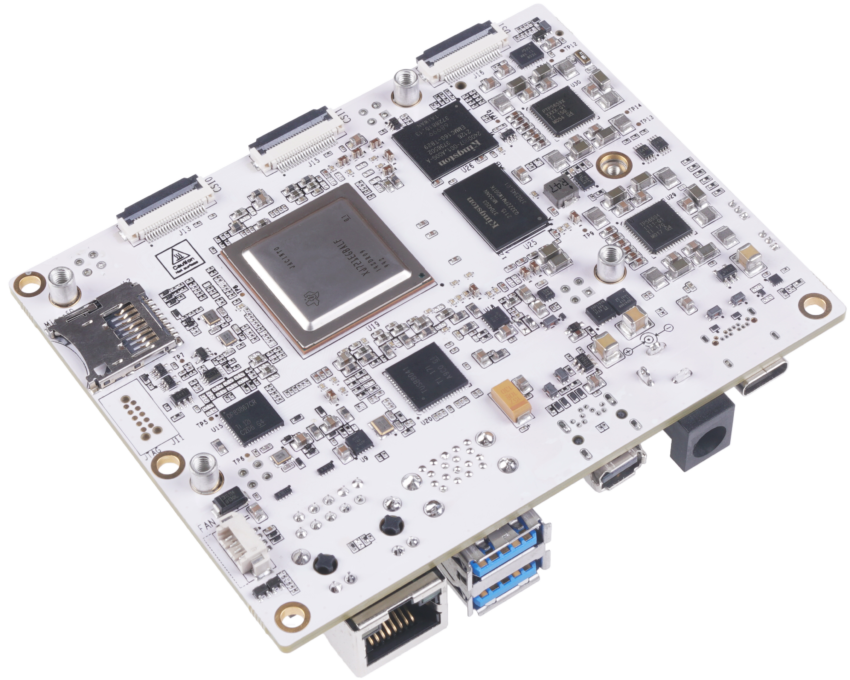 Features
Expandability

BeagleBone® cape header compatibility for expansion with existing add-on boards
ikroBUS™ Shuttle header giving access to hundreds of existing Click™ sensors and actuators

Memory

4GB LPDDR4
16GB eMMC flash with high-speed interface
MicroSD card slot

High-speed interfaces

M.2 E-key PCIe connector to interface with Wi-Fi®/BLUETOOTH® adapters
USB 3.0 Type-C SuperSpeed interface for power input and data
2 USB 3.0 Type-A SuperSpeed interface
Gigabit Ethernet

Camera and Display Connectors

Mini DisplayPort interface
2x 4-Lane CSI connector for popular camera options
4-Lane DSI connector for popular display options

User interfaces

1 Boot button, 1x Reset Button, 1x Power button
1 Power indication LED, 5x User LEDs
5V DC input power
2 UART debug
JTAG 10pin Tag-Connect™ for debugging

TDA4VM Dual 64-bit Arm® Cortex®-A72, 2.0GHz processor feature:

C7x floating point, vector DSP, up to 1.0GHz, 80GFLOPS, 256GOPS
Deep-learning matrix multiply accelerator (MMA), up to 8 TOPS (8b) at 1GHz
Vision Processing Accelerators (VPAC) with Image Signal Processor (ISP) and multiple vision assist accelerators
Depth and Motion Processing Accelerators (DMPAC)
Dual 64-bit Arm® Cortex-A72 microprocessor subsystem at up to 2GHz
1MB shared L2 cache per dual-core Cortex-A72 cluster
32KB L1 D Cache and 48KB L1 I Cache per Cortex-A72 core
Six Arm® Cortex-R5F MCUs at up to 1GHz
Two C66x floating-point DSP, up to 1.35GHz, 40GFLOPS, 160GOPS
3D GPU PowerVR® Rogue™ 8XE GE8430, up to 750MHz, 96GFLOPS, 6 Gpix/sec
Memory subsystem with up to 8MB of on-chip L3 RAM with ECC and coherency
Twelve Multichannel Audio Serial Port (MCASP) modules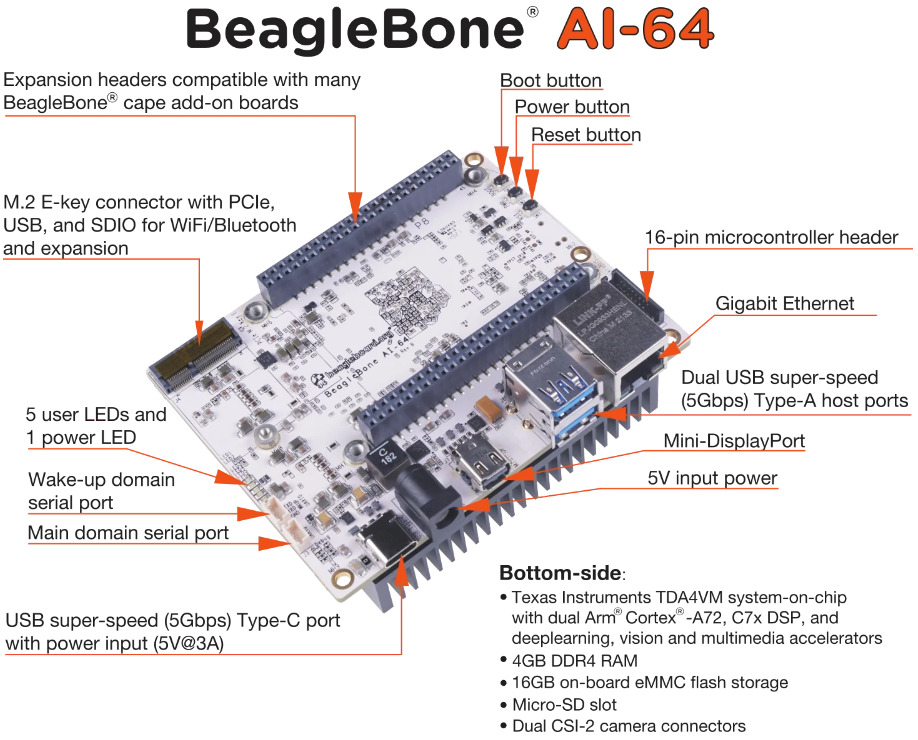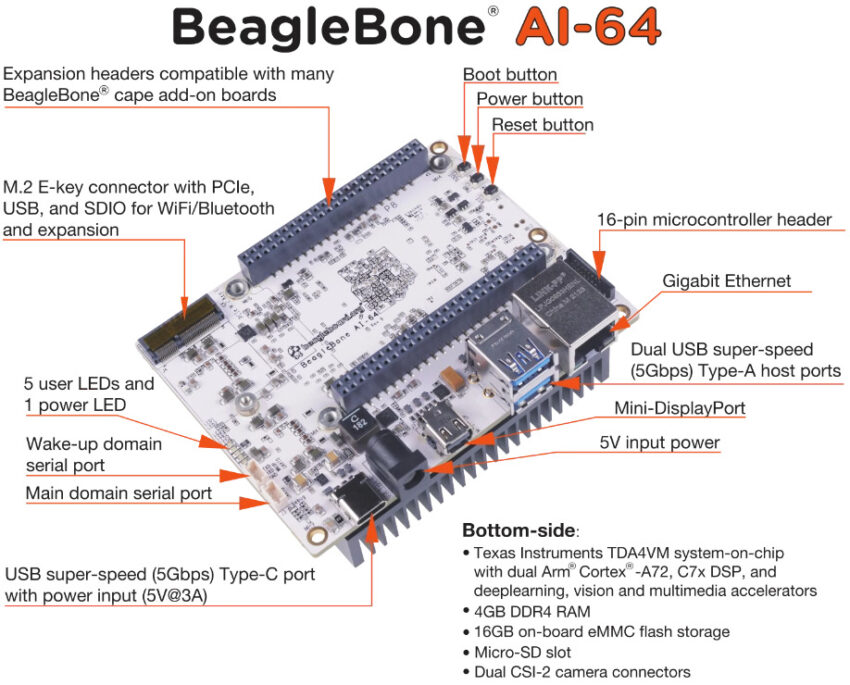 more information: https://beagleboard.org
Join 97,426 other subscribers

Archives