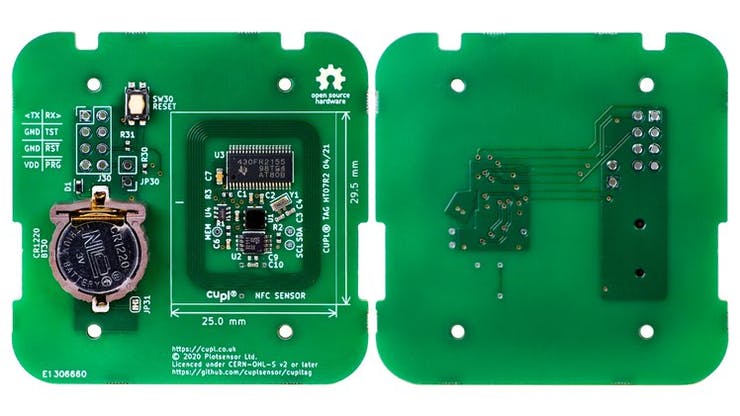 CuplTag — Battery-powered NFC tag that logs ambient temperature and humidity and displays on your phone
Plotsensor LTD, an electronics company located in the United Kingdom, has launched a crowdfunding campaign for its compact device that sends environmental sensor readings via NFC.
While other sensors connect and send data to the cloud, this battery-powered cuplTag NFC sensor tag sends environmental data (temperature and humidity) to a smartphone instead, with just a tap. It is controlled by Texas Instruments' MSP430 16-bit microcontroller and features a CR1220 battery with long battery life.
The microcontroller powering the device reads and stores sensor data regularly (every ten minutes by default) into an EEPROM. The data is read over NFC and the tag returns an URL with the data from the sensor and battery. This URL is sent to your phone and opened in the web browser to display the results. You can also change the measurement interval from a minimum of 3 minutes to a maximum of 65535 minutes.
Key Features and Specifications Include:
MCU: MSP430FR2155 16-bit microcontroller running at 24 MHz
2 Kbytes EEPROM part of NT3H2111 for up to 188 temperature & humidity data points or 376 temperature-only data points
Passive NFC, tap-to-read via NXP NT3H2111 NFC tag
HDC2b021 temperature and humidity sensors
Measurement interval: Default of 10 minutes (can be changed from a minimum of 3 minutes to a maximum of 65535 minutes)
CR1220 battery (not included). Very strong, can last for an estimated 7+ years "depending on the operating environment."
Power consumption: About 1.5uA on average based on 10 minutes measurement interval achieved by remaining in LPM3 power modes most of the time.
Use cases
The device can be used in a number of home and professional scenarios like in growing plants, deterring insects, monitoring laboratories and production environments, helping glues and epoxies cure more quickly, and more. Just insert the battery, wait for a few hours, and come back with your NFC-enabled smartphone to visualize the data. No configuration and no app installation whatsoever are required. It is also not resistant to water and thus more suitable for indoor use.
Everything about this project is completely open-source – the firmware that runs on an MSP430 microcontroller, the designs of the PCB, the cupldeploy web backend, and the frontend applications. You'll find all the files on the GitHub repository.
The cuplTag NFC sensor tag is currently available on the crowdfunding page for $39. Shipping to the United States adds $8 while to the rest of the world, $18. If you would like to reprogram the board's firmware, however, you will need to purchase an MSP-FET flash emulator, which appears to be selling for $153. Shipping is scheduled to start at the end of January next year.