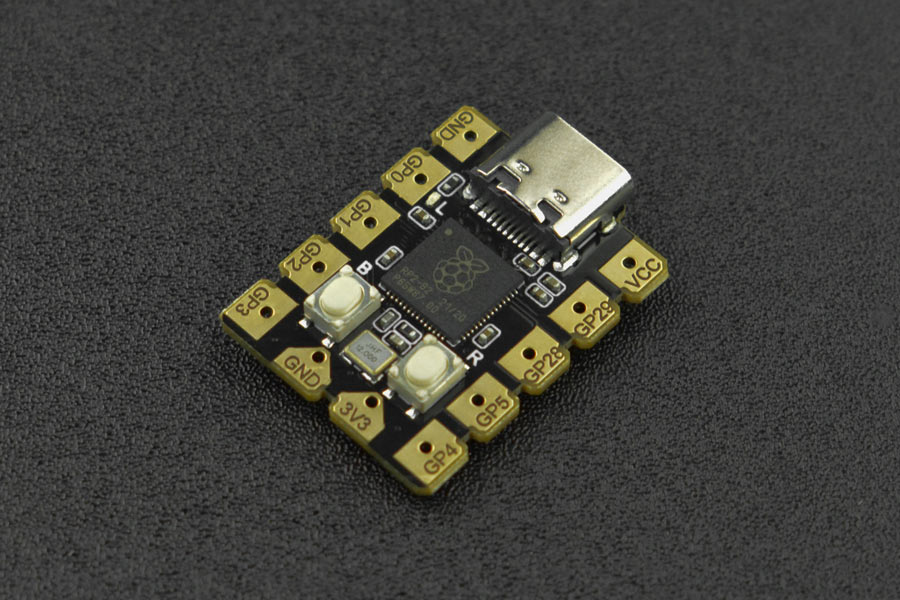 DFRobot Beetle RP2040 mini development board aims for home appliance control
DFRobot is known for manufacturing many famous electronic embedded devices for home applications, hobbyists, and professional use. In the meantime, Adafruit QT Py received a lot of attention due to its small form factor and improved performance with the latest microcontrollers on board. To capitalize on this momentum, DFRobot has launched the Beetle RP2040 Mini development board with a size measuring 27×20 mm only.
As the name suggests, the development board is equipped with the Raspberry Pi's in-house silicon tape-out RP2040 microcontroller, which features a dual-core Arm Cortex-M0+ processor core clocked up to 133MHz frequency. On top of that, the RP2040 microcontroller has 264kB internal RAM and supports USB1.1 devices, allowing users to focus on the function implementation instead of spending time on improving the program.
Specifications of DFRobot Beetle RP2040 Mini Development Board:
CPU: Raspberry Pi RP2040 microcontroller
Clock frequency: 133MHz
Internal RAM: 264kB
Flash memory: 2MB
Power support: 3V3 to 5V DC
Interface: USB Type-C port
GPIOs: 8
Serial communication: 2x I2C, 2x UART, 1x SPI
Digital port: 8
Analog port: 2
Button: 1x reset button and 1x boot button
LED: 1
USB interface: USB1.1 port
Software: C++, MicroPython, Arduino C, Mind+ graphical programming
Dimensions: 27x20x4.91 mm
Weight: 20 grams without packaging


Thanks to the compact size, the hardware device can be embedded into smaller devices and projects. The company has adopted a beginner-friendly large pad design which is essential to reduce the entry-level barriers and reduce the difficulty of soldering. This rich set of interfaces helps users attach external hardware sensors through various ports available on the DFRobot Beetle RP2040 mini development board.
DFRobot has provided the hardware platform with a BOOT button. If the RP2040 program is running incorrectly, then this can cause a program error and download failure. The solution to this is to hold the BOOT button and plug in the USB cable to the computer at the same time, then the USB drive will be ejected.
DFRobot Beetle RP2040 mini development board is commercially available on the official product page for $6.90. The company has also provided a detailed product wiki page for more information.
Join 97,426 other subscribers

Archives