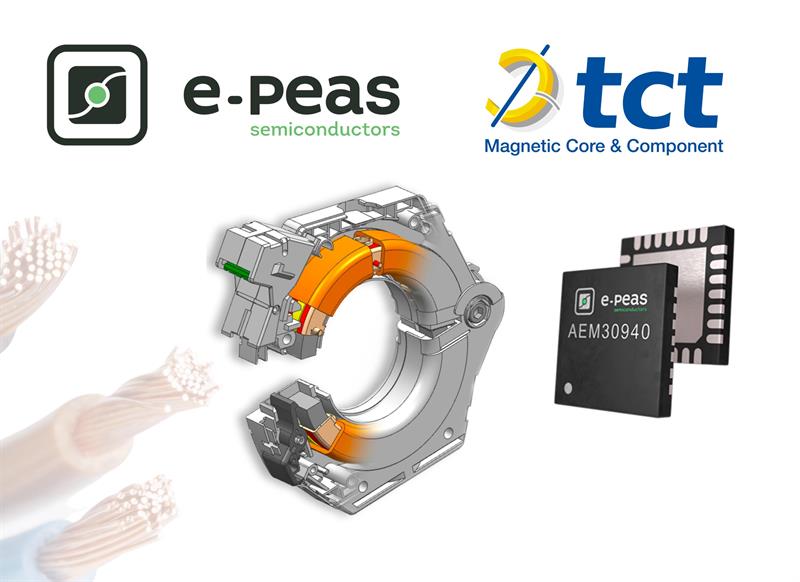 E-PEAS cooperates with TCT on energy harvesting solution
Cooperation between E-PEAS and TCT has resulted in an energy harvesting solution for three-phase electricity cables designed to support IOT.
Building on the existing technology relationship between e-peas and TCT, the two companies have made another major advance in the harvesting of energy from power lines. These partners already successfully demonstrated a solution that can extract energy from single-phase wire. Now they have expanded on this, by developing hardware that can be used with three-phase cabling.
The new multifaceted energy harvesting solution is unique to the market. It consists of an e-peas AEM30940 high-performance power management IC (PMIC) accompanied by a TCT current transformer featuring one of the company's proprietary high-permeability ferromagnetic cores. The current transformer is clipped around the cable. The AC current it extracts via induction from the cable is subsequently converted into a DC current using rectification circuitry, and the AEM30940 can then utilize this to power the electronic system it is connected to.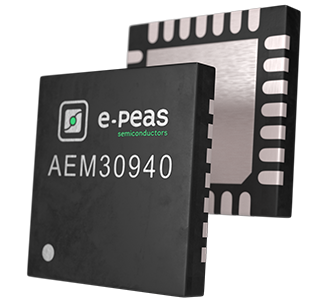 There are countless IoT-related applications that will benefit from this latest e-peas/TCT innovation, allowing energy-autonomous sensing and communication equipment to be deployed anywhere that there is nearby AC electricity distribution infrastructure. The need to send out engineers to replace batteries is eliminated, with operational expense reductions being derived from this. Among the opportunities that this solution will be able to address are industrial control/monitoring, building automation, smart grid, environment monitoring, etc.
e-peas and TCT are demonstrating their energy harvesting solution for three-phase cabling at the SIDO Lyon conference on Stand W308. This uses the hardware just described to power a system comprising a light sensor, humidity sensor, temperature sensor, and a wireless transceiver IC, as well as covering real-time measurement of the current passing through the cable. Further demonstrations will be conducted at SIDO Paris (9-10 November, stand F20).
"Our company has been working closely with e-peas for just over two years, and what we have been able to achieve will have major implications for the emerging IoT sector," explains Alexandre Decombejean, Sales Manager at TCT. "The low cold-start capabilities of e-peas PMICs really provide the differentiation that we needed for this energy harvesting arrangement. Other devices would mean that too much of the available energy would simply be wasted."

"The new three-phase cable energy harvesting hardware we are now demonstrating will give us access to a broad selection of different deployment possibilities, allowing battery-less operation to be implemented across a multitude of customer applications," adds Christian Ferrier, e-peas' CMO. "We envisage this solution being pivotal in enabling widespread implementation of smart factory and smart city projects around the world."
Block Diagram

more information:
Join 97,426 other subscribers

Archives