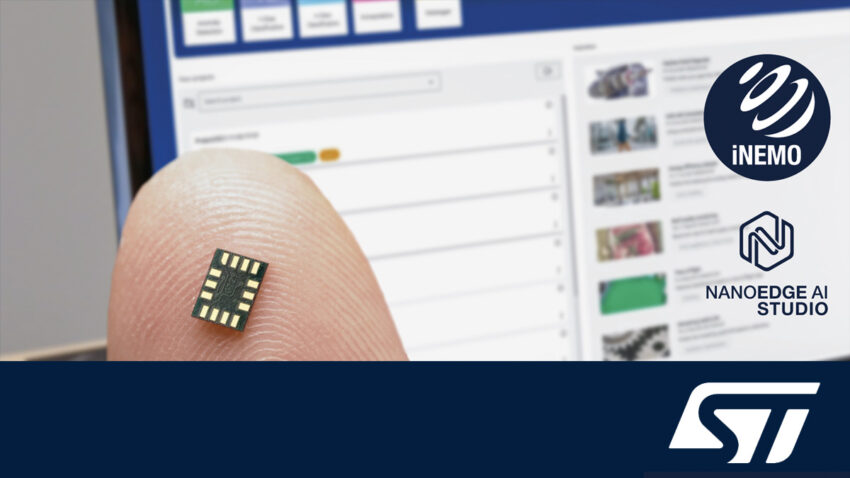 Enhanced AI Learning With ST's Latest ISM330ISN Inertial Sensor
The global semiconductor giant STMicroelectronics has simplified interaction with trained devices with its new inertial sensor ISM330ISN featuring an Intelligent Sensor Processing Unit (ISPU). ISPU is essentially a low-power, high-performance programmable core with high computational efficiency. As a result, this processor will be able to execute the signal processing and AI algorithms in real-time. Before transmitting data to the MCU and gateway/cloud, the ISPU processes data without waking up the system. In addition to 32KB of program memory and 8KB of data memory, ISPU has an FPU capable of performing addition, subtraction, and multiplication. This special processor enhances machine-learning applications and reduces power consumption and also its size by up to 50% making it superior to other typical MCUs.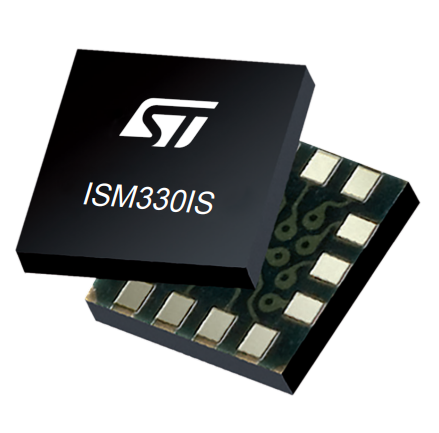 The ISM330ISN has an "always-on" 6-axis Inertial Measurement Unit (IMU) for detecting precise motion and position. The IMU provides incomparable accuracy and performance for its compact size by using the intelligence embedded in this sensor. ISM330ISN's embedded intelligence allows it to perform advanced motion detection functions without interacting with an external MCU. Thus, helping in consuming less power at the system level.
ISM330ISN's Features
The ISM330ISN supports programmable interrupts as well as an on-chip sensor hub with up to six sensors. The six sensors include two internal sensors, a 3-axis accelerometer and the 3-axis gyroscope and four other external sensors.
The selectable full scale for the accelerometer and the gyroscope is ±2/±4/±8/±16 g and ±125/±250/±500/±1000/±2000 DPS respectively.
With sensor hub functionality, it is possible to collect data from up to four external sensors.
The sensor guarantees consistent high accuracy with the ISPU while utilizing merely 0.59mA in combination mode with the accelerometer and gyroscope engaged.
ISM330ISN provides up to 70 μg/√Hz low noise sensing in high performance and the output data rate of 6.6Hz
This inertial sensor gets the support of SPI / I2C serial interface protocols.
The developers can use NanoEdge AI Studio to program the ISPU. It is a market-proven ST product and also a developer's choice to build AI applications on STM32 microcontrollers. With this tool, anybody can simply construct strong machine learning libraries that use on-sensor learning.
ISM330ISN's Pin Diagram

The ISM330ISN is a 14-pin sensor that has the same dimensions of 3mm x 2.5mm x 0.83mm as other conventional inertial sensors. While interfacing with the host, ISM330IS provides two modes of operation and functionality.
Mode 1: I2C or SPI (3- and 4-wire) serial interface is available.
Mode 2: I2C or SPI (3- and 4-wire) serial interface and I2C interface master for connecting external sensors are available.
The following table describes the functionality of each pin in mode 1 as well as mode 2 respectively.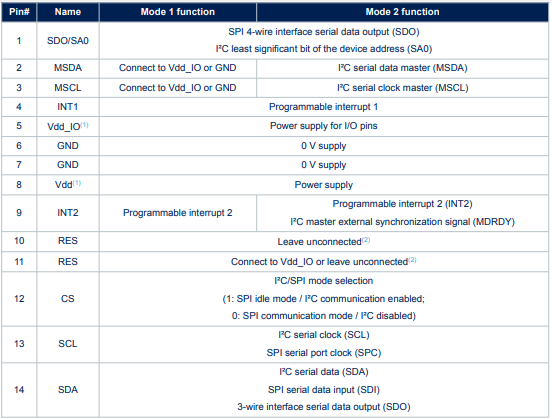 See the user manual for more information about ISM330ISN's pin diagram and features.
During an event, Simone Ferri, General Manager of Marketing, Analog MEMS and Sensors Group, STMicroelectronics said "Intelligence which was once implemented at the network edge, in an application processor, is now being implemented at the deep edge, inside the sensor". Mr Ferri continued "Our ISM330ISN IMU ushers in a new generation of smart sensors, employing integrated AI to handle complex functions like pattern recognition and anomaly detection with much higher efficiency and performance."
Coming from ST's iNEMO family of IMUs, ISM330ISN is ideal for IoT purposes. It has applications in industrial robotics, asset tracking, anomaly detection and condition monitoring. This smart sensor can be equipped with alarms for event detection or even in smart homes. It is also beneficial in complex motion sensing and gesture recognition for personal health
ST's 10-year longevity program protects the ISM330ISN, which provides a guarantee to the product designers and manufacturers of long-term product availability. The ISM330ISN is set to go into production in H2 2022 and will cost $3.48 for purchases of 1000 pcs. For more updates about this product visit ST's official website.
Join 97,426 other subscribers

Archives