Groboard "Giant Board" runs Linux and follows Adafruit Feather form-factor
Groboard has unveiled a tiny single board computer that runs Linux on Arm Cortex-A processor, called "Giant Board". In contrast to it's name, the board is tiny and runs Linux on Microchip's SiP application of its Cortex-A5-based SAMA5D SoC and is equipped with 128MB RAM, micro-USB, microSD and I/O including ADC and PWM. There are many available single board computers that run Linux on Arm Cortex-A processor and that's include Raspberry Pi Zero (W), PocketBeagle, or FriendlyElec NanoPi Duo.
The Giant Board is another option that will be available soon. The 51 x 23mm SBC supports Linux 4.14. The product page provides limited information on the board, but more details could be found on the developer's (Groboard) twitter account. The page states the board is now supported by Adafruit CircuitPython and has been tested with various Adafruit add-ons such as TFT FeatherWing.
The SiP design enables Groboard to fit a Linux computer into the Adafruit's distinctive MCU-oriented Feather format. Early specs listed for the board include 6x ADC and 4x PWM with external triggers, and also I2C, SPI, and UART. The availability of a microSD slot and micro-USB OTG port narrowly makes the COM-like board to be recognized as an SBC. The Giant Board features 3.7V LiPo battery support, just like its counterparts.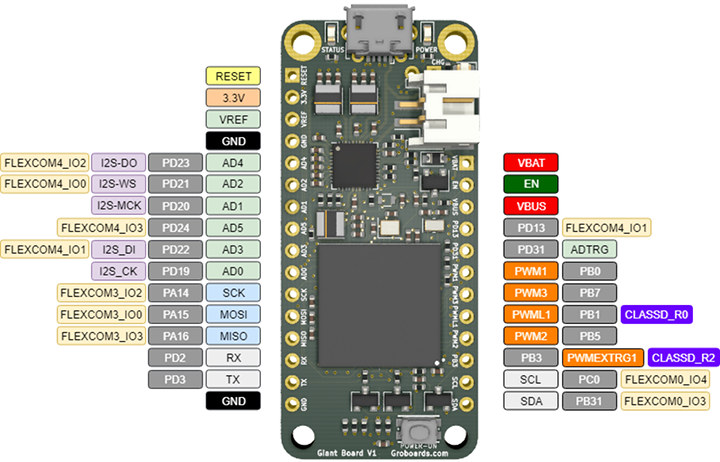 It is unclear if the board will ever go up for sale, but Groboard has already built the first few Giant Board models, and there is no indication when the Giant Board will be produced in larger quantities. Groboard also built an alternative to the now defunct Next Thing C.H.I.P. board, the Nebula One board which features Octavo Systems OSD3358-SM SiP, so "Giant Board" is not their first project powered by a system-in-package.
Preliminary specifications listed for the Giant Board include:
Processor (via SiP) — Microchip SAMA5D2 (1x Cortex-A5 @ 500MHz)
Memory (via SiP) — 128MB DDR2 RAM
Storage — microSD slot
Other I/O – Micro-USB port, 6x 12-bit ADC with 3.3V reference, 4x 16-bit PWM, ADC and PWM external triggers, I2C, SPI, UART
Power — 3.3V pin input; "full" 3.7V LIPO support
Operating system — Linux kernel 4.14
There's no price or availability information provided yet for the Giant Board, but more information may be found on OSH Park and Groboard's Giant Board product page.
Join 97,426 other subscribers

Archives