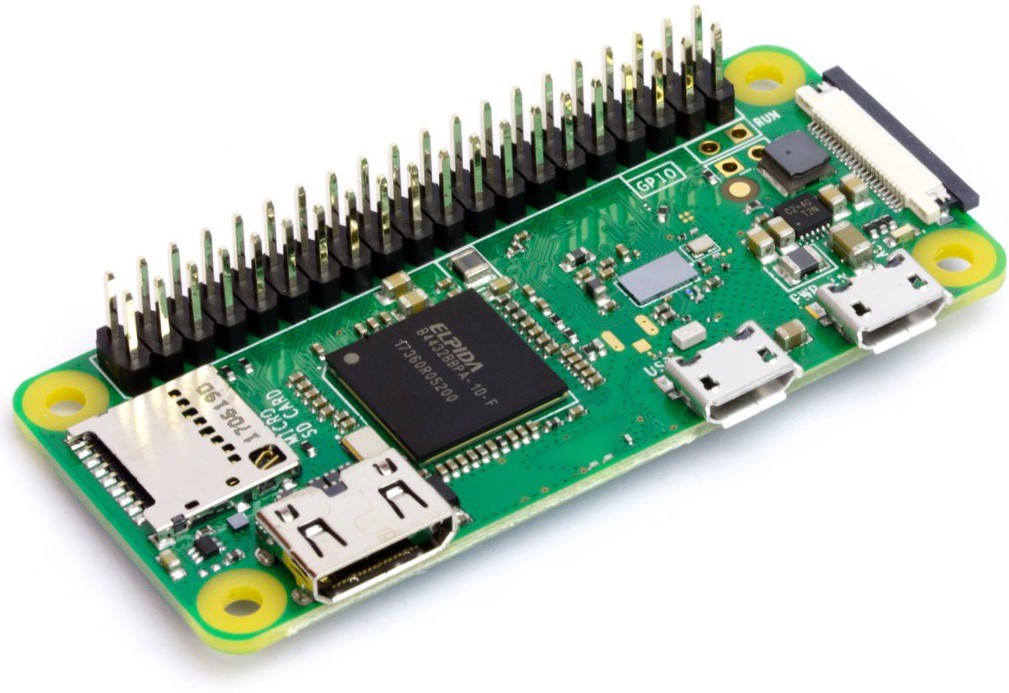 Raspberry Pi Zero WH – No Soldering Raspberry Pi Zero W
The Raspberry Pi Zero W is a single board computer and a great way to get started with learning coding and hardware projects. The "W" in the Raspberry Pi Zero signifies the board contains inbuilt Wifi and Bluetooth. Costing around $10, the Raspberry Pi Zero W is a great board to kickstart a lot of hardware projects and has found love in the maker's community.
The Raspberry Pi Zero W is great but doesn't feature any header pins which could be challenging for beginners, people that want to do a quick prototyping and the ones that don't want to void the Pi Zero W warranty. Introducing the Raspberry Pi Zero WH, the Raspberry Pi Zero W with added 40 GPIO (General Purpose Input Output) male header pins.
The Raspberry Pi Foundation has removed the compulsory soldering barrier that comes with the Raspberry Pi Zero W by adding a pre-soldered 40-pin header to the Zero W. This Pi Zero WH is perfect for those who don't own a soldering iron, hate soldering or who wants the extra soldering legwork done for them at a price of course.
The following are some of the specifications for the Pi Zero WH:
SoC – BCM2835 (same as Pi 1) but up-clocked to 1GHz, so 40% faster
RAM – 512MB RAM
Storage – microSD Slot
Connectivity – Bluetooth 4.1 (Bluetooth Low Energy) and 802.11 b/g/n WiFi
USB – 1x Micro USB OTG port, 1x Micro USB port for Power.
Camera – CSI Camera Connector
Video – Mini HDMI port and composite Video
Power Supply – 5V DC Volts via micro USB port.
Dimensions – 65mm x 30mm x 5mm.
The Raspberry Pi Foundation's community manager Ben Nuttall, wrote: "You can live boot the Raspberry Pi Desktop OS from a USB stick, use Linux PCs, or even install [the Pi OS] on old computers. Then you have really simple access to physical computing without full Raspberry Pi setups, and with no SD cards to configure."
The Raspberry Pi Zero WH is available for purchase online and comes with a price tag of about £13.25 ($18.25), a difference of about $5 over the Pi Zero W. The Raspberry Pi Zero WH can be purchase from pimoroni and other Raspberry Pi retailers. More information can be found at the Raspberry Pi Blog announcement.
Join 97,426 other subscribers

Archives