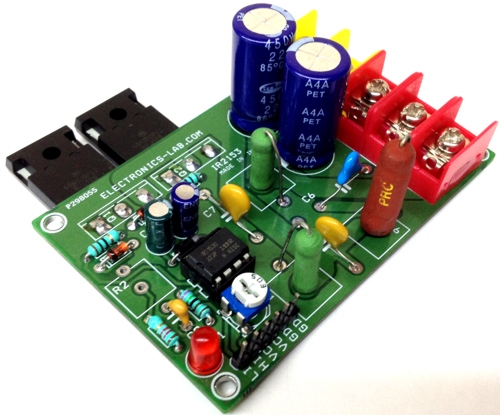 High Voltage-Current Half Bridge Driver Using IR2153 & IGBT
IGBT based half bridge board has been designed for multiple applications, like induction heater driver, tesla coil driver, DC-DC converters, SMPS etc. High current and high voltage IGBTs are used to serve high power requirements.
IGBT NGTB40N120FL2WG from ON semi and IR2153 from Infineon semiconductor are important parts of the circuit, IR2153 is a gate driver IC including inbuilt oscillator, 40A/1200V IGBT can handle large current. Gate driver circuit works with 15V DC and load supply 60V DC to 400V DC.
High Voltage-Current Half Bridge Driver Using IR2153 & IGBT – [Link]