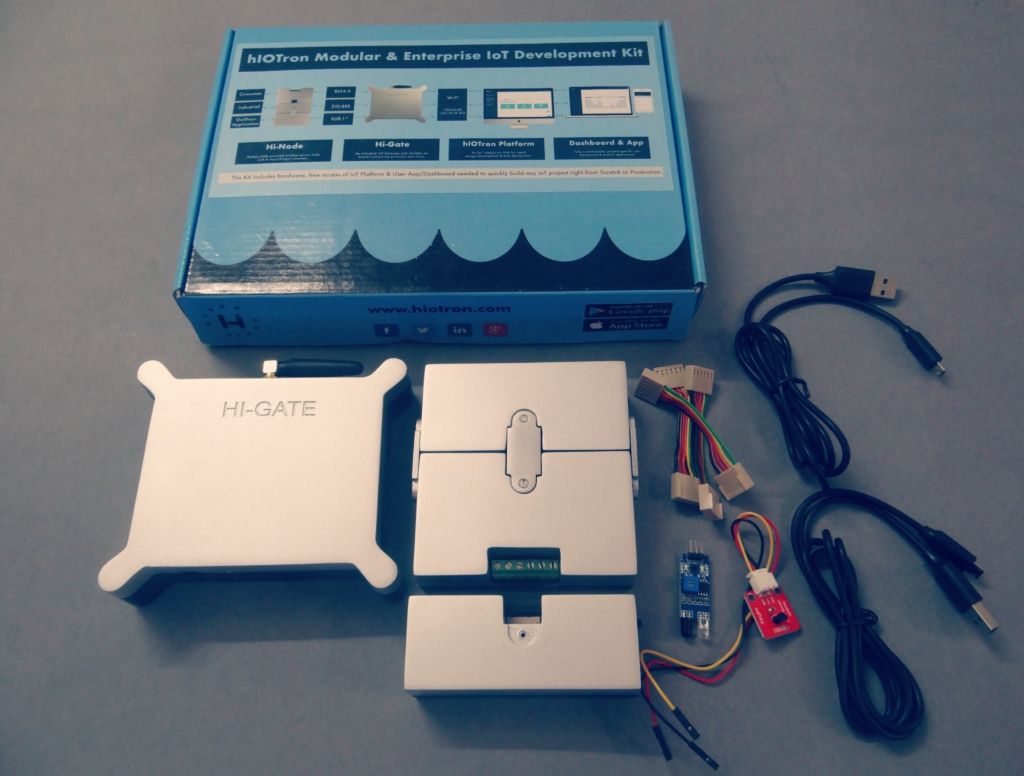 HioTron IoT Kit – A Modular and Enterprise IoT Development Kit
HioTron IoT Kit is a modular and enterprise IoT kit that is entirely pre-programmed prototyping kit for quickly building and testing IoT concepts. All modules are plug-n-play, allowing for flexible prototyping, customization & production. This set of kit is made by the Indian based company HioTron, which specializes in IoT solutions development. This Kit includes Hardware, IoT Platform & User App/Dashboard needed to build quickly any IoT application right from Scratch to Production.
One of the challenges that come with embarking on IoT project is that of the platform, software, wireless standard, API, and hardware selection. We have numerous IoT enabled hardware in the market, with each having their own software stack and also several IoT platforms available to pick from. The process of going through these selection pools, valuable and productivity time could be lost and still not arrive at something that genuinely works or is efficient. Hiotron's goal is to solve this by providing a complete package that can be used from PoC (Proof Of Concept) to Production. HioTron complete IoT solution which includes not only the hardware building blocks (Nodes & Gateway) needed to quickly prototype a wireless IoT system from scratch but most importantly hIOTron enterprise IoT™ Platform is integrated with custom mobile application & GUI dashboard that enable user to get up and run PoC of any idea as easily and quickly as possible.
The IoT Kit is ideal for makers, enthuthat siast, startups and even organization that wants to embark on IoT projects in the areas of smart cities, agriculture, industrial & smart factories, energy, healthcare, logistics, and several others. The kit is modular which means you can easily stack in add-ons on top of existing ones or add another device to the network infrastructure. The kit includes the following:
Hi-Node
Hi-Gate
hIOTron IoT Platform
Dashboard and Mobile App
Hi-Node
Hi-Node is a battery (2700 mAh Li-ion) or USB [Optional] powered wireless node which comes with 4 output channels to control real-world devices using 4 relays (Output 5A 230VAC) with 4 connectors and 4 universal (Analog/Digital) input channels to communicate with real-world sensors and transmit this information to IoT gateway using wireless (Zig-bee & BLE4.0) protocols.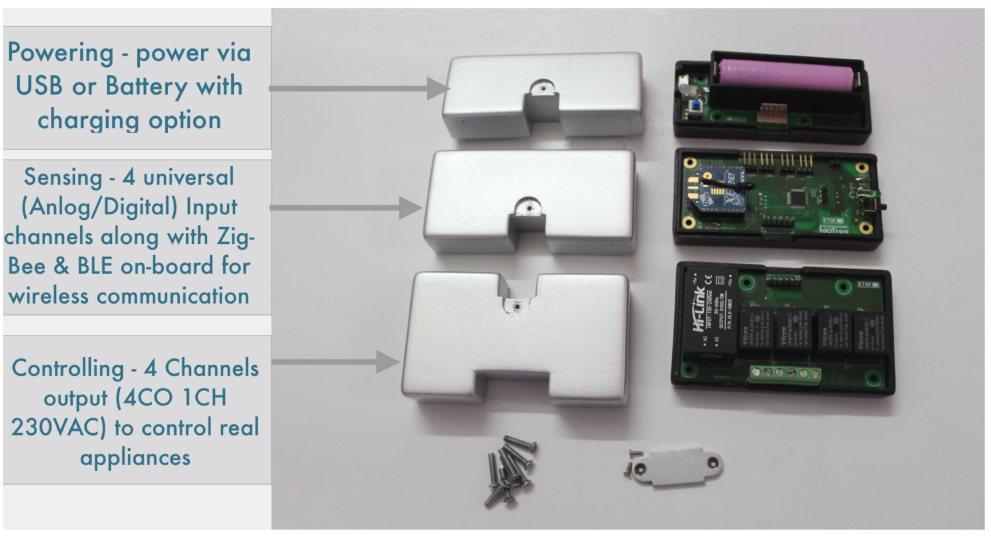 Hi-Node provides standard interface that offers not only remote monitoring but also control capability for managing many types of devices and it also offers advanced Edge Analytics & Local storage. The Hi-Node ZigBee is based on the Digikey Wired XBee module which boasts a range of about 80 – 100 meters line of sight and about 40 meters indoor. The Hi-Node is based around the ATmega328P with 2KB of SRAM, 32KB of Flash memory, and 1KB of EEPROM.
Hi-Gate
Hi-Gate is the brain of this kit which is fully Modular & Enterprise IoT gateway and which doesn't only translate the protocol [RF/ NON-RF –To– REST/MQTT] but has TI CC3200 at its heart. The Gateway device comes with Zig-Bee and BLE4.0 to support its local network infrastructure with the Hi-Nodes and an outbound connectivity for connecting to the outside world using Wi-Fi 802.11 B/G/N Radio, Ethernet, and Cellular connectivity (2G, 3G, and 4G).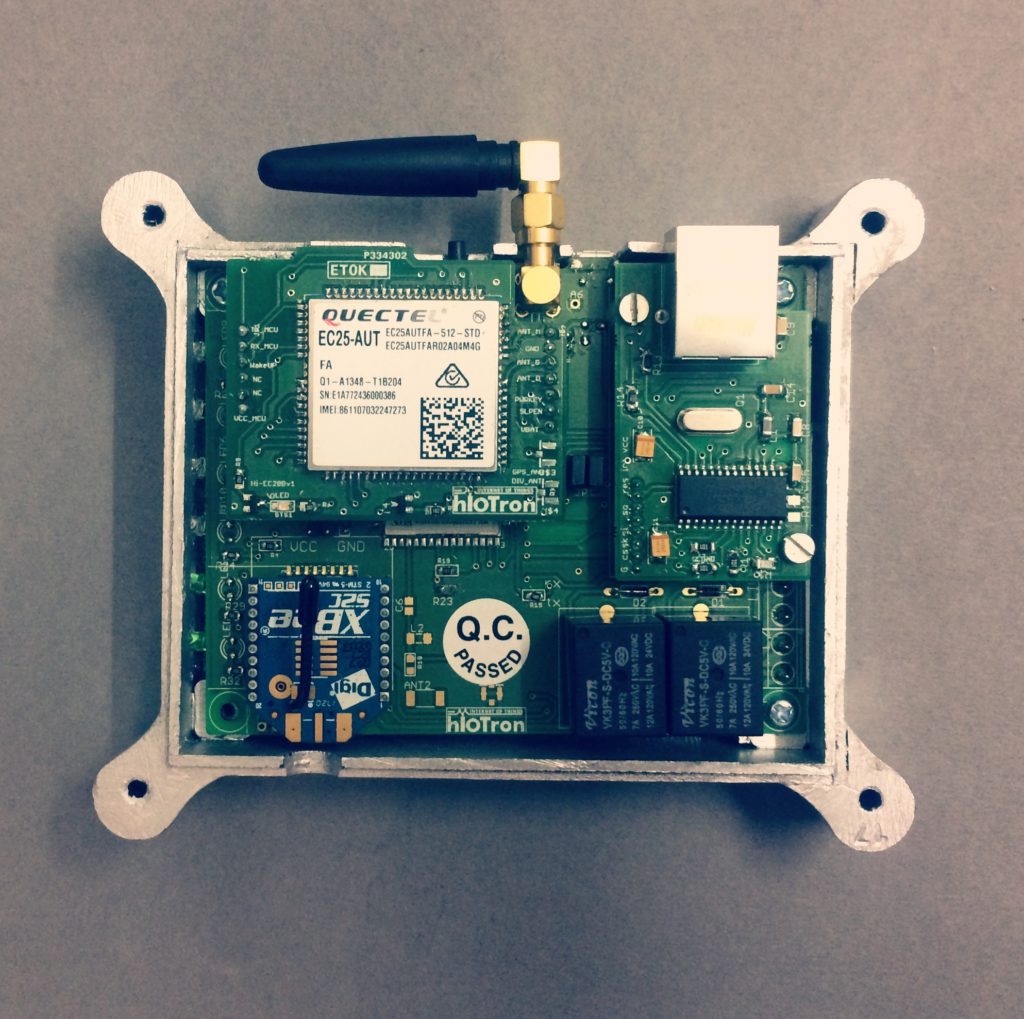 The Gateway device supports dual mode of operation – As a Node or Gateway. The Hi-Gate can support up to 25 wireless Hi-Nodes and offers an auto-reconnect for Wi-Fi and GSM network.
The following are the specification of the Hi-Gate:
Hardware System
Controller: ARM Cortex-M4 Core at 80 MHz
Flash: 1MB Serial Flash Memory
RAM: 256KB
EEPROM: 512KB External
Interface
Power input: 9-12V DC
2-GPIO Port Pins
2-Analog Port Pins
RTC
WiFi Specs
IEEE 802.11 b/g/n
Frequency Band: 2.4 ~ 2.462 GHz
HioTron IoT Platform
The hIOTron IoT Platform supports five major D's such as Device Management, Device Connectivity, Data Storage, Data Analytics and Dashboard/Application enabled for the management of an IoT project life cycle. The Hi-Gate stream data to the hIOTron platform where all the analytics, storage, automation will be carried out.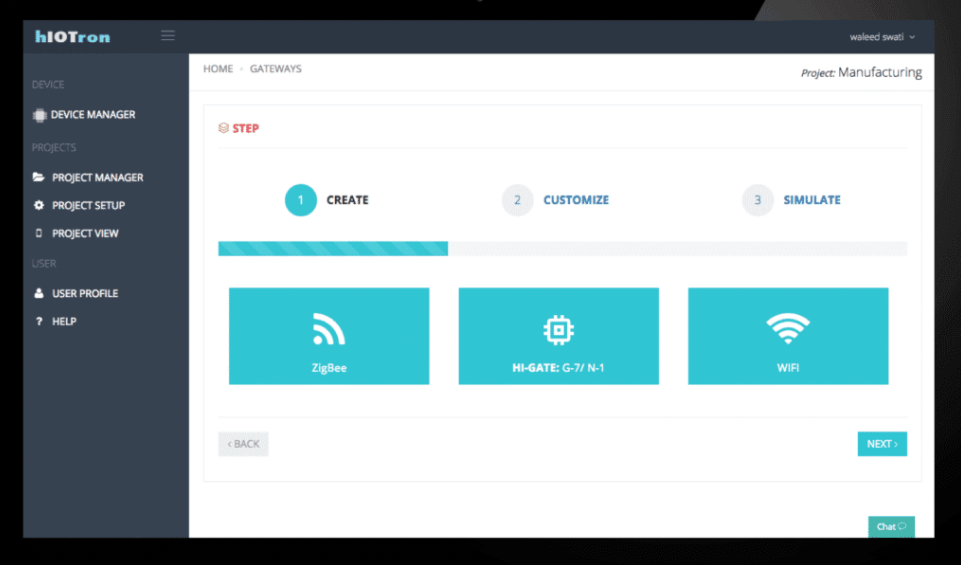 Dashboard & Mobile App
You can monitor & control your project application through the Dashboard & Mobile Application provide by HioTron and do unlimited customization from anywhere, anytime.
The Modular & Enterprise IoT development kit comes in 3 versions are Standard, Advance & Customized which can be selected based on applications requirement. The kit pricing is currently not disclosed. More information about the Kit can be found here and for more details on about getting started with the kit can be found here.
Join 97,426 other subscribers

Archives