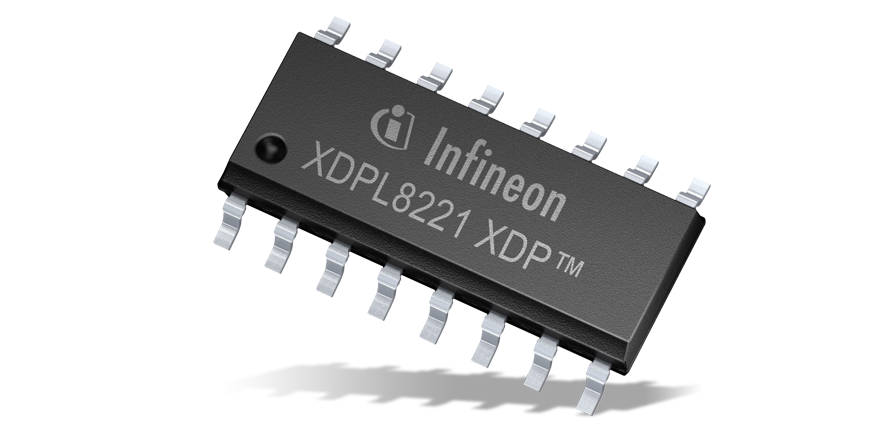 Infineon Technologies XDPL8221 Digital PFC+Flyback Controller
The emerging trend of smart lighting and Internet of Things, requires a new generation of LED drivers. Infineon Technologies AG introduces the new member of its XDP LED series, the XDPL8221 for cost-effective dual-stage drivers with advanced features. This device combines a quasi-resonant PFC and a quasi-resonant flyback controller with primary side regulation together with a communication interface. A comprehensive set of configurable protection mechanisms (standard and sophisticated) ensure safe, reliable and robust LED driver for a large set of use cases. The new driver IC will be showcased at the APEC 2019 exhibition in Anaheim, CA.
The XDPL8221 combines advanced functions, such as multi control featuring constant voltage, constant current and limited power as configurable operating parameters. The result is a versatile, high performance LED driver.
The performance of the XDPL8221 helps to design more efficient devices. This driver IC supports full functionality for both AC and DC input in the nominal input voltage range of 100 VAC to 277 VAC or 127 VDC to 430 VDC. Depending on the actual situation, the built-in digital control selects the best mode of operation. It can switch between quasi-resonant, discontinuous conduction or active burst modes.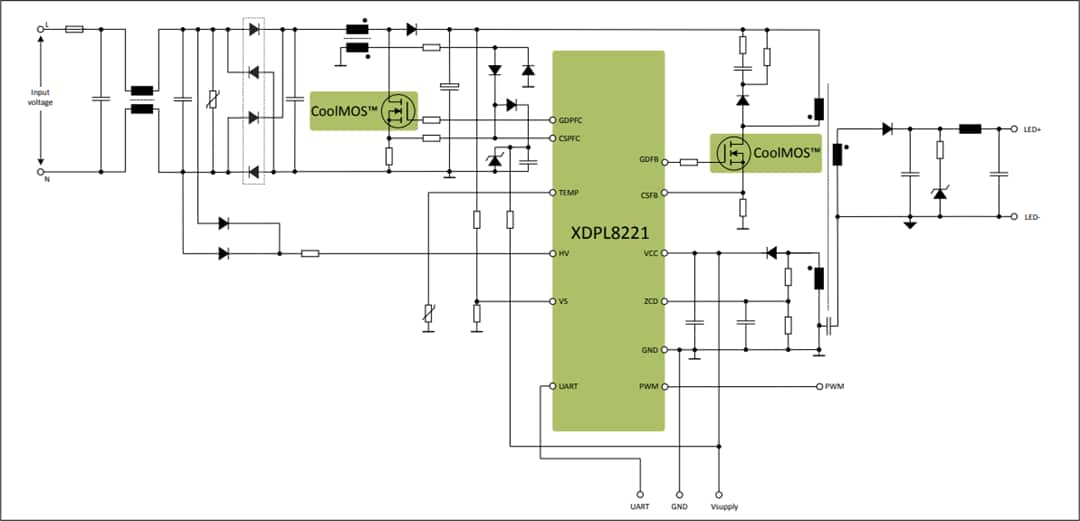 The XDPL8221 FB can be configured to operate in Constant Voltage (CV), Constant Current (CC) or Limited Power (LP) mode offering a large degree of flexibility.
The XDPL8221 UART interface with a command set enables control of the functions of the device and provides status information. This enables numerically exchanged real-time data. This data can be used for monitoring or additional local control functions.
This driver IC can be dimmed flicker free below one percent, while the current is still regulated with a high accuracy. The chip also offers a dim-to-off function to keep the device in a standby mode when the light is off with a low standby power (less than 100 mW, depending on driver design).
Reduced bill of materials (BOM) and increased flexibility minimize the overall system cost. The XDPL8221 comes in a DSO-16 package and, with a wide tool support, it is easy to design-in. This accelerates the design cycle and shortens time-to-market.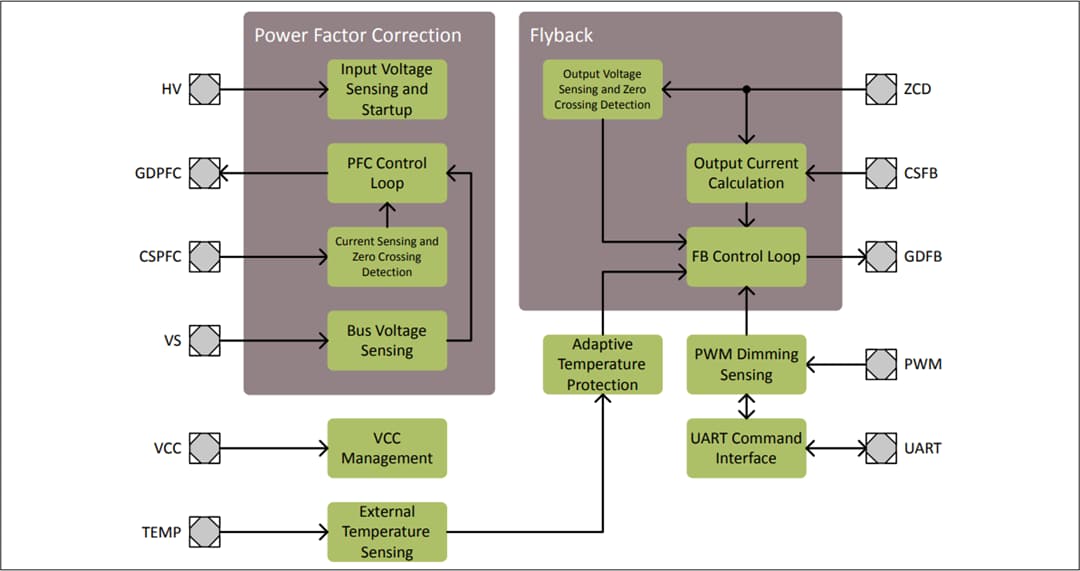 Features
UART interface to control driver output and reading operating status
Flicker-free output dimming by analog reduction of driving current down to 1%
Integrated two stage digital controller allows a reduced number of external parts, optimizes Bill of Materials (BOM) and form factor
Two-stage design eliminates AC ripple on output
Supports universal AC and DC input voltage (90Vrms to 305Vrms) nominal
High efficiency up to 90%
Multi-control output

Constant Current (CC)
Constant Voltage (CV)
Limited Power (LP)

Performance and protection related driver parameters are configurable via UART interface allowing for design flexibility and optimization
Low harmonic distortion (Total Harmonic Distortion (THD) <15%) down to 30% nominal load
Integrated 600V high voltage start-up cell ensures fast time to light (<250ms)
Configurable Adaptive Temperature Protection
Automatic switching of the Power Factor Correction (PFC) between Quasi-Resonant Mode (QRM) and Discontinuous Conduction Mode (DCM)
Automatic switching of the Flyback (FB) between QRM, DCM and Active Burst Mode (ABM)
Pulse Width Modulation (PWM) dimming input
Comprehensive set of protection features with configurable reaction like auto-restart or latch

Output over-voltage protection (open load)
Output under-voltage protection (output short)
VCC over- and under-voltage lockout
Input over- and under-voltage protection
Bus over- and under-voltage protection
Over-current protection for both PFC and FB stages

Package
Applications
Flicker free LED driver for indoor or outdoor applications
Multi-mode LED driver for connected lighting
Smart LED driver
Wired or wireless connected LED driver
Documentation
XDPL8221 Digital PFC+Flyback Controller
Availability
The new XDPL8221 is now available. More information is available at www.infineon.com/xdpl8221.
Subscribe to Blog via Email
Join 97,592 other subscribers
Archives