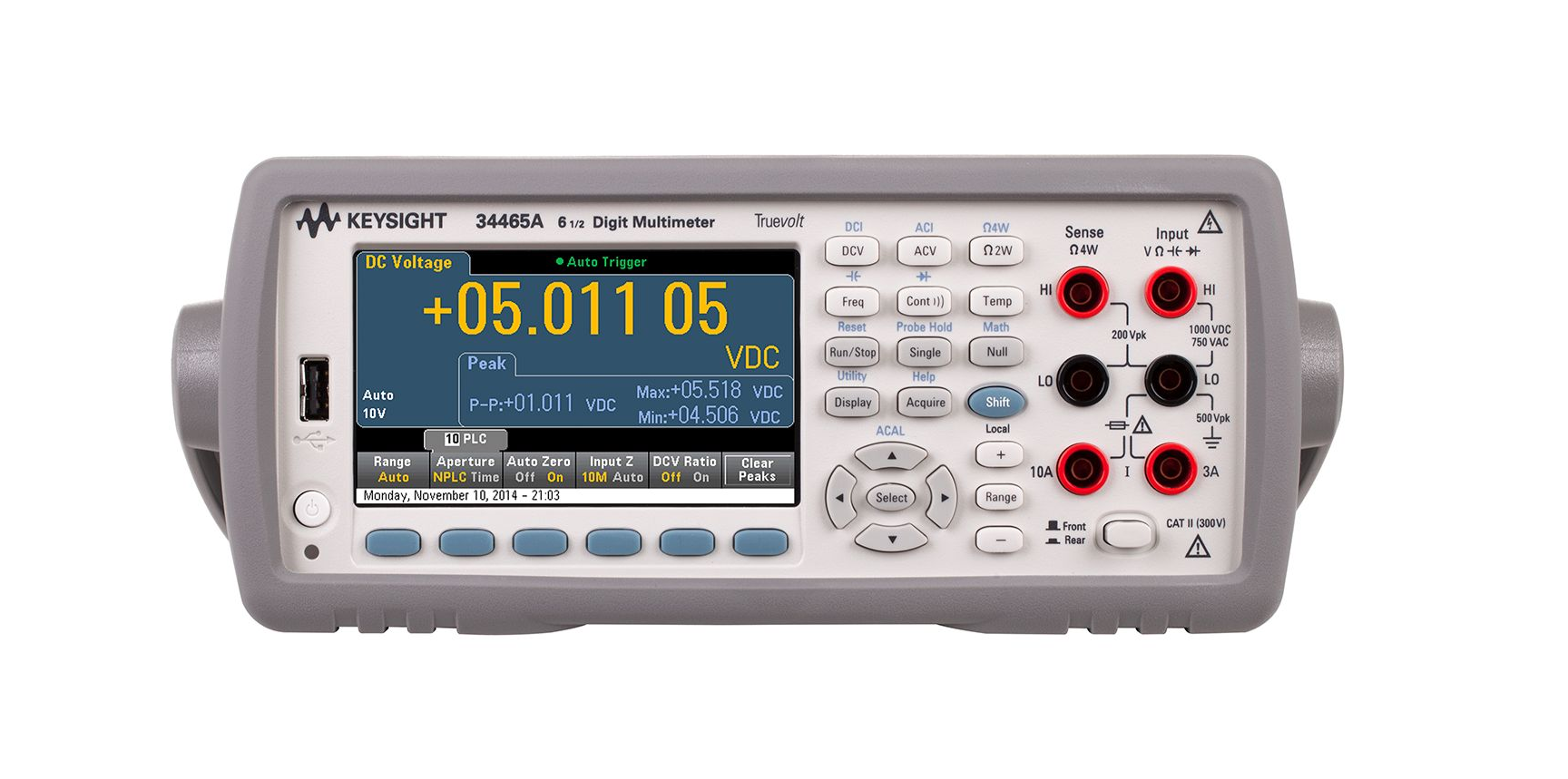 Keysight 34465A Digital Multimeter, 6 ½ Digit, Truevolt DMM

Keysight's NEW Truevolt Digital Multimeters (DMMs) offer a full range of measurement capabilities and price points with higher levels of accuracy, speed, and resolution.
Keysight 34465A & 34470A DMMs offer unprecedented levels of accuracy, speed and resolution. They can measure very low current down to a 1 μA range, enabling their use on very low power devices. The ability to auto-calibrate during the measurement allows the 34465A and 34470A to maintain a calibrated measurement while the instrument may be going through temperature drift/changes. Graphical capabilities, including trend charts and histograms, facilitate greater user insight gained more quickly. Both DMM models provide a data logging mode for easier trend analysis and a digitizing mode for capturing transients. Instrument upgrade options (available separately) include: 3446DIGU which enables high-speed digitizing and advanced triggering; 3446MEMU which extends memory to 2 million readings. Buyers of upgrades receive an entitlement certificate, register via Keysight website and obtain a software keycode to enable the upgrade.
Specifications
Boost your bench memory for free! Must register at www.keysight.com/find/benchmemory promo to receive memory boost 2M readings DMM's or 64M function generators
So you can perform deeper testing – see One Page Summary for further information
Resolutions up to 6½ digits
Max Reading rate 5,000 readings/s standard up to 50,000 readings/s optional
Memory 50,000 reading standards up to 2 million readings optional
USB and LAN interfaces, optional GPIB
BenchVue software enabled
Key Features and Functions
Histogram, bar and trend charts on 4.3-inch color graphical display ease monitoring and speed up statistical analysis
Measure with confidence, with 30 ppm basic DCV accuracy
Test low power devices with 1 µA range and pA resolution
Speed up testing with Keysight BenchVue – no programming required
Flexibly automate measurements over USB or LAN/LXI core interface
Digitizing and advanced triggering (DIG) now included
Overview Video
The Keysight 34465A Digital Multimeter cost ~$1,454 and is available from various distributors online.