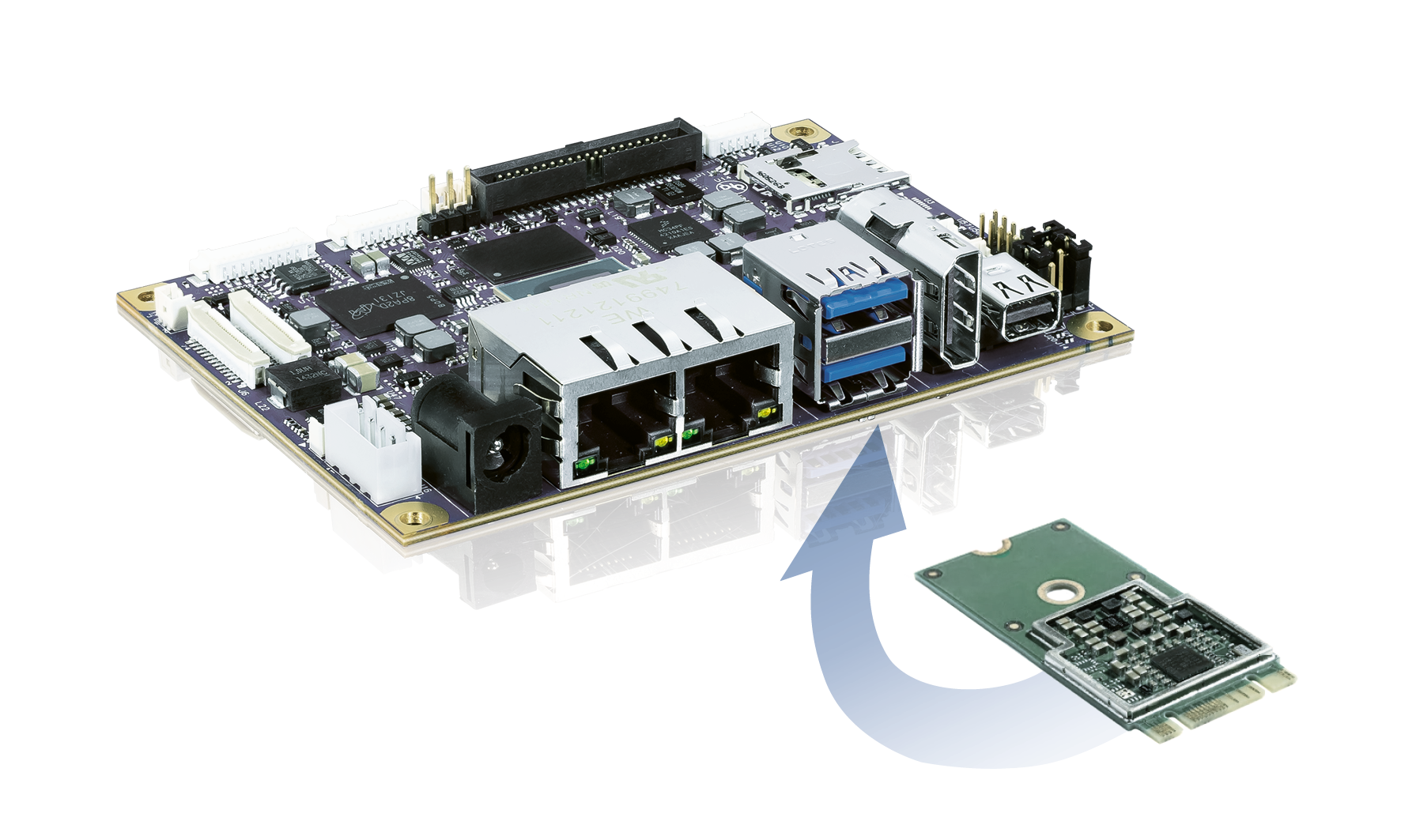 Kontron AI Platform based on Google Coral Edge TPU for Artificial Intelligence
Kontron AI platform based on NXP i.MX8 M & Google Coral Edge TPU allows easy integration of all Google TensorFlow-Lite applications for Artificial Intelligence. The applications of TensorFlow Lite and pre-trained models can be downloaded for free of cost. It also comes with the feature of quick simple development of neural networks with machine learning and deep learning applications and thus has an optimized TTM (Time To Market).
The Google Coral Edge TPU (Tensor Processing Unit) enhances the AI platform, performing 4 TOPS (Trillion Operations Per Second) for high-speed image and video data processing. This enables the development of industrial AI applications such as object recognition and classification and other image processing-based applications.
"Compared to an application with simple USB-cameras without TPU at approx. 6 frames/s, the TPU accelerates to a speed of 30 frames/s, therefore five times faster."
The software is an open-source custom Linux-based system with Yocto based Linux image in eMMC Kernel 4.18. Kontron AI platform is compatible with the TensorFlow Lite framework with Python and C++ as the primary programming languages. Models of the framework feature compactness for more efficiency, through quantization. This converts 32-bit parameter data into 8-bit representations which are suitable for TPU. This enables Edge Computing for low latency and improves the performance significantly.
Technical Specifications of the AI Platform
NXP processor – iMX8 M Quad 1.3 GHz  Arm Cortex-A53 CPU cores
Google Coral Edge TPU
4 GB RAM
64 GB eMMC
2x USB 3.0 I/O, 1x USB 2.0 internal, 1x USB OTG internal
2x 10/100/1000 Gigabit Ethernet LVDS Dual Channel LVDS
8x GPIO internal header
1x SPDIF internal headers, 1x Line-In, Line-Out, and Microphone-In internal header
TPM 2.0 Infineon for security
12 V DC/1x Locking barrel-type DC Power Jack, 1x Internal 4-pin power connector
pico ITX family with 100 mm x 72 mm
Kontron AI Platform has the option of a USB camera that supports real-time video capture based on v4l2, which is a Linux-based collection of device drivers and API. However, the camera is not available with the package.
"The platform is also suitable for use in harsh environments with extended temperatures ranging from -40° to + 85° C and supports Yocto Linux with the latest kernel."
To sum up the Kontron AI Platform, the company says:
"The new compact Kontron AI platform consists of an M.2 module with the Google Coral accelerator chip for the software ecosystem TensorFlow Lite on a 2.5-inch pITX SBC from Kontron with an NXP i.MX8M processor."
There is no exact information about the time of product release at this point in time as the product page says "coming soon." However, the official press release of the company says:
"The platform will also be available on other Kontron systems within the first quarter of 2021."
Images and technical specifications have been taken from the official product page and datasheet.
Join 97,426 other subscribers

Archives