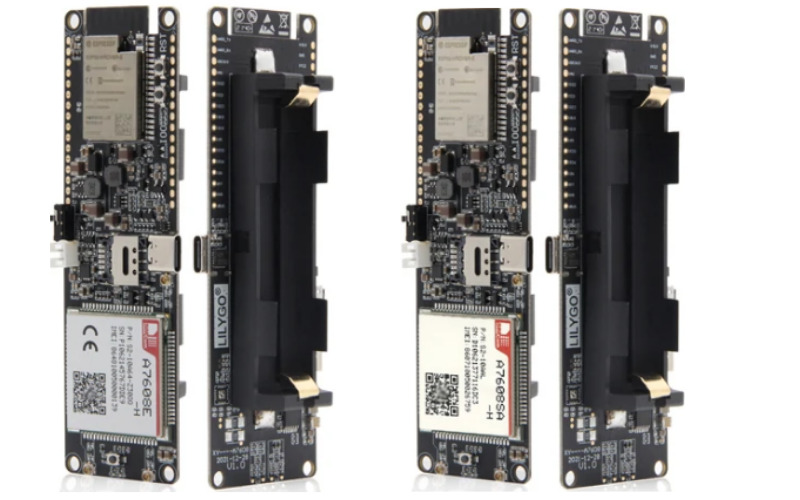 LILYGO T-A7068X: The Robust Wifi/ BLE Development Board
LILYGO has released its new ESP32-based, T-A7068X boards with a 4G LTE modem. It consists of two variants T-A7608E-H & T-A7608SA-H that feature SIMCOM A7608E-H and SIMCOM A7608SA-H. The SIMCOM A7608E-H supports the markets in the Middle East, Europe, Africa, South Korea, and Thailand whereas SIMCOM 7608SA-H serves regions such as Australia, New Zealand, and South America.
The SIMCOM A7608E-H and SIMCOM A7608SA-H offer download/upload speeds up to 150 Mbps and 50 Mbps. In comparison with its predecessors T-A7608SA and T-A7608E, the T-A7608SA-H and T-A7608E-H have enhanced from 10(DL)/5(UL) to 150(DL)/50(UL). As a result, the new T-A7608X  boards have ten times faster Download Link (DL) and Upload Link (UL).
LILYGO T-A7068X Technical Specifications
The ESP32-WROVER-E module, based on an ESP32 dual-core processor operating at 240 MHz and includes 4MB Flash memory and 8MB PSRAM, drives these boards. For superior connectivity, it gets the support of WIFI 4 and Bluetooth 4.2/ 5.X technology along with the PCB antennas. The new T-A7068X boards support GPS since they are also providing a GPS antenna. It also consists of I/O expansions including two 16-pin headers which permit the expansion of these boards even with RS485 and CAN bus interfaces. These I/O expansions also support GPIOs, ADC, DAC, touch interface, UART, I2C, SPI, VN/VP, Reset, VBUS, VBAT, 3.3V and GND. The detailed pinout details for T-A7608E-H & T-A7608SA-H are given below.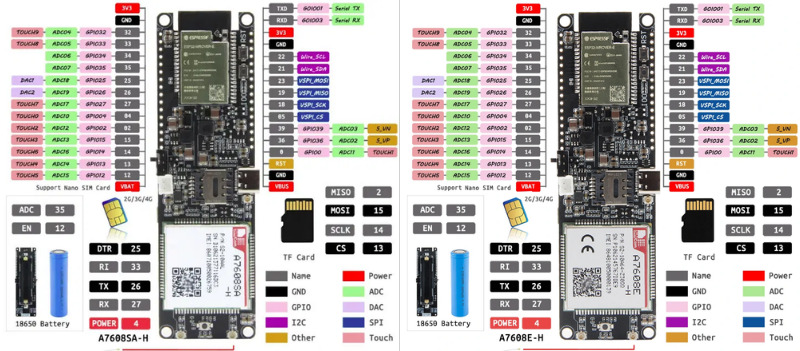 In terms of power supply, the T-A7608X includes a 5v USB Type-C connector, 4.4V to 6V via 2-pin header for solar panel input or external battery s well as a 18650 battery holder. The given USB Type-C port can be used for programming as well. It includes a Micro USB terminal that enables a user to use the board as a 4G LTE USB dongle. These boards require a supply voltage of 3.4V to 4.2V and also have 30 x 30 x 2.5 mm dimensions.
T-A7608SA-H and T-A7608E-H Connectivity Specifications
Protocols supported – TCP/IP/IPV4/IPV6/DNS/ Multi- PDP/FTP/FTPS/HTTP/HTTPS
USB Drivers -Windows 7/8/10, Linux, Android
Wifi- 802.11 b/g/n
Bluetooth- v4.2 BR/EDR and BLE
The table below shows the comparison between T-A7068E-H/T-A7608SA-H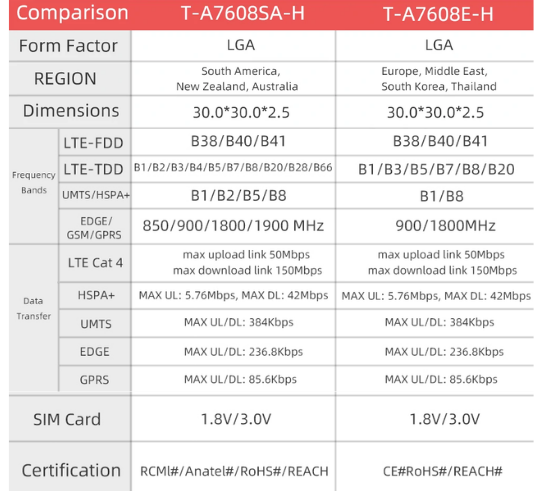 For more information about cellular connectivity visit Banggood's website.
Speaking about SIMCom A7608SA-H and SIMCom A7608E-H, they support wireless communication standards such as LTE-TDD/LTE-FDD/HSPA+/GSM/GPRS/EDGE. They are also well-known for being extremely beneficial in high-bandwidth applications. To know more about the SIMC7608x refer to the user manual.
The LILYGO T-A7068X is shipped with an LTE antenna, GPS antenna, a two-wire cable consisting of a JST connector for an external battery, and two 16-pin headers. A user can find the code samples and documentation for Arduino and PlatformIO using the TinyGSM library on Github. The wireless module LILYGO T-A7068X Wifi/ Bluetooth development boards are available for $39.79. For more details or to buy this product, visit Banggood's website.
Join 97,426 other subscribers

Archives