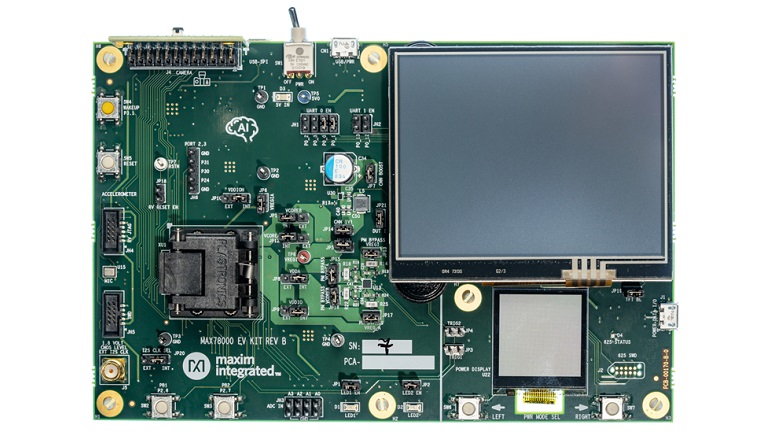 Maxim Integrated MAX78000 AI Microcontroller
MAX78000 – Ultra-low-power Arm Cortex-M4 processor with FPU-based microcontroller with Convolutional Neural Network Accelerator.
The MAX78000 is is an advanced system-on-chip built to enable neural networks to execute at ultra-low power and live at the edge of the IoT. This product combines the most energy-efficient AI processing with Maxim's proven ultra-low power microcontrollers. The hardware-based convolutional neural network (CNN) accelerator enables battery-powered applications to execute AI inferences while spending only microjoules of energy.
In addition to the memory in the CNN engine, the MAX78000 has large on-chip system memory for the microcontroller core, with 512KB flash and up to 128KB SRAM. Multiple high-speed and low-power communications interfaces are supported, including I2S and a parallel camera interface (PCIF).
The device is available in 81-pin CTBGA (8mm x 8mm, 0.8mm pitch) and 130-pin WLP (4.6mm x 3.7mm, 0.35mm pitch) packages.
Key features
Dual Core Ultra-Low-Power Microcontroller
Arm Cortex-M4 Processor with FPU Up to 100MHz
512KB Flash and 128KB SRAM
Optimized Performance with 16KB Instruction Cache
Optional Error Correction Code (ECC-SEC-DED) for SRAM
32-Bit RISC-V Coprocessor up to 60MHz
Up to 52 General-Purpose I/O Pins
12-Bit Parallel Camera Interface
One I2S Master/Slave for Digital Audio Interface
Neural Network Accelerator
Highly Optimized for Deep Convolutional Neural Networks
442k 8bit Weight Capacity with 1,2,4,8-bit Weights
Programmable Input Image Size up to 1024 x 1024 pixels
Programmable Network Depth up to 64 Layers
Programmable per Layer Network Channel Widths up to 1024 Channels
1 and 2 Dimensional Convolution Processing
Streaming Mode
Flexibility to Support Other Network Types, Including MLP and Recurrent Neural Networks
Power Management Maximizes Operating Time for Battery Applications
Integrated Single-Inductor Multiple-Output (SIMO) Switch-Mode Power Supply (SMPS)
2.0V to 3.6V SIMO Supply Voltage Range
Dynamic Voltage Scaling Minimizes Active Core Power Consumption
22.2μA/MHz While Loop Execution at 3.0V from Cache (CM4 only)
Selectable SRAM Retention in Low-Power Modes with Real-Time Clock (RTC) Enabled
Security and Integrity
Available Secure Boot
AES 128/192/256 Hardware Acceleration Engine
True Random Number Generator (TRNG) Seed Generator
more information: https://www.maximintegrated.com/en/products/microcontrollers/MAX78000.html/product-details/tabs-3#design-developement