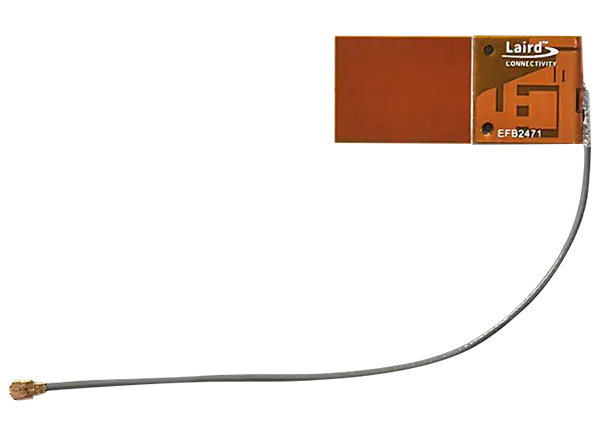 Mouser now shipping Laird Connectivity Wi-Fi triple-band antenna
Mouser Electronics is now shipping the FlexPIFA 6E antenna which provides consistent performance across all three Wi-Fi bands.
Laird Connectivity FlexPIFA 6E Wi-Fi® Triple-Band Internal Antennas support the full Wi-Fi spectrum in the 2400MHz to 2500MHz, 4900MHz to 5925MHz, and 5925MHz to 7125MHz frequency bands. These antennas are designed for rapid integration into space-constrained devices and housings. The flexible, adhesive-backed antennas with MHF1 connectors provide multiple installation solutions for IoT device manufacturers. Integrated PIFA technology provides consistent, stable performance across all three Wi-Fi bands, ensuring a solid and reliable connection at all times. The FlexPIFA 6E Antennas are an ideal solution for coverage of traditional Wi-Fi frequencies with futureproofing for emerging Wi-Fi 6E applications.
Specifications
2400MHz to 2500MHz band

1.4:1 average VSWR, <2.5:1 maximum
2.2dBi peak gain
59%/-2.3dB average efficiency

4900MHz to 5925MHz band

1.9:1 average VSWR, <3.0:1 maximum
3.9dBi peak gain
60%/-2.2dB average efficiency

5925MHz to 7125MHz band

1.6:1 average VSWR, <3.0:1 maximum
3.89dBi peak gain
60%/-2.2dB average efficiency

Single port
50Ω nominal impedance
5W maximum power at an ambient +25°C
Linear polarization
360°, omnidirectional azimuth beamwidth
16mm x 36mm x 2.5mm (0.62″ x 1.41″ x 0.098″) in dimension (LxWxH)
3M 467MP adhesive
ø1.13mm x 100mm cable length
MHF1 or MHF4L connectors
-40°C to +85°C temperature range
Features
Full coverage, high-performance operation over three Wi-Fi bands
Flexible, peel-and-stick adhesive-backed antenna for space-constrained applications
Future-proofed with coverage for emerging Wi-Fi 6E applications
Allows easy PIFA technology integration into IoT devices and is less likely to detune in proximity to metal or a human body
5-year warranty
RoHS compliant
more information: https://www.lairdconnect.com
Join 97,426 other subscribers

Archives