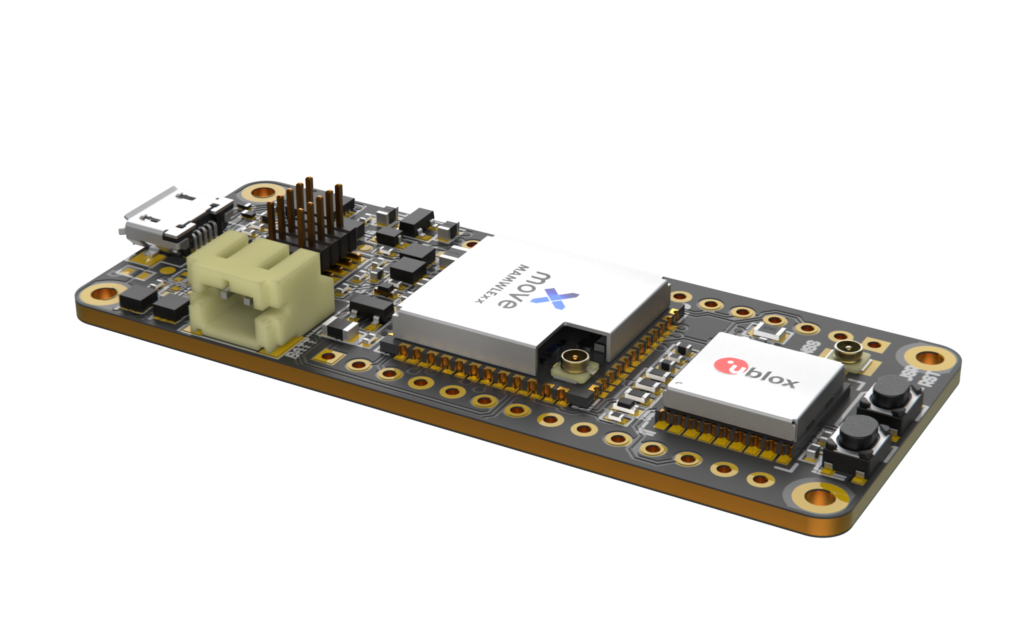 Move-X Cicerone LoRa®/GNSS Board
Move-X Cicerone LoRa®/GNSS Board is a high-performance, low-power, Arduino MKR-compatible development board based on the MAMWLE LoRa Module and the u-blox MAX-M10S GNSS Module. The Cicerone Board delivers best-in-class GNSS, long-range wireless connection, and high-performance MCU processing in a low-power solution for optimal battery life.
The Cicerone Board allows users to build tracking applications worldwide with meter-level accuracy and to communicate long-range, low-power data via LoRaWAN®. The integrated Li-Po charging circuit enables the Cicerone Board to manage battery charging through the USB port.
The Move-X Cicerone LoRa/GNSS Board features a compact 63mm x 25mm form factor and is compatible with all Arduino MKR Shield Boards. These boards all share a common pinout to enable developers to easily add expansions with minimal software changes.
Features
63mm x 25mm PCB
2x push buttons: Reset, User)
2x LEDs: Battery charging status (Red), User (Green)
Headers compatible with Arduino MKR pinout

SWD signals for debugging
RESET, BOOT0
+3.3V output (LDO)
+5V input
+5V output (internally MUXed between USB and +5V input)
VREF output
GNSS module's UART (allows firmware update)
MAMWLE SPI
I2C shared by LoRa and GNSS module
Up to 22 digital GPIO
Inputs for ADC
PWM outputs

Interfaces

USB micro for UART, RESET/BOOT0 driver, supply input, battery charge @200mA
Connector for single-cell 3.7V Li-Po battery (battery shall include protection circuitry against SC, OD, OC)
10-pin JTAG/SWD Debug connector for ST-LINK
U.FL antenna connector for GNSS L1
U.FL antenna for LoRaWAN®

Key components
Board Layout

more information: https://www.move-x.it/cicerone-board/
Join 97,426 other subscribers

Archives