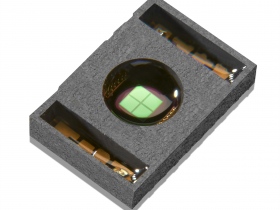 Multifunction biosensor/vital signs monitor for wearables, from ams
by Graham Prophet @ edn-europe.com:
Sensor and mixed-signal IC specialist ams (Graz, Austria) has applied optical detection techniques to produce a sensor capable of accurate heart rate measurement; the company says its device is the first "total solution for 24/7 heart rate measurement for wearables".

AS7000 is the first in what is to be a family of health/fitness solutions from ams, for wearable devices. The AS7000 solution incorporates a highly integrated optical sensor module accompanied by software to provide the highest accuracy optical heart rate measurements (HRM) and heart rate variation (HRV) readings, backed by opto-mechanical design-in support. The 24/7 reference is to indicate that ams intends the device for products that are worn continuously, rather than (for example) only during periods of exercise.
Multifunction biosensor/vital signs monitor for wearables, from ams – [Link]