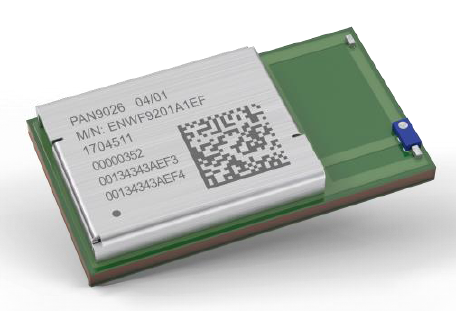 Panasonic's PAN9026 dual-mode Wi-Fi and Bluetooth 5 module
The PAN9026 module combines 2.4/5 GHz IEEE 802.11 a/b/g/n support with Bluetooth BDR/EDR/LE functionality for to provide connectivity options in smart energy, home gateways, and Internet of Things (IoT) applications.
The Panasonic PAN9026 Wi-Fi and Bluetooth module features Dynamic Rapid Channel Switching (DRCS) for simultaneous operation in 2.4 and 5.0GHz. The independent operation of the two standards enables high data rates up to 150Mbits per second to meet IEEE 802.11n specifications, together with low power consumption of 400mA (transmit) and 70mA (receive).
With integrated power management, a fast dual-core CPU, 802.11i security standard support, and high-speed data interfaces, the PAN9026 delivers the speed, reliability, and quality requirements of next-generation products. The module includes pre-stored transmit power calibration data and Wi-Fi and Bluetooth system parameters on the one-time-programmable (OTP) memory to simplify certification processes.
Mouser also offers, the PAN9026 Evaluation Kit and PAN9026 SDIO adapter, available to order, to enable engineers to rapidly prototype designs.
Mouser claims to stock the world's widest selection of the latest semiconductors and electronic components for new design projects. Mouser Electronics' website is continually updated and offers advanced search methods to help customers quickly locate inventory. Mouser.com also houses data sheets, supplier-specific reference designs, application notes, technical design information, and engineering tools.
http://www.mouser.com
Join 97,426 other subscribers

Archives