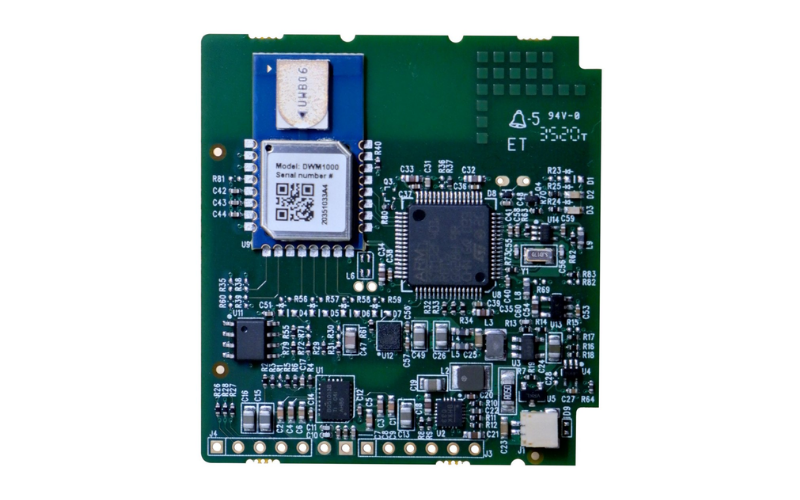 Pettee Released an Ultra-Wideband Board Designed for Asset Tracking
Pettee Ultra-Wideband (UWB) employs the STM32F401RBT6 microcontroller unit, which facilitates speed and is capable of managing and running powerful applications. The Pettee UWB custom board's design consists of sample sketches that illustrate functionality for all of the board's peripherals. The Pettee UWB board was predominantly designed based on the Decawave DWM1000 UWB transceiver, which makes way for precise distance computation among units. The use of four units (one UWB tag and three UWB anchors) permits precise 2D location tracking within an area.
Onboard battery management system (MP2695GQ) and wireless charging characteristics drive it to be ideal for creating a fully modular and mobile UWB network that can be used in a multitude of indoor and outdoor environments. Enabling the board to calculate orientation and speed, the board comes with an inertial measurement unit (IMU) which encompasses an accelerator and gyroscope.
Specifications:
Specifications of the Pettee UWB board

System-on-chip: STM32F401RBT6 (32-bit ARM Microcontroller)
Maximum Clock Frequency: 84 MHz
Program Memory Size: 128 kB
Data RAM Size: 64 kB

Wireless connectivity: UWB Transceiver (DWM1000)

IEEE 802.15.4-2011 UWB compliant
Facilitates 4 RF bands from 3.5 GHz to 6.5 GHz
Designed to fall in with FCC & ETSI UWB spectral masks

Onboard Sensors: 6-Axis IMU (LSM6DSM)
LEDs: 3x LEDs (1x Power Green LED, 1x Free-to-use Red LED, and 1x Free-to-use Green LED)
Power supply: 3.7V 1200mAh Lithium-ion Battery (AS624046), Wireless Charging Receiver (BQ51013B), Wireless Charging Coil (WMRR132F-0)
Dimension: 50.8×47.2 mm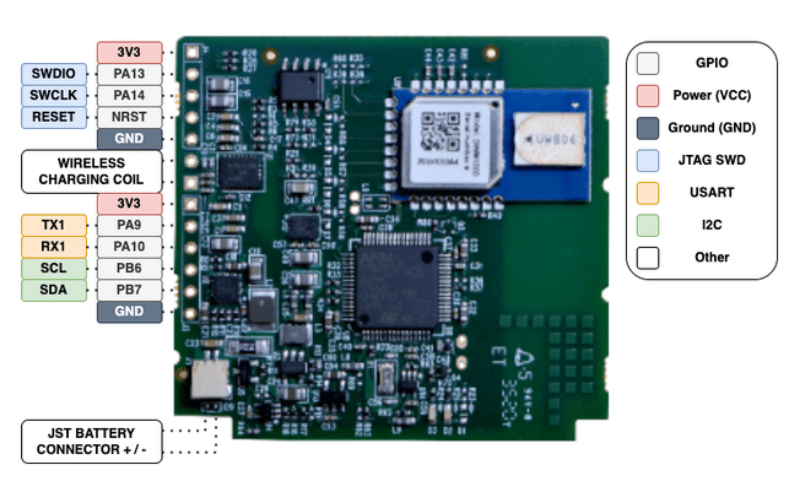 Pettee's exposed USART and I2C ports let you connect/interface with additional peripherals like a monitor or a Bluetooth adapter. Allowing the board to be programmed and debugged using an ST-Link V2 programmer, the UWB board features an exposed JTAG SWD programming interface. Directly connecting the board's exposed JTAG SWD, power, and ground pins, the ST-Link V2 facilitates firmware flashing and debugging. Compatible with the popular Arduino IDE, the board also supports STM32CubeIDE, ProjectIO (Visual Studio Code), and any other IDE that facilitates flashing STM32 MCU-based boards.
If you are interested in the Pettee UWB board, priced at $69.99, head to the Pettee's Tindie store for more information.
Join 97,426 other subscribers

Archives