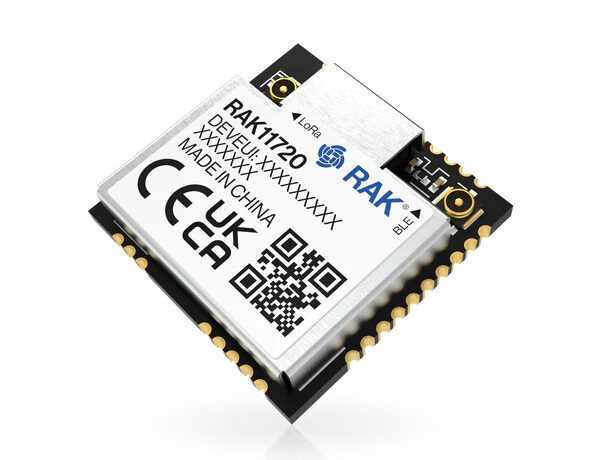 RAKwireless launches the RAK11720 with support for LoRa and Bluetooth
RAKwireless, a leading IoT solutions provider, has recently launched its latest hybrid WisDuo module, RAK11720, which combines LoRa and Bluetooth BLE 5.0 capabilities, offering IoT developers greater flexibility and efficiency in creating new applications. The module is powered by the Ambiq Apollo3 Blue chip (AMA3B1KK-KBR-B0) and the Semtech SX1262, making it suitable for a wide range of IoT applications.
The RAK11720 comes with several noteworthy features, including the ability to configure it remotely via RAKwireless's mobile app, WisToolBox. This feature offers users convenience in deploying and managing their IoT devices, particularly in smart buildings, factories, or cities. The RUI3 firmware development framework supports the RAK11720, making it compatible with other hybrid modules in RAKwireless's range, such as RAK4600 and RAK4630.
Another advantage of the RAK11720 is its size and pin-to-pin compatibility with the popular RAK3172 module, enabling users to start with a LoRaWAN-only module and later upgrade to BLE capability without making significant changes to the PCB or coding. The RUI3 framework API allows users to share code between these modules and simplifies the porting process, saving time and reducing development costs.
The RAK11720 comes with a powerful AT command set that can be used with a co-processor or external computer over UART, allowing users to get started right away without writing any code. However, the RUI framework also enables users to compile their functionality directly into the module, saving money and lowering the total bill of materials (BOM) cost.
Additionally, the RAK11720 has a better usable ROM and RAM capacity than previous modules, offering 1MB and 384KB, respectively. This feature enables users to create custom firmware using RUI3 APIs via Arduino, eliminating limitations and opening doors to more edge applications.
The RAK11720 module is now available on the RAKwireless store for $7.99 plus shipping, a $2 premium over the company's LoRa-only RAK3172, or $18 with a breakout board. IoT developers can take advantage of its numerous advantages to create new applications and business use cases.
Join 97,426 other subscribers

Archives