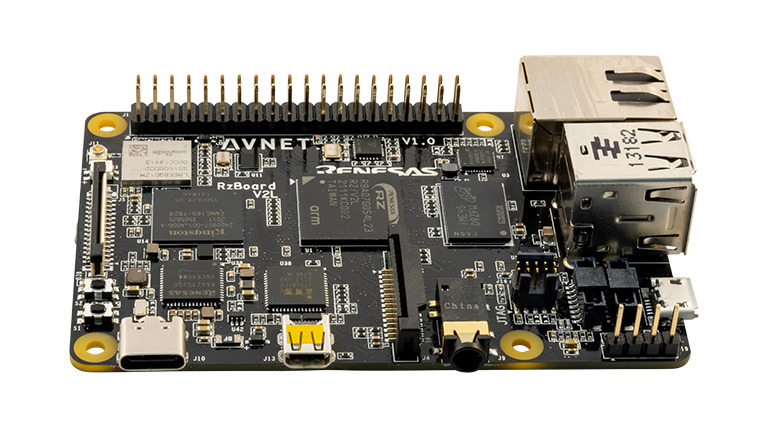 RZBoard V2L is an Efficient Vision-AI Developing board
Avnet is a leading global distributor of electronic components, offering design, marketing, and supply chain expertise for customers and suppliers throughout the product's life cycle. Avnet displayed its new vision AI development kit, RZBoard V2L, at Embedded Vision Summit on May 17-19, 2022, in Santa Clara, California.
RZBoard V2L board comes in the format of a single-board computer and is based on the Renesas RZ/V2L processor, which supports the latest energy-efficient object detection. It has a powerful vision-AI acceleration engine and is available in a popular single-board computer format with well-supported expansion interfaces. The RZBoard is engineered in a compact Raspberry Pi form factor with a versatile set of expansion interfaces. You might be looking for a vision AI accelerated board to develop AI applications, then Avnet RZBoard V2L could be it.
RZBoard V2L Processor Details
RZBoard V2L has made vision AI development easier, faster, and more cost-efficient with its Renesas RZ/V2L processor. This microprocessor consists of dual Arm Cortex-A55 cores clocked at 1.2 GHz, known for its high power efficiency and performance, in addition to a Cortex-M33 core clocked at 200MHz, especially suitable for IoT and embedded applications that need efficient security or digital signal control, MALI 3D GPU running at 500MHz which delivers the best 3D visual performance possible with an Image Scaling Unit providing good image quality and an on-chip DRP-AI accelerator.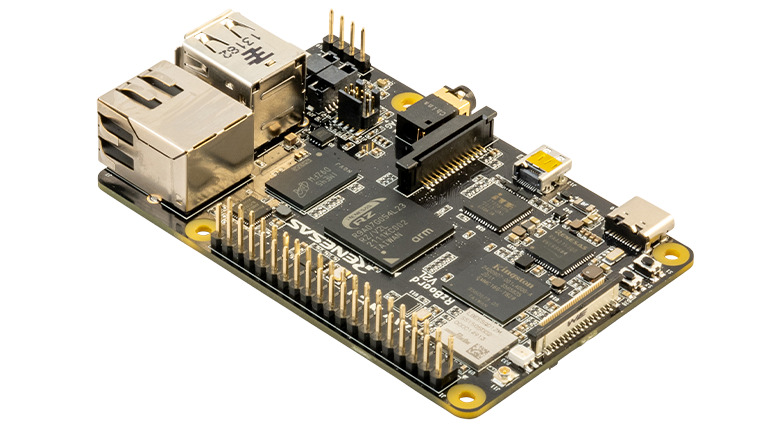 Dynamically Reconfigurable Processor (DRP) AI accelerator is the key to the RzBoard's low power consumption since it dissipates its heat without any external heat sinks or fans. Additionally, the DRP-AI has both real-time AI interference as well an image-processing function with camera capabilities such as color correction and noise reduction, which eliminates the need for an external image signal processor (ISP)
Technical Specifications
Memory:
2GB DDR4 RAM(16-bit with ECC) increases the overall speed of the processor and provides increased transfer rates and less voltage leading to better power consumption
32GB eMMC memory, with its low-cost nature, makes it an ideal budget effective
16MB QSPI NOR Flash Memory dealers better read performance than NAND flash memory devices
User Interface:
1G Ethernet port making the data transferring faster
801.11ac Wi-Fi and Bluetooth 5.0 offer a better range to keep up with increasing user numbers, devices, and data usage
U.FL Connected External Antenna
Two USB 2.0 Host ports and one OTG USB 2.0
CAN FD Transceiver enables the RZBoard V2L to dynamically switch to different data rates and with larger or smaller message sizes
MIPI-CSI Camera Interface allows connection for the peripheral interface
Audio Codec, Stereo Headphone Jack with Mic Input allowing the board to support analog audio applications such as voice commands and audio playback
10 pins of JTAG/SWD mini header and four pins of UART header enable the use of an external debugger and USB-serial cable\
Operating Temperature: 0~70°C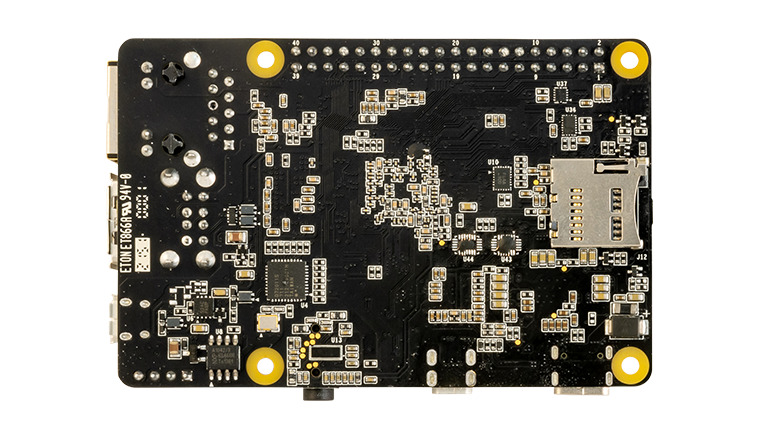 Through RZ/V2L processors, Renesas offers easy-to-use, fast-prototyping solutions to develop vision AI and Edge AI applications. At the Embedded Vision Summit on May 17-19, 2022, Peter Fenn, the Director of Technical Solutions Engineering at Avnet quoted,
" for the applications such as embedded vision, healthcare, automation, industrial Internet Of Things, security and surveillance and wearable application designs the vision AI accelerated RZBoard V2Lcan be proved ideal". Mr Fenn continued "This RZBoard V2L is an economical solution for general application having embedded processing. The reason behind the power-efficient AI processing is the on-chip DRP-AI accelerator".
With the Avnet RZBoard V2L, you can configure a complete vision system using just three additional components: a MIPI-CSI camera or USB webcam, a display with MIPI-DSI or HDMI, and a USB-C 5V power supply. For more information, visit the product page of RZBoard V2L.
Join 97,426 other subscribers

Archives