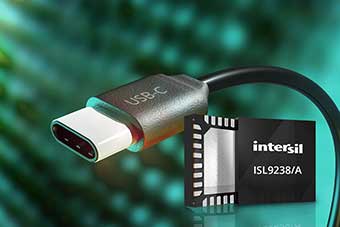 Single-chip USB-C buck-boost battery charger
Intersil's ISL9238 and ISL9238A add 5V-20V reverse boost for USB On-The-Go charging of portables such as smartphones and headphones; two USB-C buck-boost battery chargers support bidirectional power delivery in ultrabooks, tablets, power banks and other mobile products. by Graham Prophet @ edn-europe.com:
The single-chip ISL9238 and ISL9238A battery chargers can replace two-chip solutions to reduce bill of materials (BOM) costs by up to 40%. Both ICs employ Intersil's R3 modulation technology to extend battery life and deliver acoustic noise-free operation, improved light-load efficiency and fast transient response. The ISL9238 and ISL9238A operate in forward buck, boost or buck-boost mode to fast charge mobile battery packs with up to 4-cell Li-ion batteries.
Single-chip USB-C buck-boost battery charger – [Link]