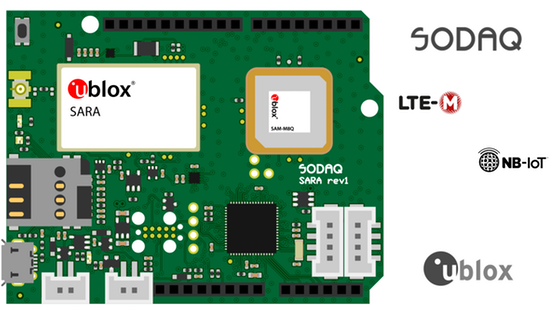 SODAQ Cellular IoT Development Kit Supports LTE-M, NB-IoT, GNSS and Arduino
SODAQ wants to provide you with the tools to build for the estimated 25 billion Internet of Things by 2020 using their set of Cellular IoT suite called SODAQ SARA Family.
Several industriy analysts have claimed that we will have 100 billion IoT devices connected and in circulation by 2050, with the majority of them running on the cellular network mostly due to its large-scale access and ease of deployment. We have already seen IoT deployments on 2G networks but the recent movement of Telecom operators into 4G networks and outfacing their 2G networks are paving ways for new IoT focused technologies to be integrated into the 4G networks. Some of these technologies being developed and deployed are the LTE-M and NB-IoT (Narrow Band IoT). NB-IoT focuses specifically on indoor coverage, low cost, long battery life, and enabling a large number of connected devices. LTE-M will allow Internet of Things devices to connect directly to a 4G network, without a gateway, and on batteries.
To facilitate the development of these exciting technologies, SODAQ which previously launched their NB-IoT shield for Arduino last year is incorporating a range of u-blox SARA modules in its design. The SARA modules are available for NB-IoT, LTE-M but also for 2G and 3G. The following are the u-blox Sara modules used in their IoT cellular suite are:
SARA-N211 – NB-IoT, band 8 and 20, for the European and African market.
SARA-R410M – Dual mode LTE-M and NB-IoT module for all global bands.
SARA-R412M – Triple mode module with LTE-M, NB-IoT, and 2G for all global bands.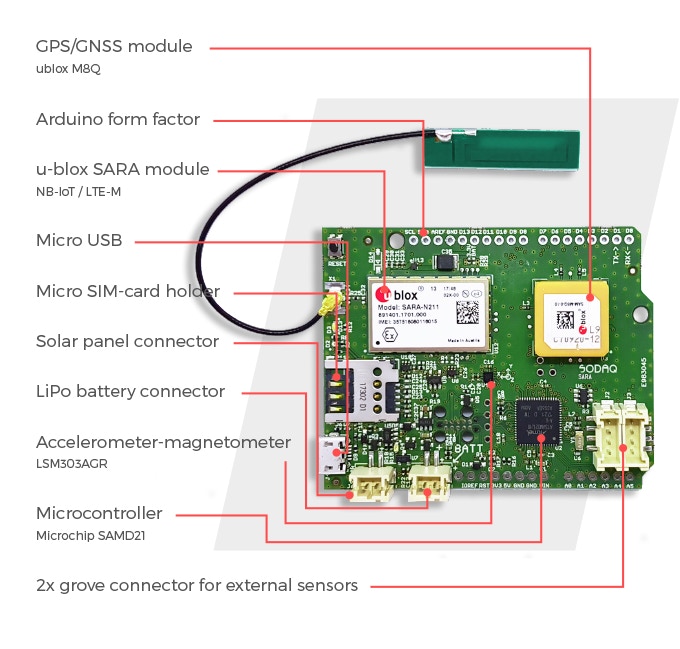 The SODAQ board is called the SODAQ SARA. The SARA is an Arduino sized and compatible development board running the Atmel SAM-D21 32 bit microcontroller, along with one of the three u-box modules. In addition to the cellular modules, the SODAQ SARA comes integrated with a u-blox SAM-M8Q GNSS module for precise geolocation. SODAQ claims the GNSS module offers more accurate positioning than conventional GPS because it utilizes the Beidou, Galileo and Glonass satellites. It also comes with an accelerometer/magnetometer chip.

SODAQ is also launching a small form factor (SFF) edition of the same board with a size of about 55 x 25mm and still maintains the same functionality on the bigger board. One significant feature of their boards is that you can power the board directly with a solar panel and further program the boards with the Arduino development tools (Arduino IDE).
SODAQ is currently crowdfunding the boards on Kickstarter. With the three different LTE IoT module and two types of boards, SODAQ is offering a total of 6 different versions of its boards:
SARA-N211 NB-IoT (Band 8/20) for 90 Euros
SARA-R410M NB-IoT  + LTE Cat M for 100 Euros
SARA-R412M NB-IoT + LTE Cat M + 2G fallback for 110 Euros with 1,200 mAh battery
SFF N211 for 95 Euros
SFF R410M for 105 Euros
SFF R412M for 115 Euros with 800 mAh battery
If all goes well in the Kickstarter campaign and SODAQ raises the required €25,000 over the remaining days of its campaign, the Internet of Things Development Suite will start shipping out to backers during March 2018.
Join 97,426 other subscribers

Archives