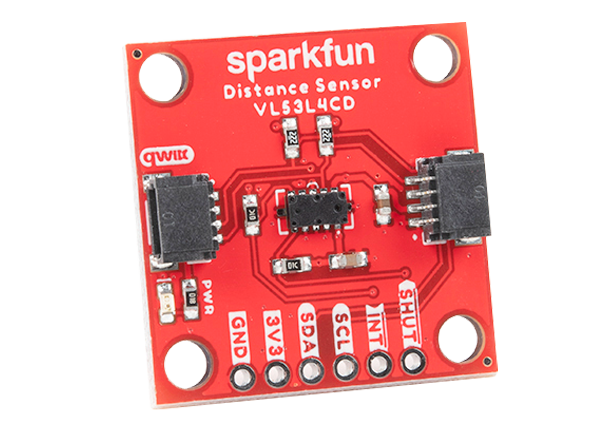 SparkFun Qwiic VL53L4CD Distance Sensor
SparkFun Qwiic VL53L4CD Distance Sensor (SEN-18993) is a compact breakout board based on the STMicroelectronics VL53L4CD ToF (Time of Flight) Sensor Module. The VL53L4CD uses a VCSEL (Vertical Cavity Surface Emitting Laser) to emit an infrared laser to time the reflection to the target, measuring a 1mm to 1300mm range with millimeter resolution. The laser emitter features an 18° FoV (Field of View) for improved performance under ambient light, with a ranging speed up to 100Hz.
SparkFun Qwiic VL53L4CD Distance Sensor Qwiic Connect System can easily be connected, without soldering, to any Qwiic-based project. The signals of the VL53L4CD are also broken out on 0.1″ spaced pins for connection to a breadboard.
The SparkFun Qwiic Connect System is an ecosystem of I2C sensors, actuators, shields, and cables that make prototyping faster and less prone to error. All Qwiic-enabled boards use a common 1mm pitch, 4-pin JST connector. This feature reduces the required PCB space, and the connectors are polarized to ensure a correct hookup.
Note: This is a CLASS 1 LASER PRODUCT CLASSIFIED IEC 60825-1 2014.
Features
VL53L4CD ToF Sensor Module
Operating Voltage

2.6V to 3.5V
3.3V typical via Qwiic cable

Average Current Consumption

22mA typically
24mA maximum
40mA peak current (including VSCEL)

1mm to 1300mm measurement range
±1mm resolution
Light Source: Class 1 940nm VCSEL
18° Field of View (FoV)
Max Read Rate: 100Hz
2x Qwiic Connectors
7-bit unshifted I2C Address: 0x29
Operating Temperature Range
Power LED
Jumpers
more information: https://www.sparkfun.com/products/18993
Join 97,426 other subscribers

Archives