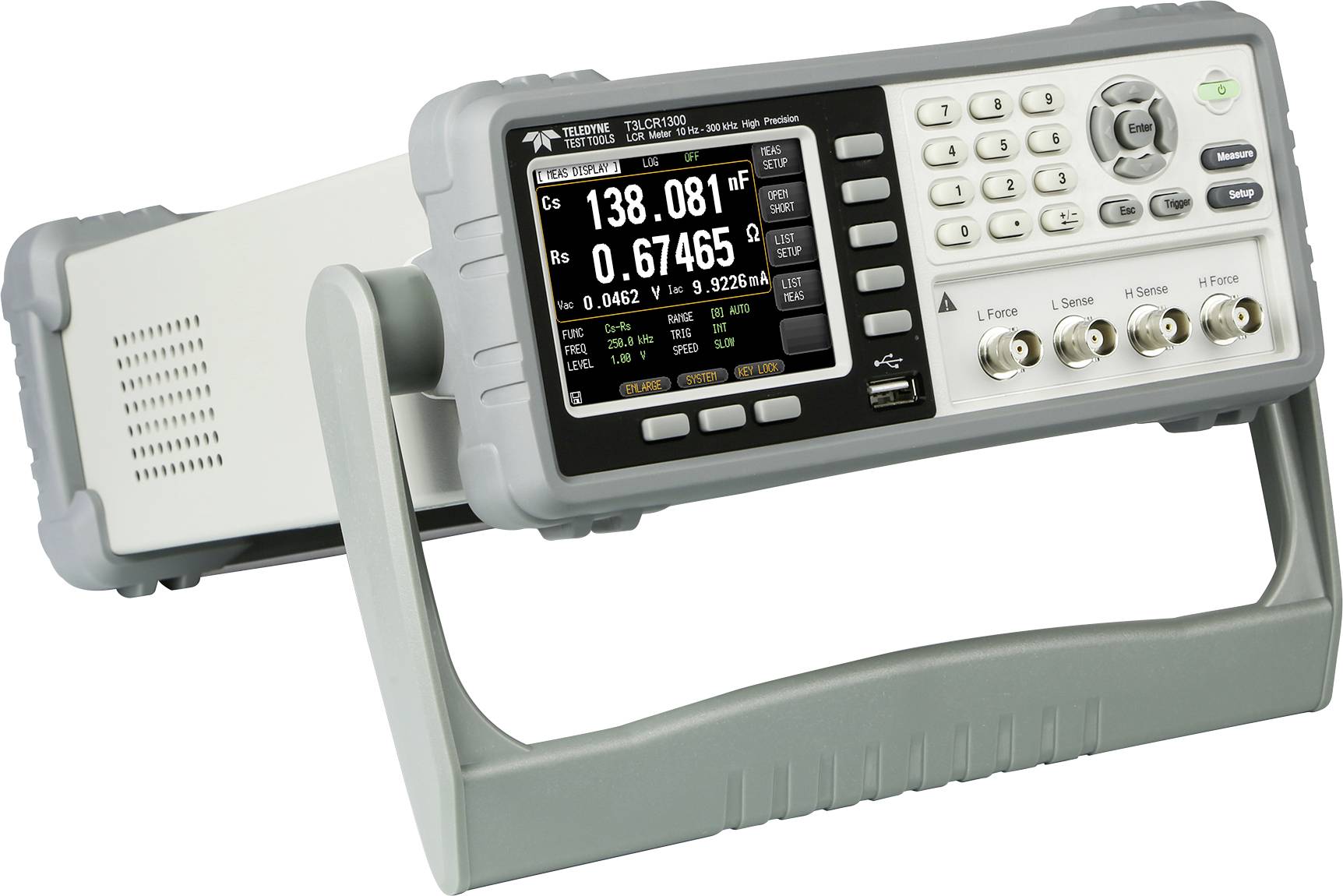 Teledyne LeCroy's LCR meters are compact and are equipped with diverse measurement functionalities
Teledyne LeCroy's T3LCR series of high-precision LCR meters offers three models with a maximum test frequency ranging from 2 kHz to 300 kHz and basic accuracy of 0.05%. The T3LCR meters are compact and are equipped with diverse measurement functionalities, making them an excellent choice in meeting the requirements of R&D, component assessment for engineering departments, sorting, and quality control in production environments.
The T3LCR series provides a rich set of functionalities while maintaining a compact size. The entire series adopts a 3.5″ color LCD and features clearly displayed parameters. In addition to simultaneously displaying setting criteria and measurement results, the series also includes two additional monitoring parameters. The four parameters (primary + secondary and two monitoring) are simultaneously shown on the screen that enhances the measurement efficiency. The enlarged display mode not only emphasizes the measurement results but also provides PASS/FAIL results to facilitate a rapid and convenient validation process.
The T3LCR series also features a range of ancillary measurements to meet the measurement requirements of different materials. For instance, the T3LCR series provides the automatic level control (ALC) function to satisfy the test voltage requirement of MLCC devices. For inductive component measurements, the T3LCR series provides the adjustable test current function and the DC resistance measurement function. With respect to the DC bias voltage test for capacitive components requirements, the T3LCR series allows users to conduct verification measurements on materials by using its internal ±2.5 V adjustable voltage. Furthermore, to observe the trend of the DUT characteristics, a list of up to 10 functional steps allows users to set testing parameters (either by frequency, voltage, or current) for each step, based on the user's requirements.
The T3LCR meter's list measurement feature can be used to perform automatic sweep measurements. The sweep measurements can be performed by listing up to 10 swept frequency or amplitude (voltage/current) points. Up to 10,000 measured readings can be saved to an internal buffer. These readings can then be exported to an external USB drive in a .csv file format.
For the external control, the T3LCR series comes equipped with a Handler interface, RS-232C, and USB interface. Handler outputs 10 BIN (9 BIN, AUX: 1 BIN) sorting results that are suitable for external control; for example, controlling a component sorting operation based on the measurement results obtained by the LCR meter. RS-232 and USB are suitable for remote control operation as well as to retrieve measurement results. Additionally, the free PC software gives users an instant tool to store measurement results.
Features
3.5″ color LCD
Continuous test frequency
Basic accuracy of 0.05%
Measuring speed: 25 ms (max)
Suitable for MLCC testing
Spot frequency or full frequency range OPEN/SHORT correction
16 major/secondary parameter measurement combinations and two additional monitoring parameters (maximum of four different parameters can be shown simultaneously)
DCR measurement and internal D.C. bias voltage (±2.5 V)
PASS/FAIL result
Auto level control (ALC) function
BIN function provides 10 BIN (9 BIN, AUX: 1 BIN)
List measurement feature to perform automated sweep measurements by listing up to 10 frequency or amplitude points
Standard interface: RS-232C, USB, Handler, and USB storage
Compact size, ideal for automatic equipment (2U, 1/2 rack)
more information: https://teledynelecroy.com
Join 97,426 other subscribers

Archives