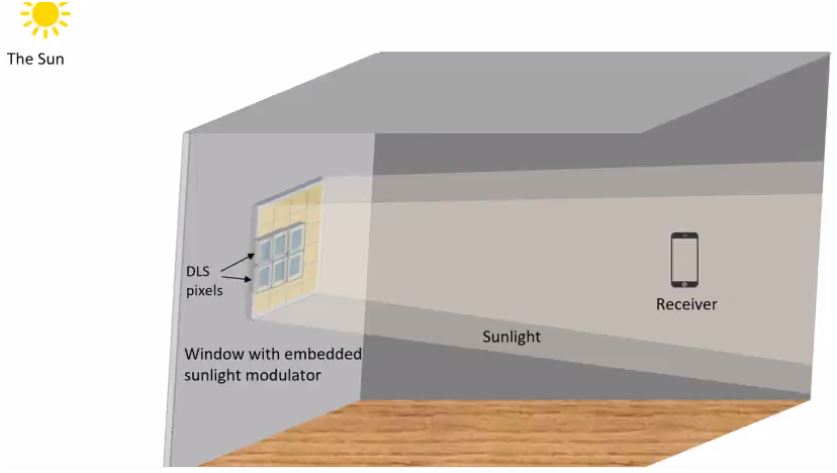 Transmit Data Wirelessly Just By Streaming Sunlight Through Smart Windows
We have seen systems wirelessly transmit data through different means but never have we seen modulated sunlight being used to send data. Some scientists at the King Abdullah University of Science and Technology, a private research institution located in Saudi Arabia, made some special polarized smart windows that can modulate the sunlight passing through it, encoding data into the light which can be detected and decoded by a limitless number of devices in a room. So in place of conventional WiFi or cellular data transmission, these researchers are offering a less-energy-intensive alternative via a sunlight communication system.
Speaking about how the idea came into existence, an associate professor of computer science at KAUST said that it started with trying to explore data encoding into an artificial light source.
"I was simply hoping to use a cell phone camera to record a video of the encoded light stream to try to decode the video to retrieve the data," Basem Shihada said.

"That's when I thought why not do the same with the sunlight? This would be much easier and can be done over the cell phone camera too. So we began to explore sunlight as an information carrier."
The system has an LCD-based light modulator that can be placed on a glass surface as well as an inner receiver.
"The modulator is an array of our proposed smart glass elements known as Dual-cell Liquid Crystal Shutters (DLSs)," says Osama Amin, one of the research team. "The liquid crystal shutter array, which would act like a filter to encode signals into the light as it passes, would require just 1 Watt of power to operate, which can be supplied using a small solar panel."
The Dual-cell Liquid Crystal Shutter is also structured to use a light property called polarization in order to avoid uncomfortable flicker effects usually associated with existing optical wireless communication systems. "Change in light polarization is imperceptible to the eye, eliminating the flicker problem. The communication system works by changing the polarization of the incoming sunlight at the modulator side. The receiver can detect this change to decode the transmitted data," one of the students in Shihada's team, Sahar Ammar, explained.

These smart windows are low-cost and energy efficient. The only downside to them is that they probably won't function at night or in the absence of sunlight. There has to be a source of light even if it's an artificial light shining through the windows. Smart windows again cannot receive data, they can only send.
As for speed, the smart windows are claimed to be able to transmit data at up to 16 kilobits per second, though the team revealed that they are working towards achieving an increased speed, maybe in megabits or even gigabits per second, in the nearest time so as to increase the utility of the smart windows.
"We are now ordering the necessary hardware for a testbed prototype implementation," Shihada said. "We would like to increase the data rates from kilobits to mega- and gigabits per second." The present speed level however is good enough to transmit useful data to devices for IoT applications and smart automation.
Further details can also be found here: https://ieeexplore.ieee.org/document/9864223
Subscribe to Blog via Email
Join 97,477 other subscribers
Archives