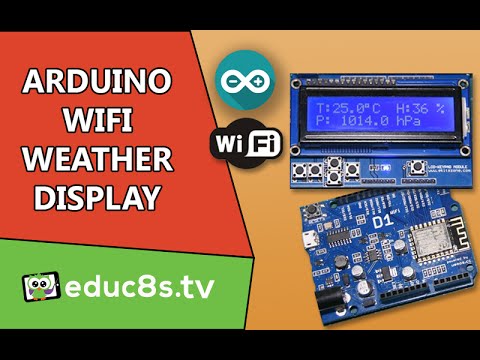 WiFi Weather display using a Wemos D1 board and operweathermap.org website
educ8s.tv published a new project, a ESP8266 Wifi weather display.
In this video we are going to build a WiFi Weather display with the impressive Wemos D1 board. The board uses the ESP8266 chip in order to connect to the internet and we are going to program it using the Arduino IDE. The project gets weather data from the openweathermap.org website and displays some of the data on the display. As you are going to find out, you can build this project in less then 10 minutes. Let's start!

A few weeks ago I published a video about the impressive WeMOS D1 board which is an ESP8266 based board which resembles the Arduino Uno. Today we are going to build our first project with it. A weather display, using this old LCD display shield I was using with Arduino Uno a long time ago. As you can see, the display works fine with the WeMOS D1 board! The project, connects to my WiFi network, and then it downloads the weather data for my location from the openweathermap website, and prints some of data in the display! It downloads new data for my location every 10 minutes. It is nice project to start with the ESP8266 chip. Let's see how to build it.
WiFi Weather display using a Wemos D1 board and operweathermap.org website – [Link]
Join 97,426 other subscribers

Archives