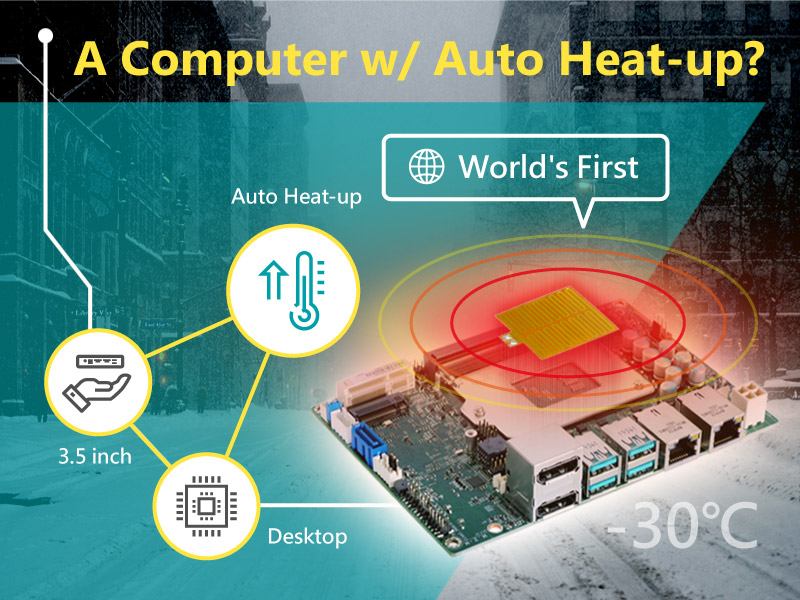 World's First! A Computer With Auto Heat-Up? DFI 3.5" Desktop CS551 Can Run Even At Subzero Temperatures
As edge computing has been rapidly expanding to every corner, users pursue computers to drive more functions with better performance to enhance artificial intelligence analysis capabilities, which brings three new criteria in hardware selection for edge applications: processing power, size, and adaptability to extreme weather. DFI, one of the world-leading industrial PC providers, newly released the 3.5″ desktop single-board computer (SBC), CS551, is a perfect match for this situation with a breakthrough in aspects of size, footprint, operating temperature, cooling, and expansion.
High Performance With Small Footprint
Compared to most of desktop motherboards in the market that can only be merely downsized to Mini-ITX form factor (195mm (7.7″) x 170mm (6.7″)), DFI has further shrunk CS551 footprint by nearly half to 3.5″ (146mm (5.75″) x 102mm (4.02″), with support for the Intel Core™ 8/9 Gen processors and even the Intel C246 chipset that provides ECC support for memory at Intel Xeon server-grade level, maximizing the performance of the entire computer.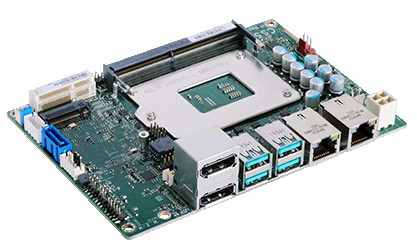 3.5" Desktop Platform With -30~80°C Wide Temp. Support
SBCs are prevailing in outdoor applications of Internet of Things due to small footprint, and to overcome the outdoor extreme temperature fluctuations, CS551 breaks the limitation of operating temperature merely support at 0~60°C by 8th /9th Gen Intel Core Processors, and further extends it up to 80°C, down to -30°C. Even the temperature drops below zero, the auto-on heater can warm up and keep the processor within the operating temperature range. Equipment can thus operate normally without being shut down in snow!
Dynamical Adjustment Between CPU & GPU
In addition to the powerful processor with wide temperature support, the CS551 also features the dynamical adjustment between CPU and GPU by allocating the computing resources according to the workload. Even in high temperature environment like 80°C, the computing work can be adjusted by the CPU and GPU intelligently, and prevent computer crash down as well as greatly improve the stability of the application.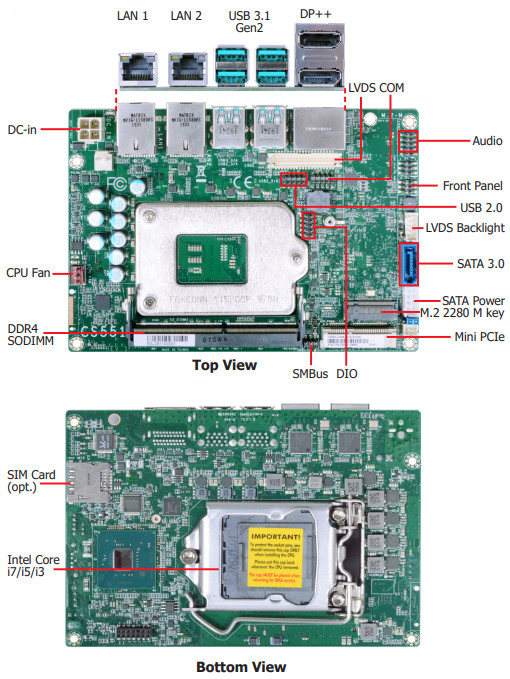 Key Features:
3.5″ Desktop Platform SBC -30~80°C
Unique Wide Tempe Support For Desktop Platforms
Dynamical Adjustment Of CPU/GPU Computing Resources
Enhanced Expansion Capabilities with M.2 2280 (e.g., Storage, I/O Cards)
Fanless & Fan Dual Cooling Systems Support
Key Applications:
Mission-critical applications in extreme temperature environments
AI visual analytics
Traffic flow analysis
2x Expansion Enhancement
Unlike other 3.5" SBCs on the market that only support M.2 2242 expansion, the CS551 increases the expansion capacity up to M.2 2280 size, making it perfectly compatible with M.2 2280 form-factor-only modules, as well as providing more than two times of the storage capacity and I/O expansion.
Fan/Fanless Dual Cooling Support
While the overall performance and expansion are increased by more than two times, the CS551 simultaneously supports fan cooling, which is commonly found on desktop platforms, as well as fanless cooling that is available only among SBCs. With the support for fanless cooling system, the lifespan of outdoor devices is largely increased and makes CS551 the only choice for developing smart outdoor applications in many extreme climates.
In the trend of the expanding scale of edge device deployment, having a computer with performance, size, and environmental resilience makes it barrierless in developing smart Internet of Things, and gives the equipment a 1+1>2, multiplier-effect benefits in performance!
more information: https://www.dfi.com/product/index/1472
Join 97,426 other subscribers

Archives