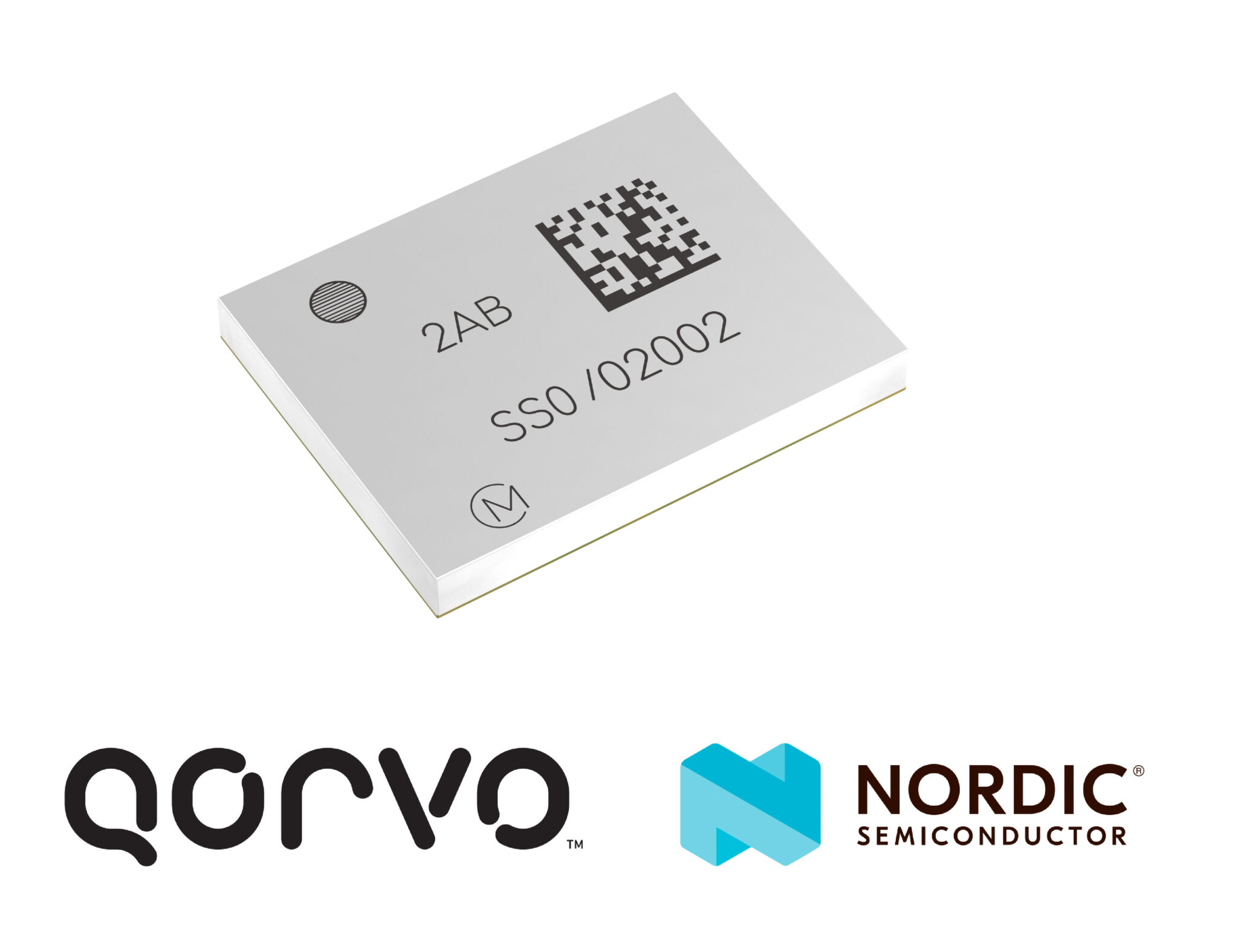 World's smallest UWB module delivers low-power for IoT devices
Murata has launched the world's smallest ultra-wideband (UWB) module – measuring just 10.5 mm x 8.3 mm x 1.44 mm – that combines elevated levels of accuracy and reliability with low-power to ensure compact and battery-driven IoT devices operate as efficiently and cost-effectively as possible.
Using short-range radio frequency (RF) technology, the Type 2AB UWB + BluetoothⓇ low-energy (BLE) connectivity module can be used in a wide variety of applications where precise detection is essential. These include ensuring social distancing in the workplace to minimise the spread of COVID-19.
Ideal for manufacturing engineers developing advanced products for the IoT market, the system-in-package module incorporates three antennae – two UWB for phased difference of arrival (PDoA) functionality and one for BLE. The module's high-accuracy position detection capabilities and strong security functions make it particularly suited to such sectors as healthcare/wearables, industrial/commercial and home/consumer. The Type 2AB module makes light work of asset tracking, indoor navigation, smart lighting, digital payments and such location applications as proximity device finding. It is equally well suited to use in smart factories, POI/indoor marketing, hospitals, museums, warehouses and underground construction projects. The UWB module offers significant benefits over systems based around WiFi/Bluetooth or GPS technology, the latter proving unsuitable for indoor use due to its reliance on satellite signals.
Features:
Support Channels : Band 5 & 9
UWB Chip set : Qorvo DW3110/3120
FCC/IC/TELEC Reference Certified (Planed)
Hostless module Integrated Nordic IC / nRF52840
which also have Blutooth Low Energy function for waking up UWB and updating FW.
Integrated 3-Axis sensor for saving battery
Reference clock for UWB and MCU are embedded
Compared to chip-on-board designs, the UWB module incorporating Qorvo ICs enables mounting areas to be reduced by around 75%. Other benefits of the resin molded surface mounted module with built-in Nordic MCU include improved design flexibility and reduced product development time, for example by eliminating the need to prepare external MCUs for customers. Additional features include excellent memory (256 kB RAM and 1 Mb Flash), a 3-axis sensor for motion detection, a deep sleep mode of 250 nA, and the ability to operate in temperatures from -40oC to 85oC and at voltages from 2.5 V to 3.6 V.
"The UWB market is expected to grow by around 30% over the coming years, driven by the burgeoning smartphone, IoT and smart cities sectors", says Toshifumi Oida, Senior Director of the Communication Module Division at Murata. "Our ultra-compact, highly reliable Type 2AB module with superior EMI performance is a compelling solution for product developers wanting to serve this market using groundbreaking high-density mounting technology based on RF design."

"At Qorvo, we support high performance solutions with our ultra-wideband expertise," adds Paul Costigan, Senior Director of UWB IoT solutions at Qorvo. "We bring breakthrough technology and manufacturing scale to integrated modules, such as this one from Murata, a world leading manufacturer of electronic components, thereby accelerating adoption of UWB and unleashing a new wave of innovation. Companies will be able to easily add enhanced location and distance sensing to drive business optimisation, enhance workflow efficiency and improve safety in applications like smartphones, cars, and consumer and industrial IoT."

"We are very excited to partner with Murata on this groundbreaking UWB module, a product that perfectly marries Murata's excellence in highly integrated SiP module packaging with Qorvo and Nordic Semiconductor's long-standing cooperation on UWB and Bluetooth Low Energy solutions," says Bjørn Åge Brandal, Vice President of Sales & Marketing APAC at Nordic Semiconductor. "The compact module perfectly leverages the high level of integration and computing power of Nordic's nRF52840 system-on-chip, allowing customers to implement a wirelessly connected UWB ranging product with only a handful of external components, ensuring the smallest possible footprint and lowest power consumption."
more information: https://www.murata.com/en-global/products/connectivitymodule/ultra-wide-band/qorvo
Subscribe to Blog via Email
Join 97,604 other subscribers
Archives