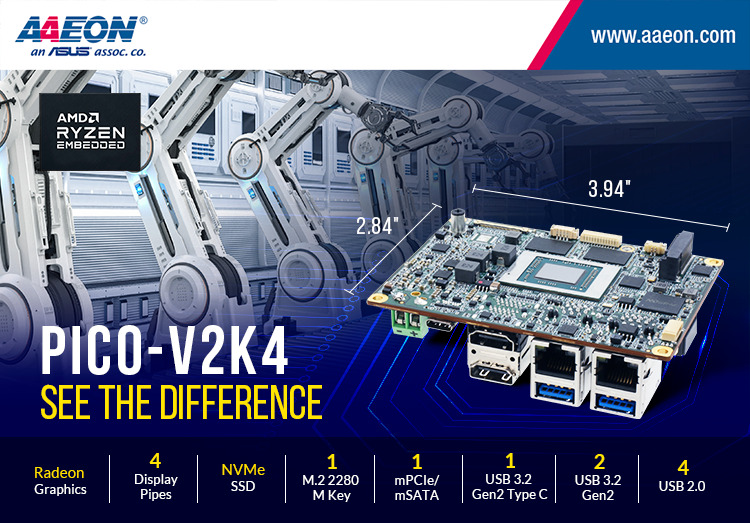 AAEON Synthesizes High-Speed Computing Power and Groundbreaking Graphics with the new PICO-V2K4
AAEON introduces the PICO-V2K4, bringing the power of the V2000 processor to the smallest form factor on the market.
With the release of the PICO-V2K4, AAEON has gone one step further in pushing the boundaries of innovation. By creating the smallest embedded single board computer to be powered by the AMD RYZEN™ V2000 embedded processor family, featuring up to 8 cores, AAEON has further reiterated why it is an industry leader in embedded solutions. The PICO-V2K4 also hosts high-performance AMD Radeon™ graphics and 7nm processing technology, all on a 3.94″ x 2.84″ form factor, opening the door to a broader and more sophisticated range of application uses.
The PICO-V2K4 retains the characteristic versatility that AAEON's PICO-ITX board range is known for, but its unprecedented high-speed computing power, groundbreaking graphic capability and targeted I/O introduce a new level of refinement to the edge. Such elements will give users everything from unprecedented CPU performance to rugged deployment capabilities, all without sacrificing graphic sophistication.
With exceptional CPU performance courtesy of the V2000 embedded processor family, the PICO-V2K4 has the power to facilitate automated industrial applications, while maintaining longevity and consistency throughout its lifecycle with a thermal design point range of 10~25W. Tying this together is up to 64GB NVMe onboard storage and an M.2 2280 M key port, which will enable expansion modules to suit different application types.
For example, it is easy to see the PICO-V2K4 making a very significant contribution to diagnostic imaging, as an ancillary application to enhance the accuracy and efficiency of x-ray and MRI scan analysis. The PICO-V2K4's chipset features AMD Radeon Graphics with up to 7 Compute Units, which has the capability to provide 4K resolution graphics to enhance medical imaging, coupled with AI inferencing models to assist with object detection, aiding diagnosis in radiology.
The PICO-V2K4 offers developers a wider audience of potential users, with ultra-high frame rates, faster frequency and clocking, and support for 4 simultaneous 4K displays being not only useful in medical technology but also in gaming. To emphasize this, the PICO-V2K4's 64GB NVMe storage and M.2 2280 M-key expansion slot provide greater processing speed and improve overall gaming experiences for end users.
Whether it is for gaming, diagnostic imaging, or industrial automation, the PICO-V2K4 offers superior computing power, enhanced graphics, and the dense I/O needed to produce elite applications across any vertical market, all while maintaining a compact form factor and flexible expansion options.
To find out more about the PICO-V2K4, please visit our product page.
Join 97,426 other subscribers

Archives