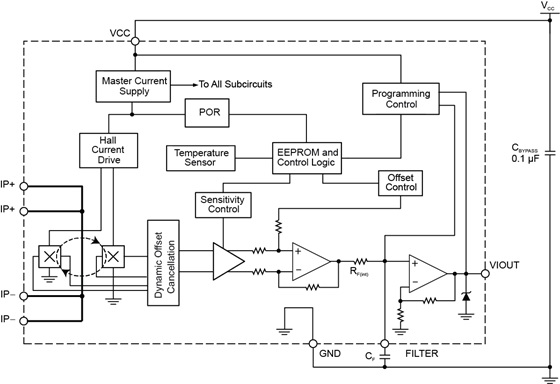 Allegro ACS724 & ACS725 – Differential current sensor
Differential current sensor – ACS724/725 SOIC8 sensor, galvanically isolated with common-mode field rejection. [via]
The ACE-Q100 qualified differential Current Sensor ACS724 (5V)/ACS725 (3.3V) is a Current Sensor IC in SOIC8-package (automotive qualified) which is designed for application where small footprint, high sensing accuracy and independence of magnetic field noise is required. With its industry leading noise performance, a bandwidth of 120kHz and a primary conductor resistance of 1.2 mOhm it suits perfectly into Automotive applications due to its accurate sensing output and low power consumption.
The sensor is certified from -40 to 150°C operating temperature and can measure a current up to +/- 50 Amps. The differential sensed current provides common-mode field rejection. That improves accuracy in magnetically noisy environments significantly.
Isolation voltage of 2400VRMS allows conducting of up to 420Vpk or DC on primary side. ACS724/25 in different packages are in development and are available shortly. These different packages allow isolation voltages up to 4800V.
Applications
Braking, including brake by wire and parking
Low power steering applications
Fluid and fuel pump applications
DCDC and ACDC Converters requiring operation on high side
Seat warmers on the main battery
Protection of brush and brushless-DC motors for chassis and in cabin application
Protection of loudspeakers for automotive enter- and infotainment
Join 97,426 other subscribers

Archives